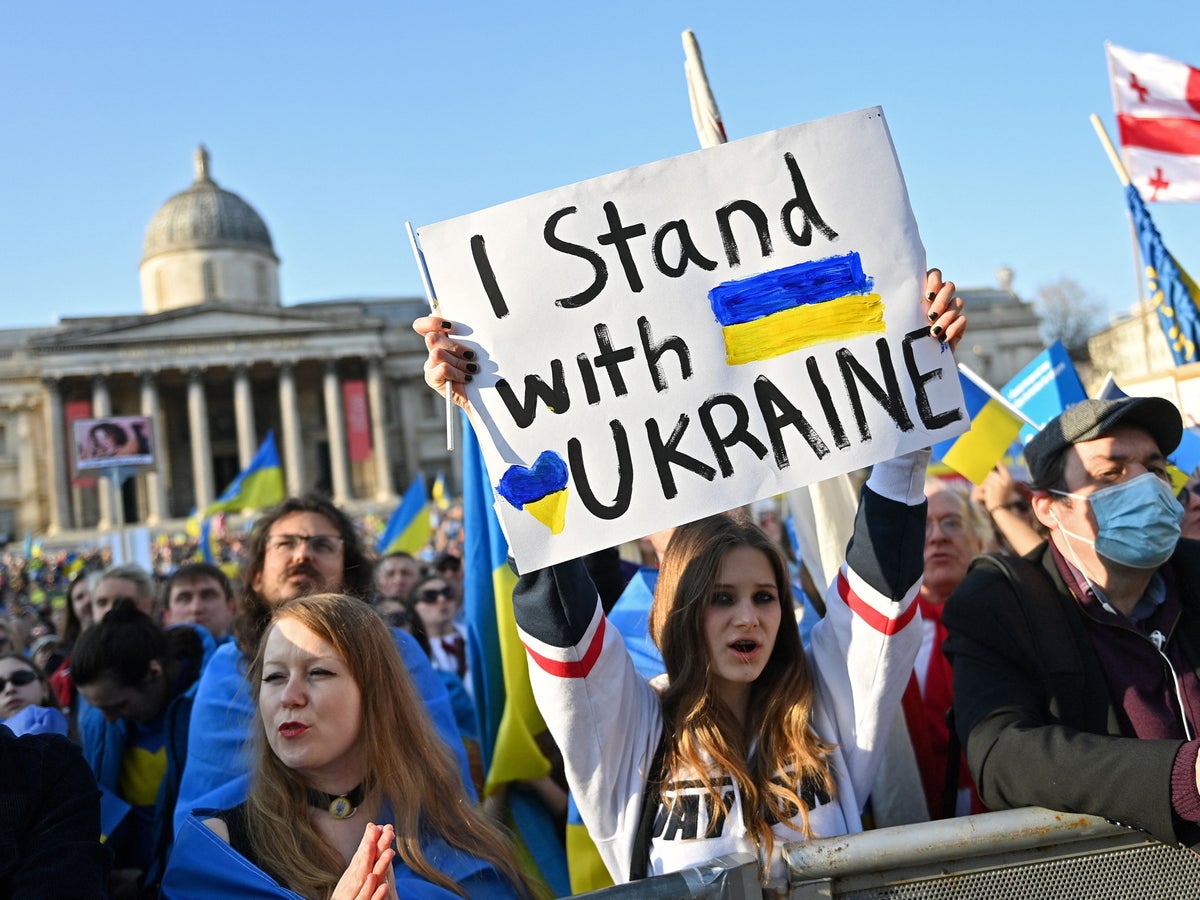 Kyiv's ambassador has urged more people in the UK to host refugees fleeing Russia's invasion, on the one-year anniversary of the Homes for Ukraine scheme.
Thanking Britons for standing "shoulder to shoulder" with Ukraine, ambassador Vadym Prystaiko said in a video message that 160,000 Ukrainian women and children had now arrived under the scheme since Vladimir Putin's invasion last February – but warned that "some still need your help".
Refugee charities told The Independent that Homes for Ukraine had been "riddled with flaws" in its first year, while councils cautioned that "significant challenges remain" to ensure Ukrainian refugees "can be supported in the long-term".
The Independent reported in January that some Ukrainians were being forced to choose between homelessness in the UK and returning to their war-torn homeland, with official figures showing some 4,630 Ukrainian households were classified as homeless in England in the 12 months to February.
While councils are legally obliged to house Ukrainians if they do not have anywhere to live, charity RefuAid had warned of a "varied level of support from councils", alleging that some councils had told refugees they could not help or receive a referral until 48 hours before they were made homeless.
In December, the government announced £150m in funding for councils to support Ukrainians into their own homes, and increased "thank you" payments for sponsors to £500 per month. The £10,500 per refugee received by councils in 2022 was largely reduced, however, to £5,900 in 2023.
More than £10m has already been given to councils, with an expected £122.5m of further payments expected by the end of March, providing up to 4,000 homes by 2024, the Department for Levelling Up, Housing and Communities said on Saturday.
But despite the number of Ukrainians presenting as homeless soaring 44 per cent in the last month, details on the new funding "remain thin and councils need urgent clarity on how and when it can be spent", the Local Government Association has warned.
"As the war continues into its second year, significant challenges remain to ensure they can be supported in the long-term," said James Jamieson, chair of the body representing 350 councils in England and Wales.
Councils are "hugely concerned that there is no funding beyond the first year for councils and that funding for arrivals in 2023 has halved," said Mr Jamieson, adding: "This funding is crucial in supporting councils to offer wraparound help and turning a roof over someone's head into a life with health security, job prospects and community support."
Welcoming the increase in payments to those hosting refugees, Mr Jamieson said it was "imperative" that these continued to be increased in light of inflation and energy costs "to ensure matches do not become unsustainable for the hosts".
Describing the scheme as having been "riddled with flaws", RefuAid's chief operating officer Kate Higgins warned of "huge safeguarding concerns" in the matching process and criticised the "significantly lacking" post-arrival support which has left refugees facing homelessness and destitution "in precarious, unsafe and potentially exploitative situations".
Despite the government trumpeting figures on Saturday suggesting 28,450 Ukrainians were in employment within around six months of arriving in the UK, and £11.5m in funding to help refugees learn English and find jobs, Ms Higgins lamented the "minimal support" for Ukrainians to do so.
"This inevitably results in people becoming reliant on Universal Credit and unable to move on from sponsorship or council accommodation, despite a huge wealth of incredibly valuable skills, qualifications and experiences," she said.
Rebecca Russell, who leads York City of Sanctuary's team supporting Ukrainian refugees, hailed the "amazing" grassroots response as "fundamental to the scheme's success".
"However, where it has fallen down is there were few long-term solutions or strategies for issues around finding work and housing," she said, adding: "We are constantly fire-fighting these two points."
While the scheme "generally functioned well" for six to 12 months at the host level, it is "the 'what comes after' when people need to leave the sponsorship scheme" which is experiencing problems, Ms Russell suggested.
Ministers should "at least" acknowledge that Ukrainian refugees are now being forced to "compete" with local residents on the "extremely tough" private rental market amid high prices and demand, Ms Russell said, suggesting that local authorities could be asked to step up as rent guarantors.
With some Ukrainians finding work "very quickly" and others "still struggling to get on their feet", Ms Russell believes "it will take at least another year to settle the first wave of people" – as she echoed the ambassador's call on Saturday for more sponsors to come forward.
"We recently did a new call out, and numbers were understandably a lot less [than at the invasion's outset]. But the demand from people asking to come here, and the need for sponsor re-matches, has not dwindled in comparison," Ms Russell said.
Levelling up secretary Michael Gove said: "One year on from the first person arriving in the UK under our Homes For Ukraine Scheme I remain incredibly proud of this country's response, with the British public having shown their true generosity of spirit and their enduring belief in freedom.
"Ukrainians have embraced every aspect of their new lives in the UK – sending their children to local schools, entering the jobs market and working on their English language skills. This is proof not only of the immense bravery and resilience of the Ukrainian people but the huge value they are bringing to our communities."