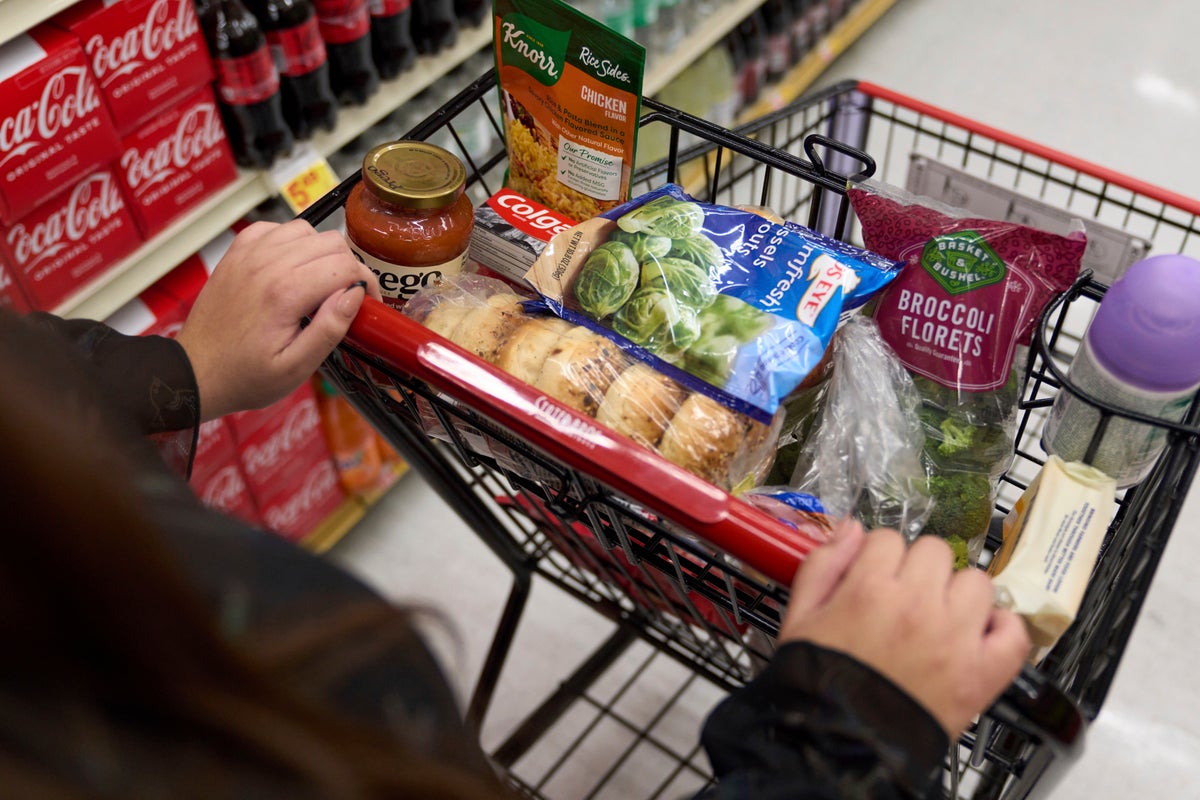 Grocery price inflation has fallen slightly for the second consecutive month but remains at sky-high levels as the cost of living squeeze continues eating into household budgets.
Prices over the four weeks to 14 May were 17.2 per cent higher than a year ago, down from April's 17.3 per cent, according to Kantar's latest analysis.
It means that the average household's annual grocery bill remains around £833 higher than before inflation began to soar last year.
While the figures suggest that inflation is moving in the right direction the 0.1 per cent drop will provide little relief for families struggling to pay higher energy bills and mortgage costs.
Earlier this month the Bank of England, in charge of controlling inflation, raised interest rates for the 12 consecutive time from 4.25 per cent to 4.5 per cent, adding hundreds of pounds to costs for those on tracker and variable mortgages.
Kantar's analysis focuses solely on the cost of food and does not include  'ambient' goods such as tea and coffee.
It found that the average cost of four pints of milk has come down by 8p since last month, but is still 30p higher than this time last year at £1.60.
Royal fans refused to let price inflation dampen down celebrations of the coronation and spent an additional £218 million on groceries during the week the King was officially crowned.
Sales of sparkling and still wine climbed by 129 per cent and 33 per cent respectively, driven by demand rather than price rises as wine inflation sits at 1 per cent.
Sales of ingredients like chilled pastry surged by 89 per cent, while fresh cream sales jumped by 80 per cent and frozen broad beans by 57 per cent
Shoppers skirting the higher prices sent sales of supermarket own-label items up by 15.2 per cent last month,  almost double the 8.3 per cent rise seen for branded products.
Aldi's 24 per cent sales increase made it the fastest-growing grocer this month, while Lidl's sales increased by 23.2 per cent
Fraser McKevitt, head of retail and consumer insight at Kantar, said: "The drop in grocery price inflation, which is down by 0.1 percentage points on last month's figure, is without doubt welcome news for shoppers but it is still incredibly high – 17.2 per cent is the third fastest rate of grocery inflation we've seen since 2008."
Jeremy Hunt, the chancellor, has said he will ask food manufacturers to do what they can to support consumers amid skyrocketing food prices.
Mr Hunt will meet with representatives from the industry on Tuesday to raise concerns over rampant food inflation.
The Resolution Foundation said on Friday that food prices would continue to rise even as energy costs are set to fall.
Overall inflation, fuelled by Russian president Vladimir Putin's illegal war in Ukraine, has started to fall over in recent months but remains in double figures at 10.1 per cent.
The cost of food started to rise shortly after Russia's invasion – which also sent energy prices soaring – in February last year by disrupting supplies of grains, vegetable oils and fertiliser.