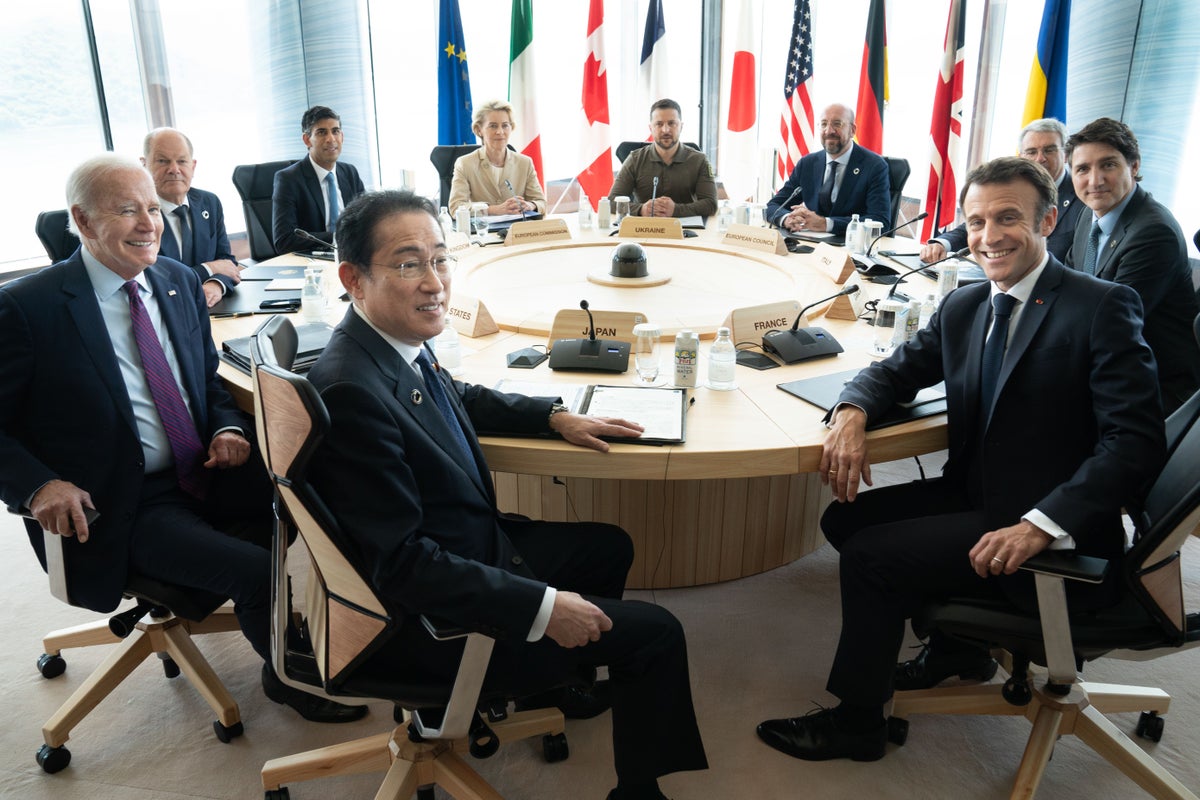 Volodymyr Zelensky's visit to the G7 summit in Hiroshima had "historic significance", Rishi Sunak said as he hailed a "real breakthrough" on getting Ukraine advanced fighter jets.
The Prime Minister said that any peace deal between Ukraine and Russia must usher in a "just and lasting peace" rather than a ceasefire that handed land to Vladimir Putin.
The presence of the Ukrainian president at the conference in Japan shows a "powerful message" to the Russian leader, Mr Sunak said.
"We will stand with Ukraine for as long as it takes, because their security is our security," he added.
"We must and we will show that violent territorial aggression does not reap rewards. There could be no more fitting place to discuss the urgent need for peace than Hiroshima."
The Prime Minister said he was "deeply moved" by visiting the memorial to mark the city being the first place to experience the devastation of a nuclear bomb.
"What we saw there was haunting. A child's tricycle, twisted by the blast. School uniforms bloodied and torn," he said.
"And with those images in our minds, we resolved never to forget what happened here."
Mr Zelensky addressed the G7 leaders in meetings on Sunday after meeting Indian prime minister Narendra Modi, who has maintained neutrality over the Russian invasion.
Pictures of the Ukrainian president shaking Mr Modi's hand would not be images that Mr Putin wants to see.
It was unclear whether Mr Sunak, who has spoken of the need to speak to Mr Modi about his position, discussed Ukraine with him when they met on Sunday.
The accounts given by both London and New Delhi failed to mention the war.
During the summit, US President Joe Biden gave the approval for western allies to hand over their F-16 fighter jets to Kyiv to bolster Ukrainian defences.
Mr Sunak said: "We're supporting Ukraine to develop the air force it needs for the future with the UK training Ukrainian pilots, starting this summer.
"And we've made a real breakthrough at this summit, thanks to President Biden's support for an international coalition to provide F-16 jets."
Mr Zelensky, who met Mr Sunak after touching down, acknowledged a setback over Bakhmut, the eastern Ukrainian city that Moscow has claimed to have captured after months of fierce fighting.
"You have to understand that there is nothing," he said, of the city which is not believed to have a major strategic importance. "They destroyed everything.
"For today, Bakhmut is only in our hearts."