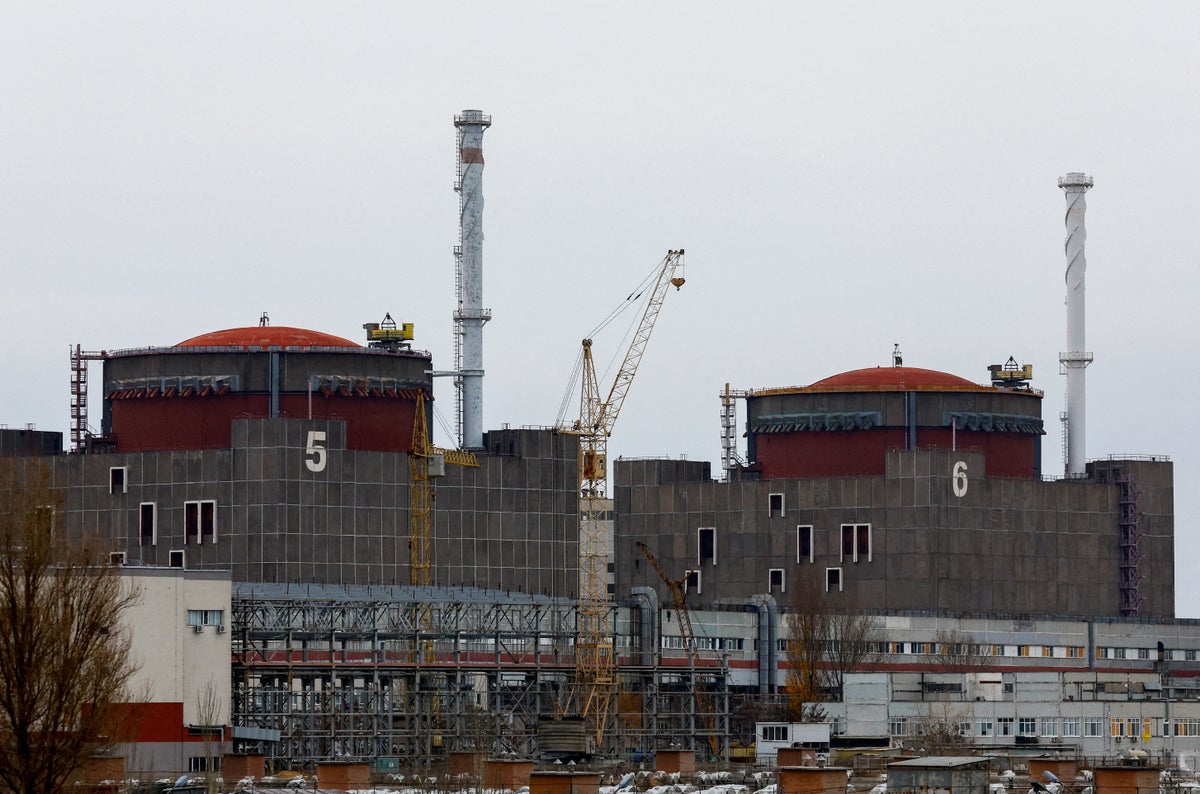 Europe's largest nuclear plant was left without power after Russian missiles rained down on several cities across Ukraine in a fresh offensive on Thursday morning that killed at least five people.
The Zaporizhzhia plant in southeastern Ukraine, occupied by Kremlin troops, was left relying on backup generators after rockets damaged infrastructure that had been delivering electricity to the site.
The Black Sea port of Odessa and Kharkiv, Ukraine's largest city were among the cities hit in the early morning barrage of missiles and explosions were also reported in the capital Kyiv.
"Explosions in the Holosiiv district of the capital. All services follow in place. More details later," Kyiv's mayor, Vitali Klitschko, said on Telegram.
Maksym Kozytskyi, governor of Lviv in western Ukraine, said that five people had been killed in overnight strikes.
Four people died in the Lviv region after a missile hit a residential area, Mr Kozytskyi said.
Three buildings were gutted by fire after the strike and rescue workers were combing through rubble looking for more possible victims, he said.
A fifth person was killed and two others hurt in multiple strikes in the Dnipropetrovsk region which targeted its energy infrastructure and industrial facilities, governor Serhii Lysak said.
Air raid sirens wailed through the night across Ukraine and the country's Defence systems were activated.
Ukraine's air forced issued a statement via Telegram saying that "the defence forces of Ukraine destroyed 34 cruise missiles … as well as 4 'Shahed-136/131' unmanned aerial vehicles".
It added that a total of 48 Kalibr-type cruise missiles had been fired by Russia.
Officials described the attack as featuring "81 missiles of various types" in total, and that "the launches were carried out from ten Tu-95 strategic aircraft, seven Tu-22M3 long-range aircraft, eight Su-35 fighters, six MiG-31K aircraft and three Kalibr KR carriers in the Black Sea."
The statement added:  "As a result of organized countermeasures, 8 Kh-31P and Kh-59 guided air missiles did not reach their targets.
"It is worth noting that the armed forces of Ukraine do not have means capable of destroying Kh-22 and Kh-47 'Kinzhal' and S-300."
The claims could not be immediately verified.
The city's administration said Kyiv was attacked with both missiles and exploding drones and that many were intercepted but that its energy infrastructure was hit.
Smoke could be seen rising from a facility in the Holosiivskyi district and police had cordoned off all roads leading to it.
The alarm in Kyiv was lifted just before 8am, with the air raid sirens falling silent after seven hours.
The missile barrage hit as Russia pushed its advance in Ukraine's eastern stronghold of Bakhmut, where a grinding fight between the two sides has gone on for six months and reduced the city to a smouldering wasteland.
It also came hours after UN secretary-general Antonio Guterres visited Kyiv for talks with President Volodymyr Zelensky on extending an agreement which allows Ukraine to ship grain from its Black Sea ports and permits Russia to export food and fertilisers.