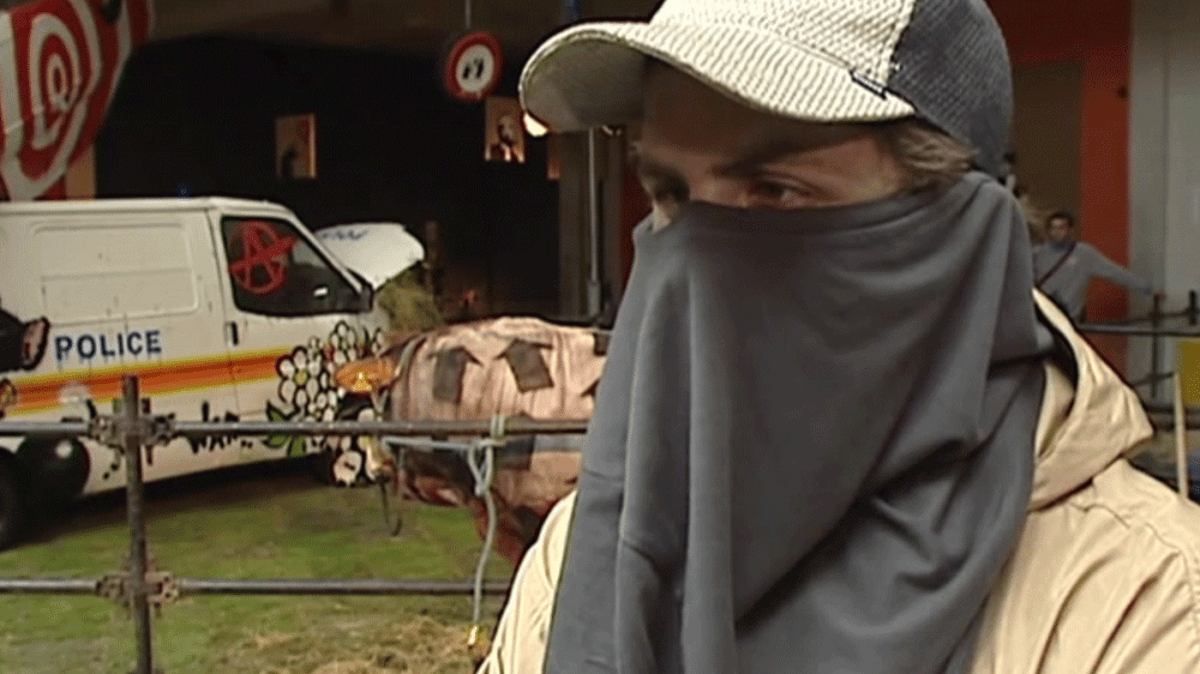 His subversive murals and installations are famous around the world – but the true identity of the world-famous Banksy has never officially been confirmed.
The riddle over the elusive artist certainly adds to the interest in his highly-prized work, which often appears on the sides of buildings with no warning.
Much of his work is in Bristol, including Well Hung Lover on the city's busy Park Street and the Girl with a Pearl Earing on the harbourside, but now he has pieces scattered around the globe and even in war-torn Ukraine.
There have been huge art exhibitions of his work, including in London and New York, and even a theme park named Dismaland in Weston-super-Mare.
His popularity has led to copycats with artists using stencils in a similar vein. There is only one true Banksy but the question still remains – who is he?
What do we know about Banksy?
We don't have a name, officially at least. But we know something of his early life. The story goes he was born in the town of Yate, near Bristol, before growing up in the city, where he became inspired by the street art and music scene, including 1990s music pioneers like Massive Attack and Portishead.
He first attracted attention in the 1990s for spray-painting trains and walls and it was then, with his art considered criminal damage, that the foundations for his anonymity began.
As his reputation soared, his first large stencil mural,The Mild Mild West, appeared in the Bristol's Stokes Croft area in 1999. The picture, showing a teddy bear hurling a Molotov cocktail at three riot police, still stands today. At the turn of the millennium, Banksy created pieces in London to further establish himself as a world-leading grafitti artist.
Does anyone really know who he is?
Of course, there are some people whom Banksy will have had to identify himself to during his career, working alongside fellow street artists who have loyally kept his secret.
There are also those in his home city of Bristol who will likely have played in the same football team as him, with the artist appearing between the goal sticks for the Easton Cowboys. (It's not known if he used his nickname to call for catches of the football at corners and freekicks).
However, all who know him have adhered to the unwritten rule that you don't reveal the secret behind the global celebrity.
Wild theories
As with any mystery, there's been a fair number of theories about Banksy's identity over the years.
One of the most famous claims is that he is Massive Attack's Robert Del Naja, essentially living a double life in plain sight. Raised in Bristol and also a name in the graffiti artist scene, it's no surprise Del Naja, also known to as 3D, is linked.
The group even played off the idea when they performed at Bristol's Downs Festival in 2016, with lighting during the gig showing the phrase "We are all Banksy", to dramatic effect.
Another famous name often put forward is drum and bass legend Goldie, although the Wolverhampton-raisesd star appeared to give away Banksy's first name as "Rob" during his weekly podcast in 2017 suggesting he isn't the man behind the spray can.
Then we have a few other names, less well known to those outside the art world. in 2014, an American news website claimed Liverpool-based Paul Horner was Banksy, and the following year US-based artist Richard Preiffer was linked.
Most likely identity
One name linked to Banksy which refuses to go away is Robin Gunningham. First "unmasked" in a world exclusive in 2008, connections between the artist and the former Bristol Cathedral School pupil have only strengthened over time.
In 2016, scientists at Queen Mary University claimed to have "tagged" Banksy, by identifying a pattern between the locations where his graffiti artworks most frequently appeared and addresses with a close association to Mr Gunningham.
Two years later, and Mr Gunningham's signature appeared on two pieces of work offered for sale.
Then we had the "Rob" reference to the artist by Goldie, before a BBC interview from back in 2003 emerged 10 years later, appearing to reveal Banksy's identity in an interview for BBC Radio 4's PM programme.
"Are you happy for me to use your name? I mean, The Independent has," former BBC arts correspondent Nigel Wrench asks the artist, who replied: "Yeah."
Official unmasking
Confirmation of Banksy's true identity could be soon coming due to a High Court case, as reported by the Evening Standard.
The artist and his playfully-named company Pest Control Ltd, which sells his work, face claims they damaged the reputation of a rival over a social media post featuring an image of Banksy work in the shop window of GUESS fashion store in Regent Street, London.
As part of the proceedings, the true identity of the artist could be revealed in court.
Not quite the place he would have planned it, surely, but surely it is only a matter of time before a big reveal takes place.