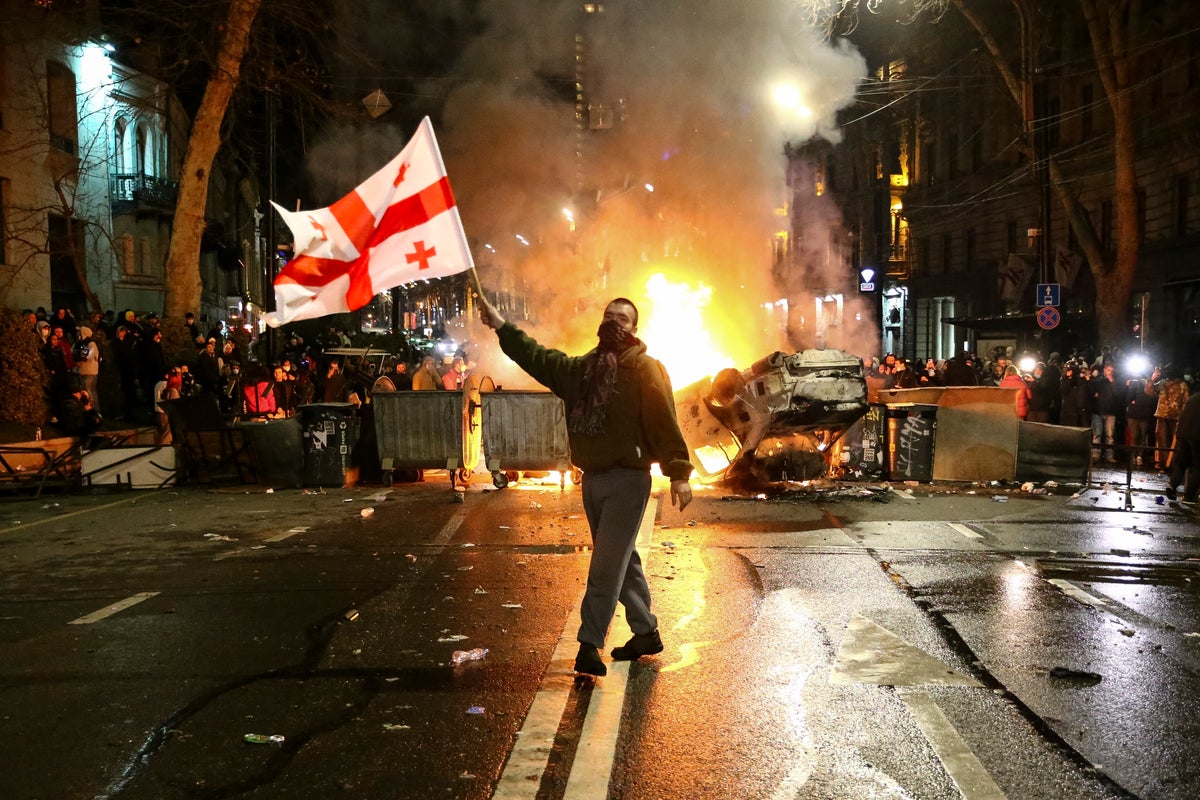 Georgia ruling party has withdrawn a controversial proposal for a "foreign agents" law – condemned by opponents as a Russian-inspired authoritarian bill that could have hit hopes of the country joining the European Union.
The bill, which had been given initial approval by the country's parliament, has sparked several nights of protest, with tens of thousands of people coming out onto the streets. The demonstrations had been forcefully dispersed by police using water cannons and tear gas.
Given Georgia's status as former Soviet state situated at Russia's south-west border, any suggestions of influence from Moscow will carry significan weight. Russia's President Vladimir Putin has long seen the country as part of Russia's sphere of influence. The Russian leader has also upped his rhetoric in the wake of Moscow's invasion of Ukraine about Western institutions, such as the EU and the Nato military alliance, seeking to erode Russia's standing in the world. Georgia is not a member of Nato, but has sought to join.
What was in the bill?
The bill would have required Georgian organisations – non-governmental groups and print, online and broadcast media – receiving more than 20 per cent of their funding from outside the country to register as "foreign agents" or face fines worth thousands of pounds. Government officials said the proposals were necessary to root out "foreign influence" and "spies" from Georgia's political scene, arguing that Georgians had the right to know who funds non-government organisations working there.
The first draft law passed on Tuesday in a session that was broadcast live on the legislature's website, with 76 votes for and 13 against.
On Thursday morning, the Kremlin expressed concern over unrest in Georgia after two nights of violent clashes between police and protesters over the country's plans to introduce a "foreign agents" bill that critics say is modelled on a Russian law. Spokesman "Of course, it is important for us that there be calm on the perimeter of our border," Kremlin spokesperson Dmitry Peskov said, according to state media Ria Novosti.
The Georgian Dream ruling party said in a statement it would "unconditionally withdraw the bill we supported, without any reservations". It cited the need to reduce "confrontation" in society, while also denouncing "lies" told about the bill by the "radical opposition".
Georgia demonstrators chant slurs about Putin during protest outside parliament
"The bill was labeled falsely as a 'Russian law' and its adoption in the first reading was presented in the eyes of a part of the public as a departure from the European course," the statement said.
What happens now?
Georgia's government has said it will launch a public consultation period to "better explain to the public what the bill was for and why it is important". The bill has also been sent the bills to the Venice Commission, a Council of Europe body that advises countries on the impact draft laws have on the functioning of democracy and human rights, and legislators said they would await feedback.
However, new protests are expected as critics call on the government to formally renounce the planned law.
The bill has deepened a rift between Georgian Dream, which has a parliamentary majority, and President Salome Zourabichvili, a pro-European who has moved away from the party since being elected with its support in 2018.
Ms Zourabichvili had said she would veto the bill, though parliament can override her.
Which counties have imposed similar laws?
The proposed law was similar to one enacted in Russia in 2012 that has been used to shut down or discredit organizations critical of the government. The bill's authors said it was needed for the transparency of the work of entities financed by representatives of foreign states.
The Russian law was passed in 2012 in the wake of protests against Mr Putin's return to the presidency. It required organisations engaging in political activity and receiving funding from international sources to register as foreign agents as well as a number of other regulations. The bill has been gradually added to since then as Mr Putin has tightened state control over civil society.
Last last year, as Mr Putin stepped up his complaints about Western influence over Ukraine in the wake of his invasion of the country, the definition of the Russian law was expanded to include not only individuals or organisations receiving funding from abroad but those who have "received support and (or) is under foreign influence".
The terms of the law appear vague. "Support" by foreign sources is defined not just as financial but "organizational and methodological, or scientific and technical help." Influence is seen as "exacting an influence on an individual by coercion, persuasion or other means."
Belarus, which Russia's forces used as a launchpad for their failed attempt to take control of Kyiv early in Moscow's invasion, has had a citizen law in place since 2002, which while not the same in scope, has had a similar impact on society. That law was also amended by the Belarusian parliament in late 2022 to open the possibility to depriving Belarusians living abroad of their citizen, a move condemned by the EU It comes as the country cracks down on dissent, with exiled political leaders and dissidents having been handed jail terms in recent weeks. There are also fears over the level of influence Mr Putin has over Belarusian President Alexander Lukashenko.
What are the comparisons between pre-invasion Ukraine and Georgia?
The "foreign agents" bill had been proposed by a parliamentary faction who had left the ruling Georgian Dream party, but Georgian dream had publicly supported the proposed law. In a report in December last year, the European Council on Foreign Relations (ECFR) think tank said a drift towards the influence of Moscow had become a pattern. "In the last few years, and especially over the past 18 months, Georgia's ruling coalition has made a series of moves that seem designed to distance the country from the West and shift it gradually into Russia's sphere of influence". The US Helsinki Commission, a US government agency, said the proposed "foreign agent" law demonstrated "the present government's increasing embrace of Russia".
Opponents claim the Georgian Dream party has close relations with the Kremlin. Its founder Bidzina Ivanishvili is Georgia's richest man, having amassed his fortune in Russia during the chaotic privatisations of the 1990s. He served as prime minister from 2012 to 2013.
In 2014, Moscow illegally annexed Crimea from Ukraine and supported separatists in the eastern regions of Donetsk and Luhansk that led to a conflict that has continued into Russia's 2022 invasion. Given the situation in Ukraine since 2014 comparisons have been drawn with Georgia and its 2008 conflict with Russia. Moscow was supporting South Ossetia and Abkhazia, two "breakaway provinces" in Georgia. They are officially part of Georgia, but have separate governments unrecognised by the vast majority of the international community. The invasion only lasted days, but the former Russian president, Dmitri Medvedev, said in 2011 that had Russia not invaded Georgia in 2008, Nato would have expanded into Georgia. Mr Putin as consistently complained about Nato interference in the current war in Ukraine.
Speaking on Wednesday about Georgia and Russian influence, the German vice chancellor, Robert Habeck, said: "Georgia also suffered from Russia aggression in the Caucasian war…The aggression of Russia on Georgia [in] 2008 was maybe the turning point when Putin became from a politician, a reformer for his country, to a tyrant," he said.
What does it mean for Georgia's relationship with the EU?
Georgia applied for EU membership shortly after Russia's invasion of Ukraine began, but was not granted candidate status. It will need to implement a number of reforms, including in the judiciary and other institutions first. The EU's foreign policy chief, Josep Borrell, said in a statement that if the bill was adopted, it "may have serious repercussions on our relations."
Opinion polls show a consistent majority of Georgians in favour of joining the European Union and Nato. All major parties, including Georgian Dream, support the idea.
Reuters and the Associated Press