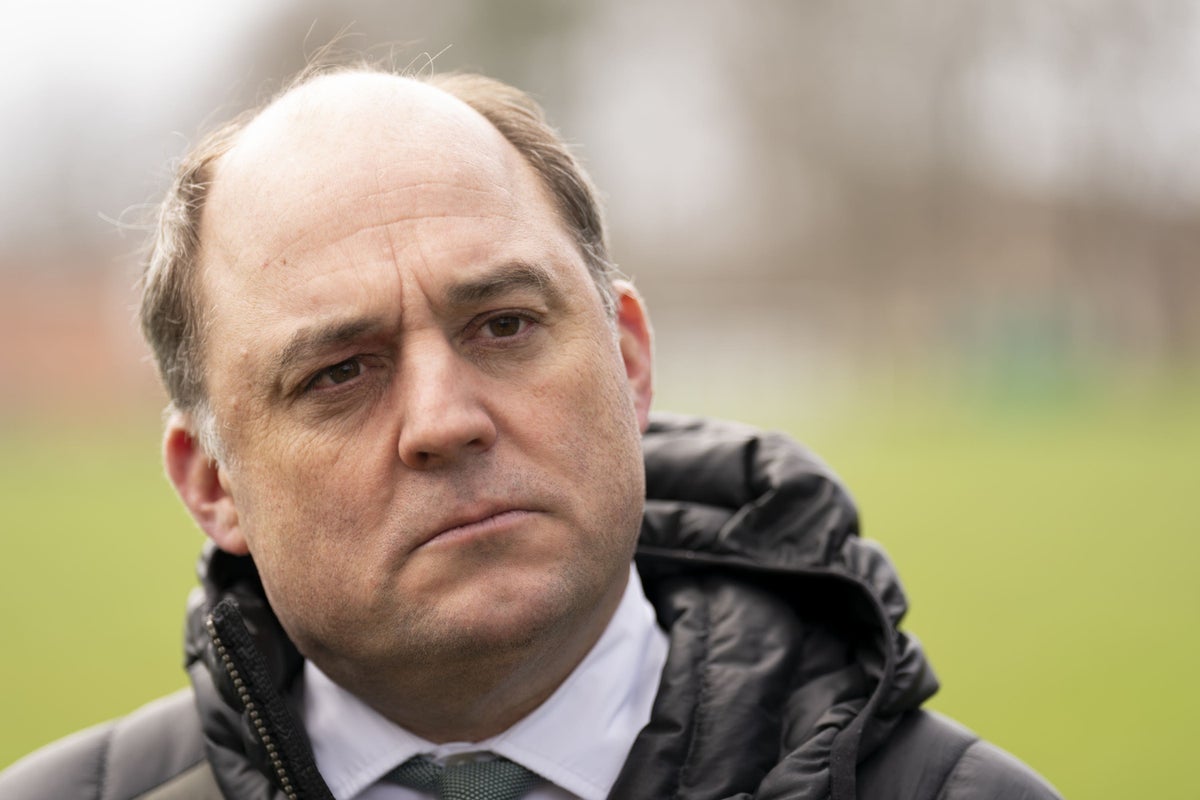 Former defence secretary Ben Wallace has said he urged the Prime Minister to increase military support to Ukraine by more than £2 billion — a rise of 50%.
The veteran Conservative argued that with extra Western weapons, Kyiv could "end" the battle against Russia and expel the invaders.
Mr Wallace, an ally of Boris Johnson, stepped down from the defence brief in a mini-reshuffle in August, having already announced his decision not to contest the next general election.
Writing for The Daily Telegraph, the former Scots Guard lamented that the UK was no longer Kyiv's biggest military backer in Europe, having slipped behind Germany.
His call for additional resources to be sent to Ukraine comes as the debate grows in the West about the level of backing to continue offering the partially occupied nation.
In the US, Republicans in Congress have been resisting sending more aid to the eastern European country with Democrat President Joe Biden urging politicians to "stop playing games" in the face of the Kremlin's "brutal aggression".
In Slovakia, populist former prime minister Robert Fico won early parliamentary elections having vowed to withdraw his country's military support for Ukraine.
Mr Wallace said one of his final acts as defence secretary was to press for further financial backing from Prime Minister Rishi Sunak for Ukrainian president Volodymyr Zelensky and his forces.
"We have a chance to help finish this. The Russian army is cracking," Mr Wallace said.
"We need to give Ukraine the support it requires to see this war to the end.
"Before I left office, I asked the PM to match or increase the £2.3 billion pledged to Ukraine this year, to add to the £4.6 billion we have spent already."
The former cabinet minister urged Britain to "help Ukraine maintain its momentum" in the counter offensive, a push that will require more munitions and storm shadow missiles and other long-range weapons, he said.
Mr Wallace said that with Kyiv's troops "pressing forward" against heavily-mined Russian defences, it was possible the next stage of the conflict which has been raging since February 2022, could be the "beginnings of the battle for Crimea" — the peninsula in southern Ukraine annexed by Moscow in 2014.
No 10, which said it would not be responding to Mr Wallace's remarks, has requested the Ministry of Defence's (MoD) views on future spending, according to the Telegraph.
The MoD said it would not be commenting.
The UK committed £2.3 billion of military support in 2022 and the Government confirmed it would sustain that in 2023.
Officials said Britain remains committed to providing Kyiv with long-range precision strike weapons, artillery, air defence and armoured vehicles, while also liaising with Mr Zelensky's administration about their requests for more weapons.
The funding debate comes after Mr Sunak made clear that British troops would not train Ukrainian forces in the war-torn country while its battle with Russian president Vladimir Putin's troops is going on.
Defence Secretary Grant Shapps, who replaced Mr Wallace, had said in an interview with The Sunday Telegraph that "eventually" he would like to conduct Britain's long-standing training "in country" rather than in the UK.
Mr Sunak said the senior minister was expressing a "long-term" ambition and not something for the "here and now".
"There are no British soldiers that will be sent to fight in the current conflict. That's not what's happening," he told broadcasters during a visit to Burnley on Sunday.
The UK has trained more than 25,000 Ukrainian armed forces personnel, according to official MoD figures.