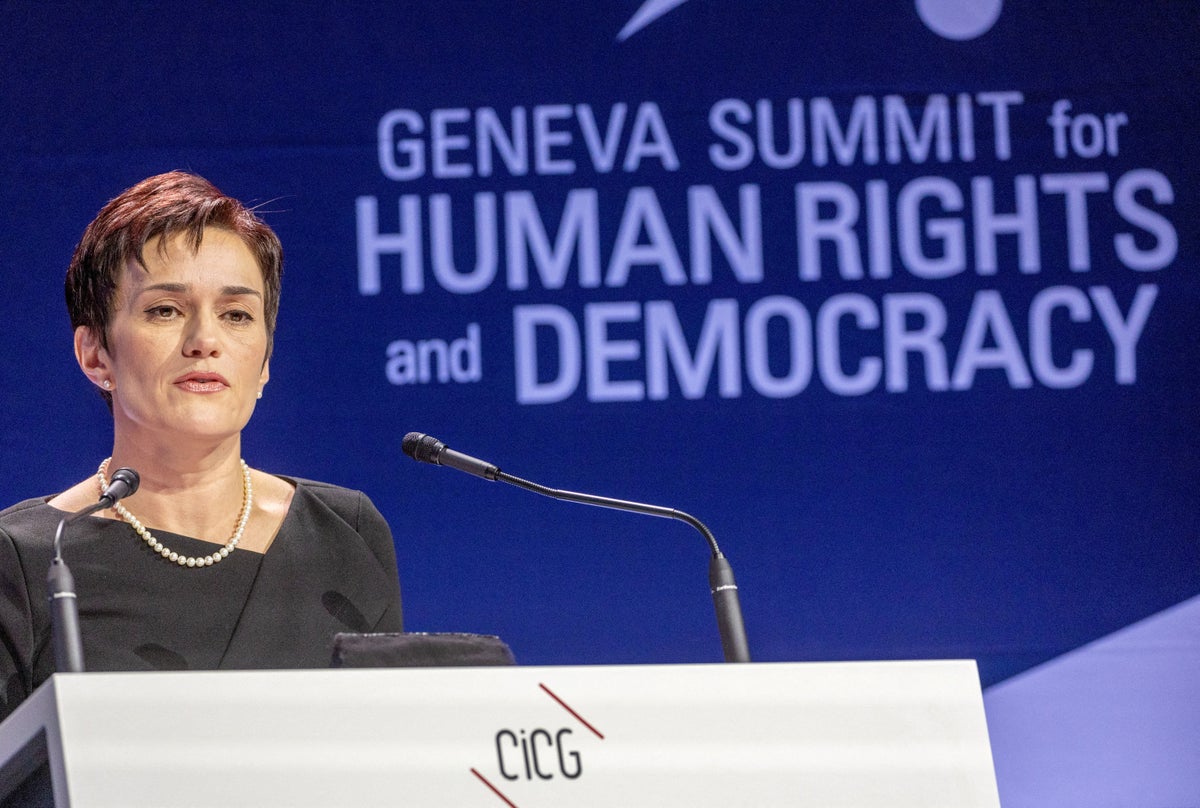 The wife of a British-Russian national held in a Krelimn prison says she fears time is running out, and has called for the UK to take more urgent action to free him.
Vladimir Kara-Murza survived two near-fatal poisonings, in 2015 and 2017, which resulted in organ failure and polyneuropathy, a condition that causes nerve damage.
The Putin-critic was jailed for 25 years in April this year on charges of treason and spreading "false information" about Russia's war in Ukraine.
In September, despite Russian law preventing the detention of prisoners with polyneuropathy, Mr Kara-Murza was moved to IK-6, a maximum security penal colony in the Siberian city of Omsk.
Although the British government has spoken out on his case, applying sanctions on at least five of the judges and prosecutors involved in his trial, his wife Evgenia Kara-Murza has claimed such measures have only been taken because she has "pushed and pushed and pushed" to make them happen.
Speaking to The Independent, Mrs Kara-Murza claimed the government is showing "no initiative" in helping free her husband, noting that when she met her case officer this Tuesday at the headquarters of the Foreign, Commonwealth and Development Office (FCDO), she found out that the consular advisor had been replaced with some who "had no idea who Vladimir is".
"It was the third case manager I have seen so far," she said. "They have all been lovely ladies and they try to keep in contact with me. But this is the third I have seen. There is no continuity here, no continual dialogue. She will have to read up on Vladimir. She will ask me questions and I guess I will have to tell her the whole story yet again for a third time."
While Mrs Kara-Murza has said she is grateful for the British government's efforts, she also expressed frustration that comments made by Rishi Sunak in August calling the detention "unjustifiable" were belated.
"It took the prime minister over a year to make a statement about the illegal detainment of a British national," she said. "I am grateful for the statement that appeared eventually but it could have been done earlier. The same goes for the sanctions."
Mrs Kara-Murza says she is "greatly concerned for Vladimir's life" and that as a year in Siberian solitary confinement could be life-threatening, "there is no time".
Based on the recommendations of the main neurologist of the Moscow prison system, who saw Mr Kara-Murza before he was sentenced, any hope of calming symptoms of his polyneuropathy rest on his ability to exercise regularly and enjoy access to fresh air.
But since her husband's relocation to Siberia, he has been kept in a punishment cell that is just 10ft by 5ft. Due to his condition, he says he is unable to feel his feet.
"His condition is only going to deteriorate because there is no way that he can get fresh air or take walks," his wife said, adding that she "didn't know whether to laugh or cry" when she first read the Moscow neurologist's recommendations.
"There is no way he is going to receive the proper medical care in a punishment cell in a maximum security prison in Siberia," she said. "The authorities are also trying to isolate him to the maximum and this is why I have great concerns for his life."
Mrs Kara-Murza's calls have, in the past, received cross-party support from MPs including Labour's Sir Chris Bryant and Tories Bob Seely and Alicia Kearns, chair of the Foreign Affairs Committee.
In June, Ms Kearns said whether the Foreign Office could keep British citizens safe and get them home when it needed to was a test of its "fundamental effectiveness".
"The UK's response to the illegal detention of Vladimir has been appalling, for complex cases like this where the charges are politically motivated, we need someone who can cut through Whitehall bureaucracy and get our people home," she said.
She has called for the creation of a Director for Arbitrary and Complex Detentions within the Foreign Office to lead on hostage negotiations and streamline efforts to free illegally detained British nationals. Last month, shadow foreign secretary David Lammy promised that he would create a special envoy for hostages should Labour get into power next year.
An FCDO spokesperson said: "The politically motivated conviction of Vladimir Kara-Murza is deplorable. We reiterate the Prime Minister's call on Russia to release Mr Kara-Murza immediately and unconditionally. We regularly raise his case with the Russian authorities and will continue to do so at every available opportunity.
"We have sanctioned 11 individuals in response to his sentencing and appeal as well as 2 individuals involved in his poisoning. Our staff are providing tailored support to Mr Kara-Murza's family as they continue to highlight this gross injustice."