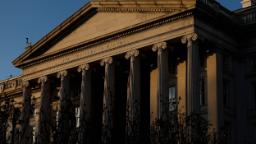 CNN
 — 

The US and its allies have blocked or seized more than $58 billion worth of assets owned or controlled by sanctioned Russians in the past year as Western governments continue to dial up the pressure over the Kremlin's invasion of Ukraine, according to a joint statement from a multinational sanctions enforcement task force.
The Russian Elites, Proxies and Oligarchs (REPO) Task Force held its sixth multilateral deputies meeting Thursday morning to discuss the group's continued work and pledge to "redouble" their efforts to punish Russian President Vladimir Putin and his associates. The task force is a joint effort between the US, Australia, Canada, Germany, Italy, France, Japan, the UK and the European Commission.
"REPO will redouble efforts to hold Russia accountable for its unjust war, countering Russian efforts to undermine, circumvent, or evade REPO's collective sanctions," according to a joint statement released following the meeting and obtained first by CNN.
"As Russia's war of aggression continues, REPO members remain determined in their commitment to impose steep costs on Russia. REPO will continue to identify, locate, and freeze the assets of sanctioned Russians, with the aim of depriving the Kremlin of the funds it needs to fight its illegal war," it continues.
The task force, which was formed last March, is also taking further steps to crack down on sanctions evasion as the US and its allies work to seal the cracks in a sanctions regime that has weakened but not crippled the Russian economy.
Following Thursday's meeting, REPO also issued a joint global advisory to help the private sector spot and prevent common sanctions evasion methods, like using family members to maintain access to sanctioned assets, creating complex ownership structures and using third party jurisdictions and false trade information to ship controlled goods, including those that support the Kremlin's war machine.
"This advisory will contribute to effective sanctions implementation across REPO Task Force members' jurisdictions by preventing the undermining of financial sanctions, export controls, and other restrictive measures designed and implemented in response to Russia's unprovoked war of aggression in Ukraine," the note says.
The US was represented Thursday by Deputy Treasury Secretary Wally Adeyemo and Marshall Miller, the principal associate deputy attorney general, according to a US Treasury Department official.
The task force has blocked financial assets and seized luxury yachts, high-end real estate and even priceless art, with US officials recovering a possible Fabergé egg from one Russian oligarch's seized yacht last summer.
But while the task force has generated splashy headlines over the past year by seizing the yachts and homes of Russia's ultra-rich, a US Treasury official told CNN that REPO provides the governments involved a valuable and streamlined mechanism to apply many of the same tools and best practices for the broader effort to crackdown on sanctions evasion.
Over one year into Russia's invasion of Ukraine, Biden administration officials are focusing on how to plug the gaps on sanctions evasion, a problem that runs the gamut of adversaries like China and allies like Turkey, India and the United Arab Emirates.
"We will engage companies, banks, regulators, and service providers in a series of jurisdictions we assess are wittingly or unwittingly providing assistance to Russia. This is a broad campaign on which we are working closely with allies and partners," Elizabeth Rosenberg, the Treasury's assistant secretary for terrorist financing and financial crimes, said last week at the Association of Women in International Trade.
The latest crackdown started in earnest in February on the anniversary of Russia's invasion of Ukraine when the Biden administration announced sanctions for "over 200 individuals and entities, including both Russian and third-country actors across Europe, Asia, and the Middle East that are supporting Russia's war effort." Those sanctions were imposed in partnership with the G7 and other allies.