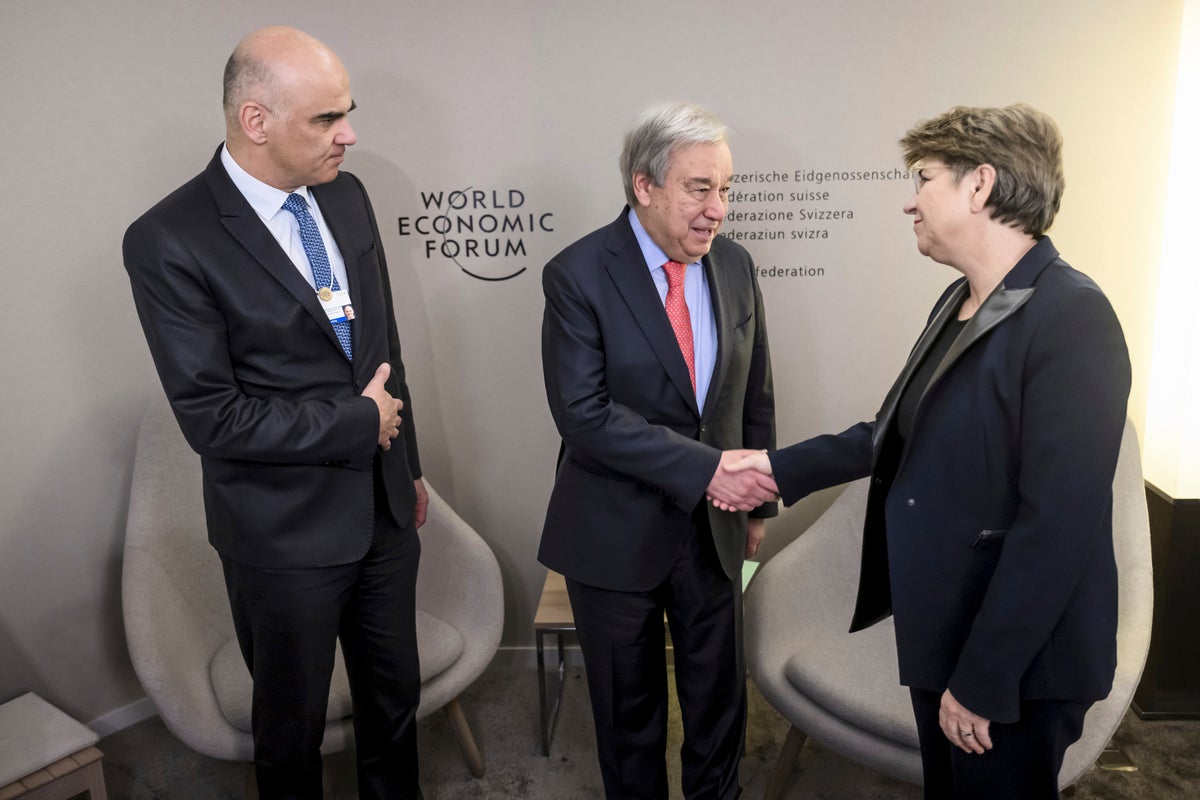 United Nations Secretary-General Antonio Guterres excoriated the oil industry as he spoke at the elite gathering of the global financial and political elite in Davos.
The UN chief offered a bleak assessment of world issues at the World Economic Forum's meeting on Wednesday, directing particular ire at the oil and gas industry for peddling what he described as the "big lie".
"We learned last week that certain fossil fuel producers were fully aware in the 1970s that their core product was baking our planet," Mr Guterres said. "Some in Big Oil peddled the big lie."
He continued: "Just like the tobacco industry, they rode rough-shod over their own science. And like the tobacco industry, those responsible must be held to account."
It was revealed last week that ExxonMobil's own scientists had accurately predicted that the planet was heating up from fossil fuel use in the 1970s – even as the oil giant lobbied and launched campaigns to delay climate action.
"ExxonMobil, had their own internal models that projected warming trajectories consistent with those forecast by the independent academic and government models," concluded a new study from scientists at Harvard University and the Potsdam Institute for Climate Impact Research.
"What they understood about climate models thus contradicted what they led the public to believe."
Mr Guterres, one of the most outspoken global figures on climate, also said: "Today, fossil fuel producers and their enablers are still racing to expand production, knowing full well that their business model is inconsistent with human survival.
"This insanity belongs in science-fiction, yet we know the ecosystem meltdown is cold, hard scientific fact."
The Davos meeting took a sombre turn on Wednesday after news broke of a helicopter crash in Ukraine that killed 18 people, including Ukraine's interior minister and other officials.
Forum President Borge Brende requested 15 seconds of silence and Ukrainian first lady Olena Zelenska dabbed teary eyes, calling it "another very sad day," then telling attendees that "we can also change this negative situation for the better."
Mr Guterres used his remarks to underline the "interlinked" nature of global challenges including the climate crisis and Russia's war in Ukraine that are "piling up like cars in a chain reaction crash".
He said that the widest levels of geopolitical division and mistrust in generations are undermining efforts to tackle global problems, which also include widening inequality, a cost-of-living crisis sparked by soaring inflation and an energy crunch, lingering effects of the Covid-19 pandemic, supply-chain disruptions and more.
He singled out climate change as an "existential challenge," and said a global commitment to limit the Earth's temperature rise to 1.5 degrees Celsius "is nearly going up in smoke."
Critics have questioned the impact of the four-day meeting where politicians, CEOs and other leaders discuss the world's problems — and make deals on the sidelines — but where concrete action is harder to measure. Environmentalists, for example, slam the carbon-spewing private jets that ferry in bigwigs to an event that prioritizes the battle against climate change.
On the second day, government officials, corporate titans, academics and activists were attending dozens of panel sessions on topics covering the metaverse, environmental greenwashing and artificial intelligence.
With reporting from the Associated Press