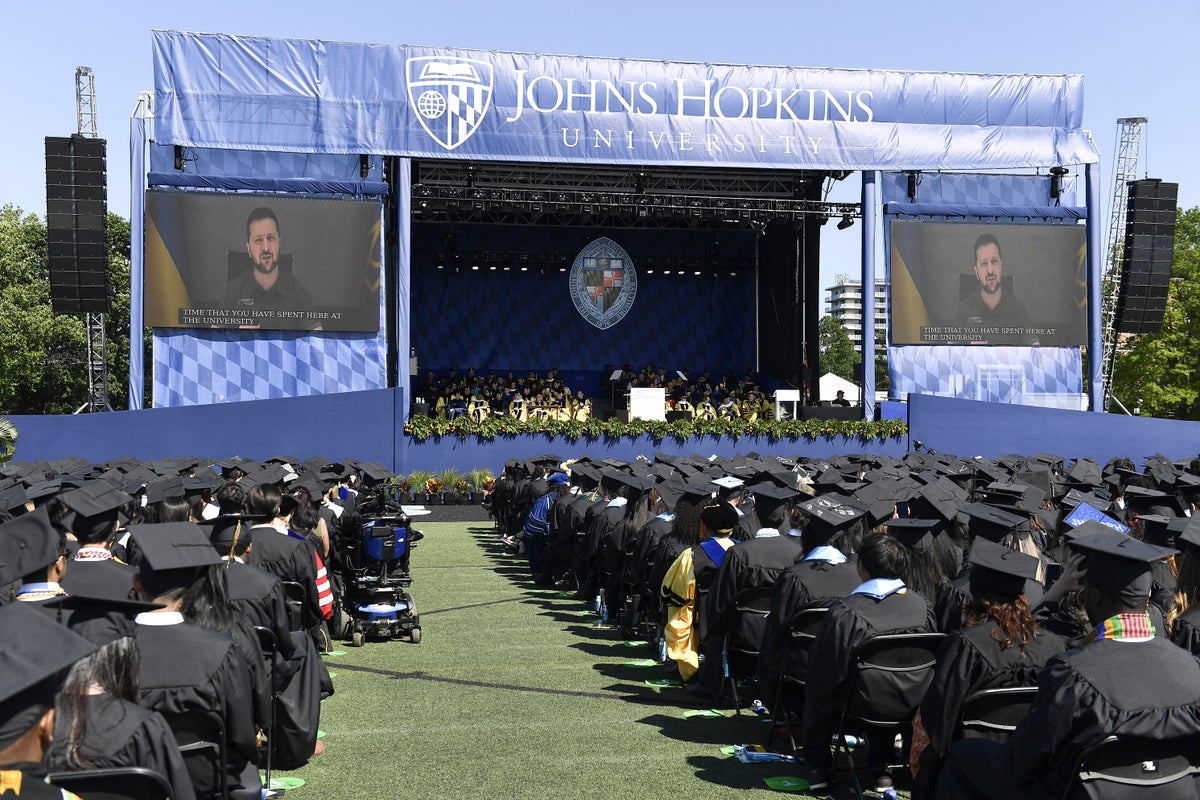 During a surprise commencement address to graduates of Johns Hopkins University on Thursday morning, Ukrainian President Volodymyr Zelenskyy told them to take advantage of the time and resources they have to pursue their passions and uphold the democratic values at stake in his country's war against Russia.
He spoke via livestream from Ukraine, where the ongoing conflict has impacted the futures of countless young Ukrainians, robbing them of opportunities and loved ones, Zelenskyy said. He told Hopkins graduates to make the most of every moment.
"Time is the most valuable resource on the planet," he said. "Some people realize this sooner, and these are the lucky ones. Others realize it too late, when they lose someone or something."
He also thanked U.S. leaders for their support since the Russian invasion, including significant investments in humanitarian and military aid.
President Joe Biden announced last week an agreement between the United States and European nations to supply Ukraine with F-16 fighter jets, finally fulfilling a longstanding request from Ukrainian leaders. Zelenskyy spent months pressing the West to provide his forces with American-made jets as his troops continue trying to repel Russian forces, with the conflict now in its second year.
During his remarks Thursday, Zelenskyy described a recent visit with Ukrainian troops on the front lines, saying many have dreams and aspirations similar to those of the American graduating students. The difference is young Ukrainians are forced to endure the collective tragedy of war before chasing their dreams, he said.
"You have to know exactly what you need today — and what you want your tomorrows to look like."
The commencement ceremony took place at the school's Homewood Field on the university's Baltimore campus.
The university announced Zelenskyy's address with the ceremony already underway, just minutes before his remarks were set to begin.
"His appearance will be a complete surprise for those in attendance," a news release said.
Zelenskyy, whose response to the Russian invasion has made him an international symbol of democracy, said he's confident future generations of American leaders will continue championing democratic values around the world.
University President Ron Daniels awarded Zelenskyy an honorary Doctor of Humane Letters degree after his speech.
Daniels had sent a letter to Zelenskyy asking him to speak at the ceremony, according to university spokesperson Jill Rosen. In the letter, Daniels expressed his hope that "one of our era's great democratic leaders would speak to the next generation of leaders, reinforcing in them the importance of holding fast to one's principles and meeting with fortitude and humility the challenging moments of history that they will surely face in the years ahead."