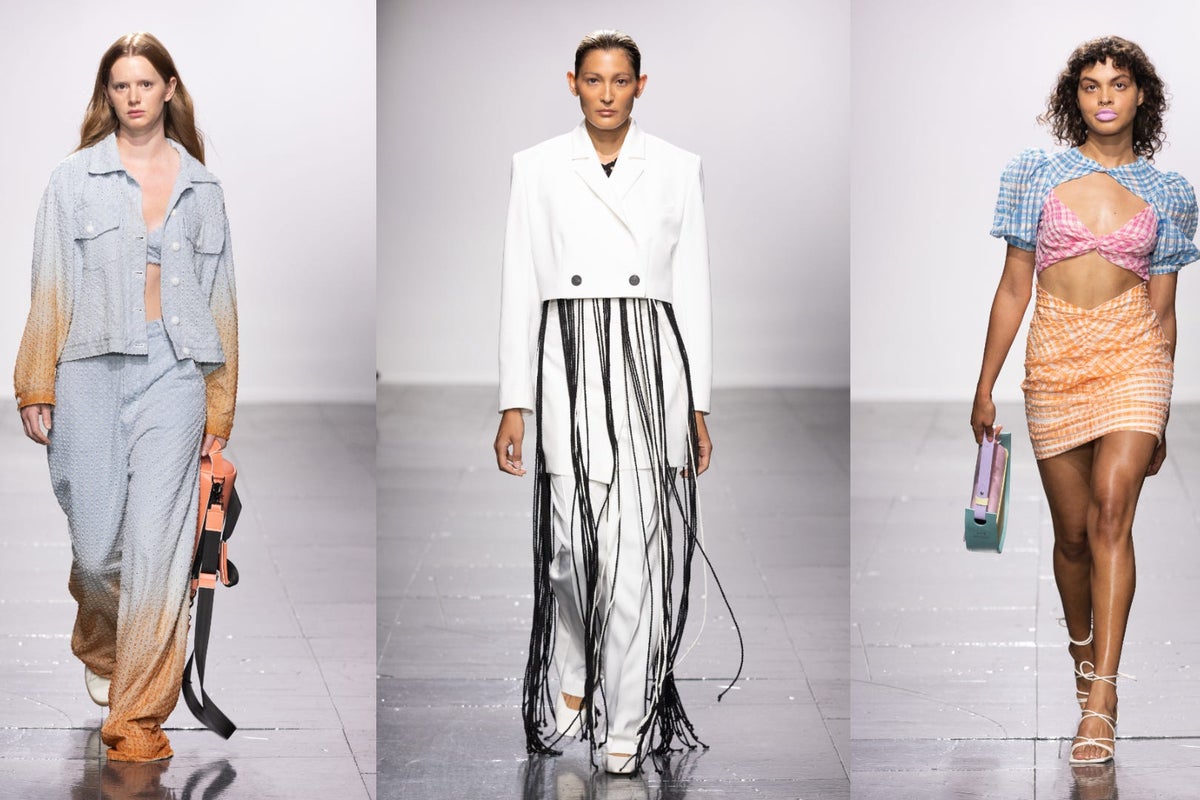 A Ukrainian fashion designer said she will continue to "work no matter what", after showing her latest collection at London Fashion Week (LFW).
Nadya Dzyak was one of three designers showing their latest collections in a showcase dubbed 'Ukrainian Fashion Week'.
This is the second season Ukrainian Fashion Week has taken place in London, as the traditional Kyiv-based event has been cancelled due to the ongoing Russian invasion.
The show took place on the final day of LFW. It began with a voiceover saying: "Creating collections is our resistance to war", going on to highlight that the fashion is a manifestation of "our strength and resilience".
"No matter what, we work. We'll work because it's our life and it's our fight, to create new pieces," Dzyak told the PA news agency backstage after the show.
She said it was particularly meaningful participating in London Fashion Week, calling the city "the main centre of the world of fashion".
She said: "You cannot imagine how it's important for us – it's very strong, it gives power, it gives a lot of emotions."
Dzyak founded her eponymous brand in 2008, and her spring/summer 2024 collection was full of bright colours with sheer dresses laden with ruffles and frills.
She said she was inspired by Ukrainian artist Polina Raiko, who was part of the naïve or folk art movement and died in 2004. Raiko's museum house in Oleshky was flooded after the Russian destruction of the Kakhovka Dam earlier this year.
"I was inspired by her drawings on the walls from this building," Dzyak said, likening her design process to "painting with ruffles".
She continued: "This collection is about hope, about kindness, about optimism, about belief in lightness and victory. You can see very bright colours – for me, it's something very beautiful."
The designer brought her bright colours to unconventional denim looks, which were dyed on the porch of her parents' house.
"My father helped me hand-dye clothes and dry them in the sun. There was something archaic, almost ritualistic in this process," Dzyak said in a statement.
"It made me reflect again on how we will carry the metaphysics of our heritage into the future, everyday life, traditions, parental love."
Also showing her latest collection was Elena Reva, who founded Elenareva in Kyiv in 2012.
Her aesthetic was much more pared-back, with a muted colour palette on romantic gowns and structured tailoring. She was inspired by ancient Trypillian culture, which had a powerful cult dedicated to the Mother Goddess.
Reva told the PA news agency backstage that the jewellery in the collection was designed to give "power and energy, because we need the power now".
She added: "It's a very difficult situation in our country – it's terrible. [But] we have to continue our jobs. We have to live… But it's terrible when the rockets come in."
Her collection mixed masculine tailoring with feminine silhouettes, and created silver pendants of artifacts like amphora – made to look like items unearthed by modern archaeologists.
Kseniaschnaider – the Kyiv-based brand founded in 2011 by married couple Ksenia and Anton Schnaider – was also on the runway.
Denim dominated the collection in different forms, from patchwork jeans to distressed jackets. One of the models wore a denim interpretation of Cossack styles.
All of the garments were made in Ukraine, with the brand adopting sustainable materials – such as aged-look denim dyed with a recycled finish made by cork stoppers.
Kseniaschnaider launched the second drop of its collaboration with Adidas Originals during the show, including football tops in geometric patterns and a midi-length dress in Ukraine's yellow, white and blue colours.
At the end of the show, Dzyak, Reva and Schnaider walked down the runway with Ukrainian flags draped around their shoulders.
Dzyak wants the world to know that Ukrainian designers are "very talented, very strong, very brave and very optimistic".
Reva added that it's crucial for the world to see Ukrainian fashion, saying: "We have to tell about our culture, it's very important.
"We have a very strong community in Ukraine, and we have a very interesting story. And that's why we have to continue."