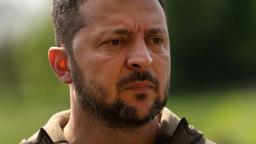 Hong Kong
CNN
 — 

Volodymyr Zelensky will travel in person to Japan for the Group of Seven (G7) summit, according to an official familiar with the planning, a stark display of confidence and Western solidarity as the Ukraine's wartime leader tries to keep crucial support from allied nations flowing.
The surprise trip – which would be the Ukrainian president's first to Asia since Moscow's invasion of his country last February – comes as Kyiv is preparing a highly anticipated counteroffensive against Russia and building pressure on partner governments for more military aid amid intensifying aerial attacks.
And it also illustrates how Moscow's onslaught against its neighbor has unleashed repercussions far beyond Europe's borders in Asia, where Western-allied democracies are increasingly rattled by the growing authoritarian assertiveness of both Russia and China.
The war already tops the agenda of the three-day G7 summit, where leaders from the world's wealthiest democracies are expected to make a strong statement of unity in support of Ukraine and unveil new measures to choke off Russia's ability to fund and supply its war.
G7 member countries, Canada, France, Germany, Italy, Japan, the United Kingdom and the United States, include the largest backers of Ukraine's defense.
Earlier this week, Zelensky completed a whirlwind European tour, where he made a bid to restock Ukraine's military arsenal during stops in Italy, Germany, France and the United Kingdom.
Zelensky will also attend the Arab League summit in Saudi Arabia on Friday, two Arab diplomats confirmed to CNN.
His expected travel halfway around the world to Japan would give Zelensky another chance to stress his appeal for further military support to leaders of the world's wealthiest democracies face-to-face.
It would also send a signal of a confident and well-connected Ukraine that contrasts sharply with Russian leader Vladimir Putin, who has become increasingly isolated and cut off in recent months.
Japan's Ministry of Foreign Affairs had previously said Zelensky would participate virtually in a Sunday session of the G7, after being invited to the gathering by Japanese Prime Minister Fumio Kishida earlier this year.
Kishida made a surprise visit to Ukraine in March while earlier this month Japan confirmed it is in talks to open a NATO liaison office, the first of its kind in Asia, arguing Russia's invasion of Ukraine had made the world less stable.
The week of frenetic diplomacy comes amid deepening urgency at home as Russia's war consumes Ukraine's resources and people in an existential fight for survival.
Aerial attacks rained down across Ukraine Thursday, with explosions heard in areas across the country, including the capital, which city officials say Russia has pelted with a series of air strikes of unprecedented power and intensity this month.
But Kyiv's anti-missile defenses – bolstered by crucial Western weaponry – have had apparent success with the Ukrainian Air Force claiming to have downed 29 out of 30 cruise missiles launched by Russia overnight Thursday.
Zelensky appearance at the summit could add momentum to his appeal for more of that kind of equipment, which Kyiv says it desperately needs to protect its people from Russia's aerial onslaught, and bolster any counteroffensive.
He welcomed additional pledges of military support at the close of his European tour earlier this week, but renewed demands for the modern fighter jets.
At the top of Ukraine's list in recent months have been F-16 fighter jets, and Britain earlier this week said it was working with the Netherlands to form an "international coalition" to help Ukraine procure the jets and train pilots to fly them.
The Biden administration recently signaled to European allies that the US would allow them to export the jets to Ukraine, CNN reported Thursday, citing sources familiar with the discussions.
Zelensky's expected visit to Asia will follow on the heels of one from Ukraine's first lady Olena Zelenska.
On Tuesday, Zelenska pressed South Korea to provide air defense systems as well as non-lethal military hardware to her country during a meeting in Seoul with President Yoon Suk Yeol.
The outreach to Asia comes as Beijing dispatched its own special envoy to Europe this week to promote conversations around ending the conflict, as China – which is not part of the G7 and maintains close ties with Russia – attempts to play a role in brokering peace.
Zelensky met with envoy Li Hui earlier this week, China's Foreign Ministry said Thursday. Ukraine's Foreign Ministry earlier that day had confirmed Li met Foreign Minister Dmytro Kuleba and discussed "ways to stop Russian aggression."
Ukraine said Kuleba stressed "that Ukraine does not accept any proposals that would involve the loss of its territories or the freezing of the conflict" – a point has been repeatedly affirmed by G7 countries, but that stands in contrast with China's call for a ceasefire that does not include a proposal for the withdrawal of Russian troops.