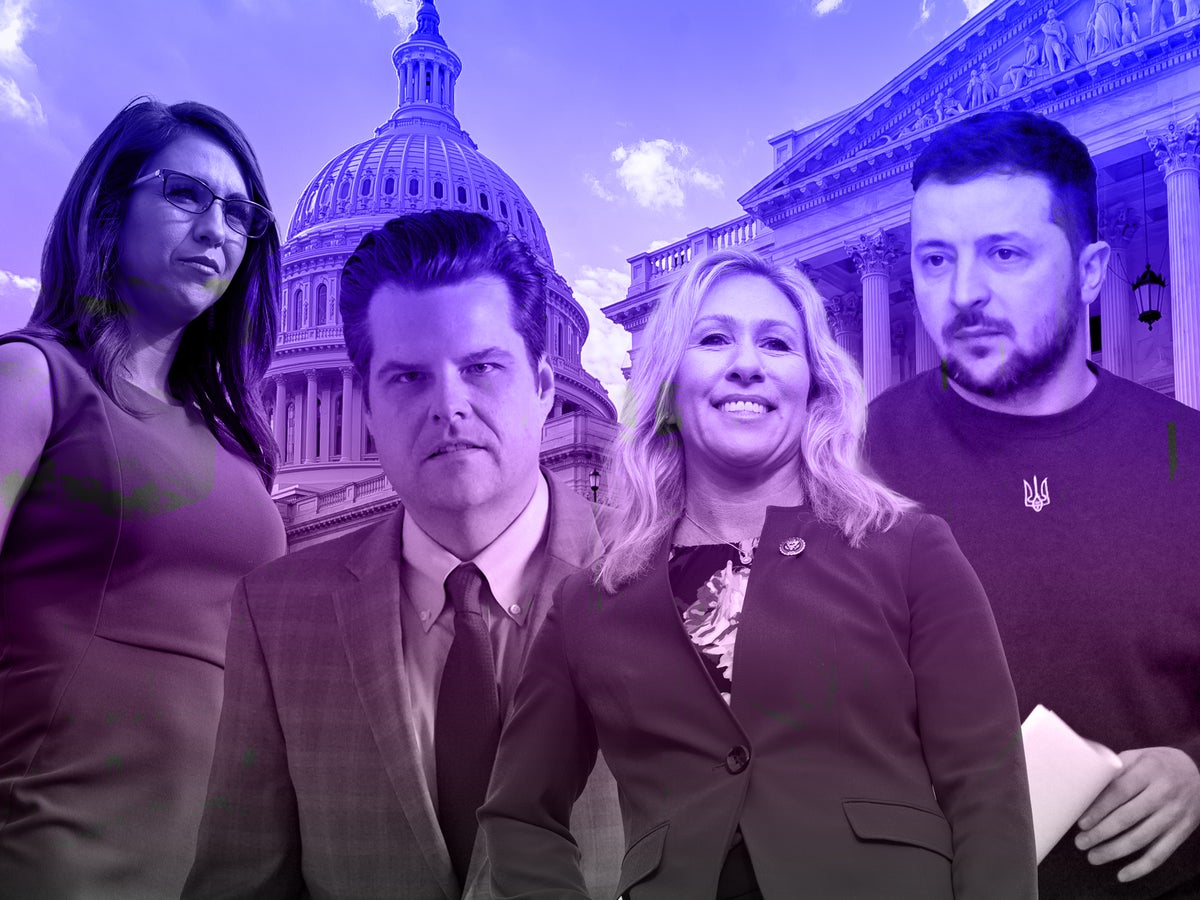 Last week, Senate Minority Leader Mitch McConnell and a coterie of Republicans joined Senate Majority Leader Chuck Schumer on a congressional delegation to Munich to reassure the international community of Republican commitment to Ukraine.
"Let me start by saying: I am a conservative Republican from America, and I come in peace" he said. "Reports about the death of Republican support for strong American leadership in the world have been greatly exaggerated."
Mr McConnell made the public assurance because many Republicans have vocally criticised supporting the country, as Vladimir Putin's brutal assault on Ukraine passes the one-year mark.
"Don't look at Twitter, look at people in power," he said. "Look at me and Speaker Kevin McCarthy. Look at the top Republicans on the Senate and House committees that handle Armed Services, Foreign Affairs, Appropriations, and Intelligence."
But tellingly, House Speaker Kevin McCarthy did not go to Munich. While some members of the Senate Republican conference, such as Missouri Senator Josh Hawley, have criticised aid to Ukraine, a slew of House Republicans have become increasingly vocal against providing aid to Ukraine.
Even Mr McCarthy has seemed to waffle in his support, telling Punchbowl News back in October that "Ukraine is important, but at the same time it can't be the only thing they do and it can't be a blank check."
In the past year, Republican posturing on Ukraine has changed drastically. On 2 March 2022, only three House Republicans voted against a resolution calling for an immediate cease-fire and for Russian to withdraw all troops out of Ukraine. Days after Russian President Vladimir Putin's unprovoked incursion, Congress included $13.6bn in aid to its omnibus spending bill to support Ukraine and only 69 Republicans voted against it.
"I was pleasantly surprised and encouraged at the beginning of the war that Republicans seemed being quite supportive," Tim Miller, a former Republican operative who worked on Jeb Bush's 2016 presidential camapign, told The Independent. "Not just (elected officials) but voters."
But that changed over time. In the waning days of the last Congress, the House passed its omnibus spending bill for the Fiscal Year of 2023, which included about $45bn to aid the war in Ukraine. But 200 Republicans, including all of House GOP leadership, voted against the spending bill.
Now, as Republicans enter their second month of control of the House of Representatives and as the 2024 primary process kicks off in earnest, the party's split on supporting the United States' efforts to aid Ukraine's defence will be on full display for voters and the international community.
Republican rage about Ukraine manifested during President Joe Biden's recent visit to the capital of Kyiv.
Representative Marjorie Taylor Greene, the conspiracy-mongering congresswoman and an ally of Mr McCarthy, accused Mr Biden of putting "America last." Mr Hawley criticised Mr Biden of ignoring the train derailment in East Palestine, Ohio in favor of Kyiv. Representative Paul Gosar of Arizona, who spoke by video at a white nationalist conference last year, tweeted explicitly "Ukraine is not our friend, and Russia is not our enemy." Matt Gaetz continued the pile-on: "I'm not surprised that Biden is ditching America for Ukraine. He ditched America's interests since the start of his presidency. They can keep him!"
The party's approach to Ukraine shows how the GOP has become increasingly isolationist after Donald Trump's presidency. Mr Trump frequently criticised international alliances like Nato and the House impeached him in 2019 for threatening to withhold aid to Ukraine in exchange for investigating then-candidate Biden's son Hunter.
Many more conventional Republicans such as Mr McConnell still support a robust foreign policy. But with impending negotiations about spending cuts and Mr Trump facing a contested presidential primary, Republicans are headed for an internal collision course on just how much they will support Ukraine on the one-year anniversary of war.
"It is definitely worrisome in the sense that it would be helpful to have a basic bipartisan consensus on what the US interests in Ukraine are," Dalibor Rohac, a senior fellow at the conservative American Enterprise Institute, told The Independent. "I think we also have an interest in weakening Russia as long as it remains a sort of belligerent power keen to change borders in Europe by force."
Mr Miller said former president Mr Trump, conservative media and Fox News host Tucker Carlson all weakened support within the Republican Party over time.
"I think that is giving Republican politicians more leeway to speak out against it and to go harder on the Biden administration. On the one flank, you got the Tom Cottons and the Rubios saying he's being too weak."
"The biggest threat to Ukraine is our domestic politics," Mr Miller added.
In November, shortly after Republicans won the House, Ms Greene, Mr Gaetz and other GOP firebrands proposed a resolution that would call for an audit for funding of Ukraine aid.
Similarly, earlier this month, Mr Gaetz of Florida led a group of Republican members of Congress to introduce a "Ukraine Fatigue" resolution that would halt all aid to Ukraine and urge combatants to reach a peace agreement.
Doug Heye, a longtime Republican operative, told The Independent that both parties have foreign policy divisions, but Republican critics of Ukraine aid happen to be louder.
"Yes, this has gone on for a year, we're still early," he said. "It's hard to make any firm predictions. Certainly, there'll be some who will push for reduced funding, whether it's military aid, but economic and humanitarian, but it's a part of the [Republican] conference."
Mr Heye told The Independent that it was too early to tell if it would play a role in the 2024 presidential election, adding that the fact that Americans have had troops overseas in the Middle East for the past 20 years has also affected the outlook on foreign policy.
But Mr Miller said that Republicans in the presidential primary will be split between the more internatiolanist and isolationist wings.
"I think that primary voters are going to be looking for people who orient themselves more for the nationalist wing," he said.
Earlier this week, Florida Governor Ron DeSantis, who is traversing cities governed by Democrats to promote his book as he likely prepares to challenge Mr Trump for the Republican nomination for president in 2024, spoke on Fox and Friends and criticised how as vice president, Mr Biden did not offer lethal aid to Ukraine around the time that Mr Putin annexed Crimea. Mr DeSantis also downplayed the threat of Russia.
'Energy genocide' in Ukraine | On The Ground
"I think it's important to point out, I mean, you know, the fear of kind of Russia going into Nato countries and all that, and steamrolling, that has not even come close to happening," he said. "I think they've shown themselves to be a third-rate military power. I think they've suffered tremendous, tremendous losses."
Mr DeSantis added that even though Russia is hostile, China poses a greather threat. Former South Carolina governor and Nikki Haley, who served as US ambassador to the United Nations in the Trump administration, attempted to strike a balance between skepticism toward Ukraine and the more muscular approach conventional Republicans preferred, in an interview with Christian Broadcasting Network.
"Biden was slow to the take, he should have given Ukraine what they needed right when this started and we'd be in a totally different place right now," she said. "I don't think we need to put troops on the ground. I don't think we need to write them blank checks but they have the passion to fight for their own freedom. Give them the ammunition to do it."
Similarly, former Secretary of State Mike Pompeo, who is exploring a run for president, took a not-so-subtle swipe at Mr DeSantis and tweeted that "If anyone thinks that Putin intends to stop in Ukraine, they're misguided" and that supporting Ukraine was in the the United States' interest, which Mr Miller praised.
"He basically kind of subtweeted Ron DeSantis's claims that we shouldn't be worried about Russia,"
Mr Rohac said that the fringe group of Republicans who are anti-Ukraine makes it harder to criticise the Biden administration's response to the war.
Mr Rohac said that Mr Biden deserved credit for helping Ukrainians but the piecemeal approach has limited Ukraine's ability to win the conflict. He said that the group of MAGA Republicans who oppose assisting Ukraine makes it easier for the administration to shield itself from legitimate criticism.
Still, Mr Rohac pointed out how Republicans have paid a price for not supporting Ukraine specifically, pointing to how Senator JD Vance of Ohio frequently criticised support for Ukraine and underperformed in Ohio's Senate race. Mr Rohac called it an "electoral story should be a warning to Republicans." Mr Vance's predecessor, Rob Portman, served as co-chair of the Ukraine caucus and won re-election in 2016 by 21 points, whereas Mr Vance barely won.
Destruction and defiance: Inside Putin's year-long war on Ukraine
"Ohio is a state with large European communities, with lots of American Ukrainians, and you just have to read the room," he said, adding that the "contrarian" view of Ukraine is "politically self-defeating."
More conventional Republicans have sought to defend supporting Ukraine in the new House majority. Representative Dan Crenshaw of Texas told The Independent that he had some ideas about how to thread the needle, such as putting Europe in charge of humanitarian aid.
"The administration was just just just taking it for granted," he said. "That we should do this and I've never had they've never made an argument. And so it's left to people like me to actually make the argument and it's just the conversation hasn't happened."
Senator Mitt Romney, who was the GOP's presidential nominee in 2012, has said that Russia was "without question, our number one geopolitical foe." He told The Independent it was important to not let partisanship get in the way of doing the right thing regarding Ukraine.
"There's a tendency in Washington for everything to be partisan, which is anything the president wants we have to be against and vice versa," he said. "That's nuts. We have to look at the common interest of our country and the common interests of our country is to continue to support Ukraine. It's desperate decimating the Russian military at no cost of American blood. This is a no brainer for our country."