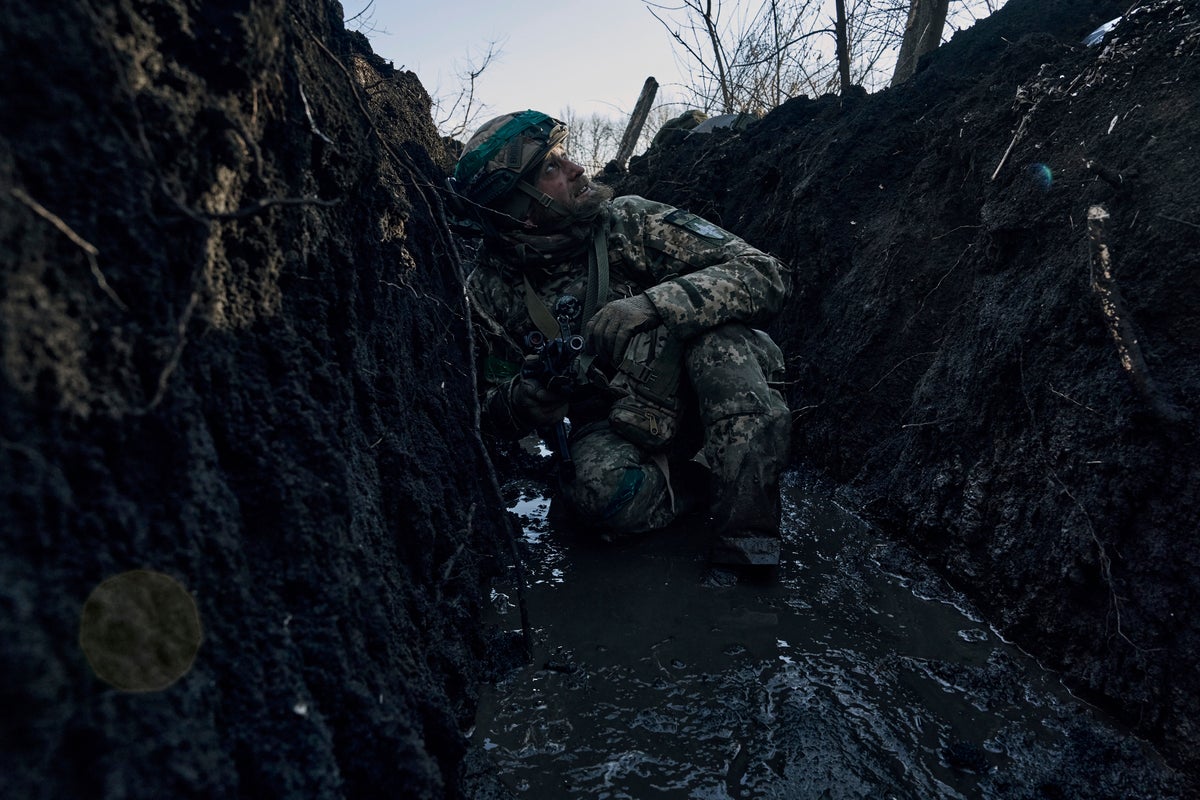 Ukrainian has said its forces are holding out in the brutal fight for the eastern city of Bakhmut – as the head of the mercenary Wagner group complained that Russia's frontlines around the area could collapse without more ammunition from Moscow.
Russia is trying to encircle Bakhmut to secure what would be its first major gain in its invasion for more six months, at the culmination of some of the bloodiest fighting of the war during the winter months. Moscow sees the capture of the city in Donetsk as a stepping stone towards control of the wider Donbas – Ukraine's industrial heartland which encompasses the regions of Donetsk and Luhansk.
The months of intense fighting, for Bakhmut particularly but also in other areas, has depleted both sides' artillery reserves, with thousands of shells fired daily. Volodymyr Nazarenko, a Ukrainian commander in Bakhmut, said there had been no order to retreat from the city and "the defence is holding", albeit in grim conditions.
"The situation in Bakhmut and around it is utter hell, as it is on the entire eastern front," Nazarenko said in a video posted on Telegram.
Ukraine's President Volodymyr Zelensky's office said he had discussed the operation on Monday with his chief of the general staff and commander of ground forces, who both "spoke in favour of continuing the defensive operation and further strengthening positions in Bakhmut".
Yevgeny Prigozhin, the head of Wagner, who have been involved in the fighting around Bakhmut, suggested that his units had "practically surrounded Bakhmut" but that they were being deprived of ammunition that could force a retreat.
"If Wagner retreats from Bakhmut now, the whole front will collapse," Mr Prigozhin said. "The situation will not be sweet for all military formations protecting Russian interests."
Mr Prigozhin also mentioned the lack of ammunition during a Telegram post on Sunday: "For now, we are trying to figure out the reason: Is it just ordinary bureaucracy, or a betrayal?" The Wagner chief regularly criticises the military hierarchy and last month accused Defence Minister Sergei Shoigu and others of "treason" for withholding munitions.
Mr Prigozhin said he had written a letter to the commander of the Ukraine campaign "about the urgent need to allocate ammunition". On Monday morning he said his representative at operational headquarters had his pass cancelled and had been denied access.
Both Kyiv and the US have sought to downplay the strategic significance of Bakhmut, with Ukrainian officials saying that the significant losses that Moscow has faced trying to take the city could be crucial down the line. Ukrainian forces have focused mainly on defence, trying to inflict high casualties while preparing for a counter offensive when new weapons from Western allies arrive.
Speaking to reporters during a trip to the Middle East on Monday, US Defense Secretary Lloyd Austin said he would not predict when or if Ukrainian troops might leave the city, but that its fall "won't necessarily mean that the Russians have changed the tide of this fight".
"I think it is more of a symbolic value than it is strategic and operational value," Mr Austin said.
A spokesman for Ukraine's 10th assault brigade, Mykyta Shandyba, told Ukrainian television "it was clear" Russian forces faced a shortage of ammunition that had limited their advances in Bakhmut. However, he said Russia's attacks had intensified in recent days, with groups of 30 people trying to break through Ukrainian defence lines. "They [have] failed so far," he added.
The Institute for the Study of War (ISW), a Washington-based think tank, noted that urban warfare favours the defender but considered that the smartest option now for Kyiv may be to withdraw to positions that are easier to defend.
In recent days, Ukrainian units destroyed two key bridges just outside Bakhmut, including one linking it to the nearby hilltop town of Chasiv Yar along the last remaining Ukrainian resupply route, according to UK military intelligence officials and other Western analysts.
"Ukrainian forces are unlikely to withdraw from Bakhmut all at once and may pursue a gradual fighting withdrawal to exhaust Russian forces through continued urban warfare," the ISW said.
Elsewhere, Mr Shoigu, the Russian defence minister, travelled to the occupied city of Mariupol on Monday and toured some of the city's rebuilt infrastructure. Mr Shoigu was shown a newly-built hospital, a rescue centre of the Emergency Ministry and residential buildings, the ministry said.
In Moscow, Russia's Federal Security Service (FSB) also claimed that it thwarted an attempt to assassinate nationalist businessman Konstantin Malofeyev. Mr Malofeyev is a media baron and the owner of the ultra-conservative Tsargrad TV who has supported Russia-backed separatists in Ukraine and has trumpeted Moscow's invasion as a "holy war".
Reuters and Associated Press contributed to this report