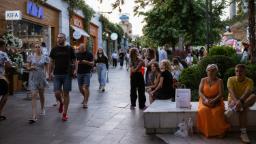 Ukraine's gross domestic product grew by 2.2% year-on-year in the first seven months of 2023, the economy ministry said on Wednesday.
The ministry said in a statement the economy had started to recover after an extremely difficult 2022, when Russia began its full-scale invasion of Ukraine. The economy shrank by about one-third last year in the largest annual fall in more than 30 years of Ukrainian independence.
But businesses and residents have adjusted to war-time reality, and the economy has performed better than expected.
Nadiia Bigun, deputy economy minister, said the number of Ukrainian entrepreneurs had surpassed the levels before the war.
"We have positive news — Ukrainian business is recovering and the number of registered entrepreneurs is growing. As of the middle of summer we have about 2 million entrepreneurs," she said in the statement.
"Economic growth is very important for us because we finance our armed forces thanks to the tax revenues from businesses."
Ukraine's economic resilience prompted the government to improve its forecasts for the year.
The central bank has increased its forecast for GDP growth to 2.9% in 2023 from an earlier target of 2%, and expects economic growth to quicken to 3.5% next year.
Ukraine's Western lenders are more cautious. The World Bank expects GDP growth of 0.5% in 2023.