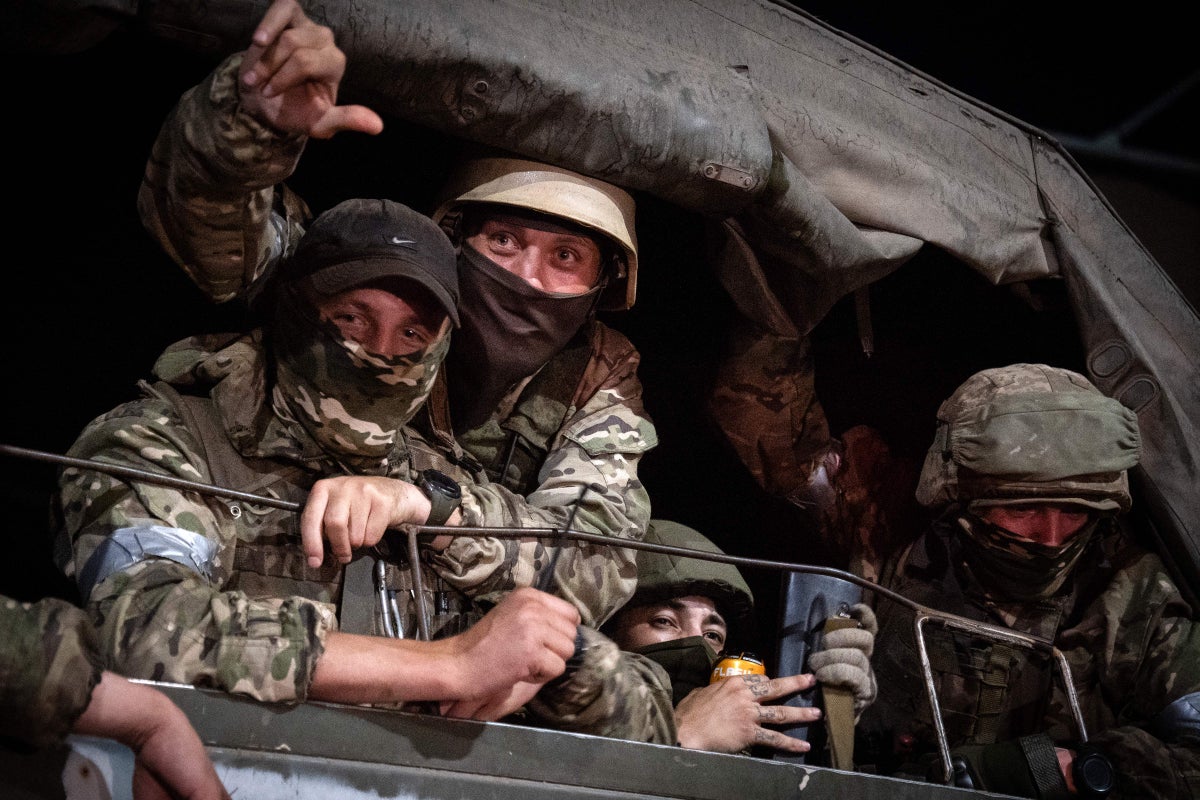 Several hundred fighters of the Wagner mercenary group have returned to Ukraine to fight in Russia's continuing invasion but have not made a significant impact on the battlefield, military officials in Kyiv said.
"We have recorded the presence of a maximum of several hundred fighters of the former Wagner PMC (private military company)," spokesperson for the eastern military command Serhiy Cherevatyi said.
These Wagner fighters were scattered in different places, were not part of a single unit, and had had no significant impact, he said.
"They do not constitute any integral, systematic, organised force," the spokesperson said. "As they say – game over. These are pathetic remnants, nothing good awaits them here."
The Independent has not verified the reports on Wagner's return on the battlefield.
If confirmed, this will mark the first ever comeback of Wagner in Ukraine after the death of its supreme leader Yevgeny Prigozhin in August. Russia's Investigative Committee says it has confirmed Wagner chief Yevgeny Prigozhin was killed in a plane crash.
On 23 August, Prigozhin's private jet came down north-west of Moscow, killing all those on board.
Video footage showed debris falling from the sky above Kuzhenkino in Russia, with pictures emerging of the wreckage. His right-hand man Dmitry Utkin was also on board the Embraer Legacy 600 jet, as well as five other passengers and three crew members.
Russian military bloggers have reported that some Wagner fighters have been returning to Ukraine.
The officials in Kyiv condemned the group on Wednesday once again and denied its existence.
Ukrainian presidential adviser Mykhailo Podolyak said the group – comprising majorly of prison convicts – no longer existed.
"Today, there are only former militants of the terrorist group who have scattered in all directions," he wrote on X, formerly known as Twitter.
He said some had gone to Africa, some were dispersed through Russia, and some had contracts with the Russian Defence Ministry and were fighting in the Bakhmut sector.
Reports of their return were intended to drown out news of Ukraine's recapture of two villages near Bakhmut, the official said.
The mercenaries, responsible for carrying out Russia's dirty work in Africa, also played a crucial role in Russia's continuing invasion of Ukraine and handed Vladimir Putin one of Moscow's biggest territorial feats by capturing the eastern city of Bakhmut in May.
It came after one of the longest and fiercest battles of Moscow's 19-month war in Ukraine.
But after complaints of ammunition starvation, Wagner chief Prigozhin announced he and his fighters will leave Bakhmut after the battle.
Some of them went to Belarus under a deal that ended a brief mutiny by Wagner in June, during which it took control of a Russian military headquarters and marched on Moscow.
After Prigozhin's death, the Kremlin has sought to bring the group under tighter state control.