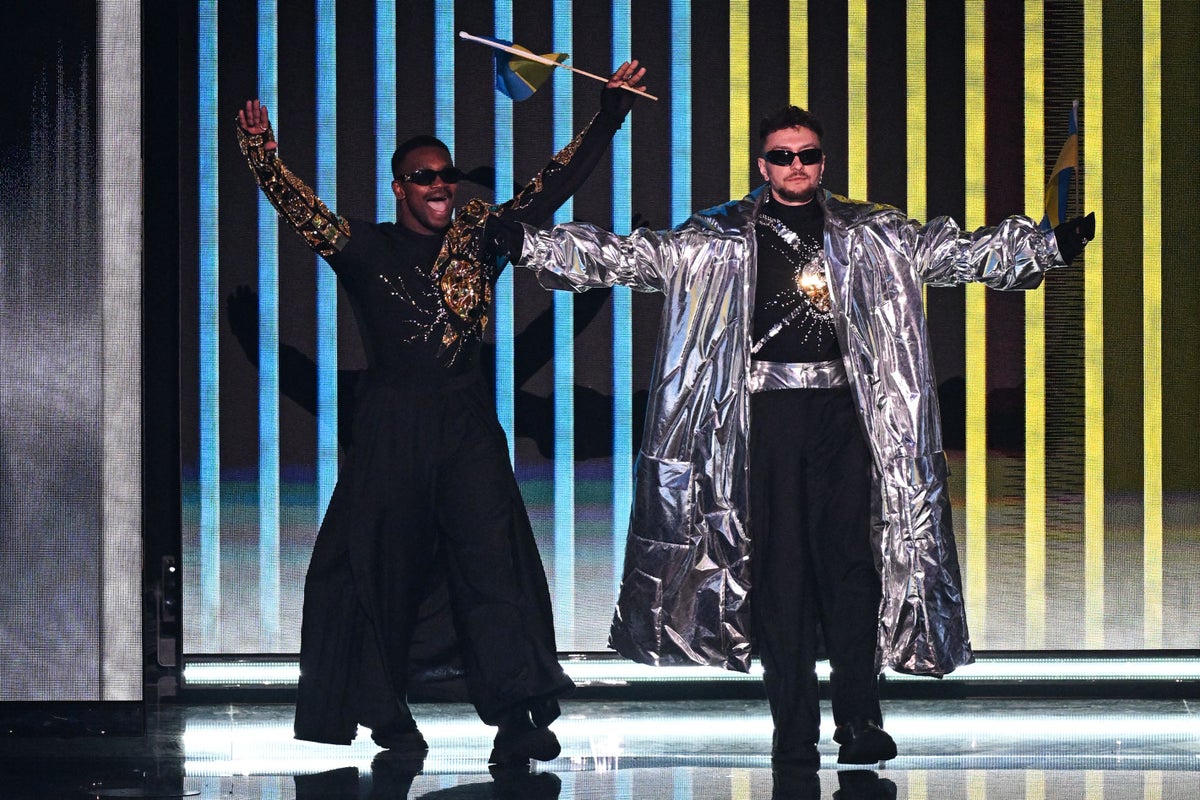 Ukraine was under fire from Russian missiles on Saturday as the Eurovision Song Contest took place, including the university hometown of the Ukrainian act Tvorchi, the British ambassador said.
"Meanwhile, this Eurovision night Ukraine is under another Russian missile attack," Dame Melinda Simmons tweeted.
"Reminder that the reason why (Ukraine) could not host this event is because (Russia) continues to invade and the people of (Ukraine) live in continuing danger."
Ukrainian officials said missiles hitTernopil, a city in western Ukraine several hundred miles from the frontlines of the Russian invasion.
Ternopil Oblast governor Volodymyr Trush reported that warehouses belonging to commercial enterprises and a religious organisation caught fire. He said two civilians were in hospital with shrapnel injuries and burns as a result of the attack.
The governor wrote on Telegram: "I ask all residents of Ternopil Oblast not to be near the place of fire under any circumstances. I remind you – the curfew continues!"
Serhii Nadal, Mayor of Ternopil, asked residents to stay in a safe place until the air-raid alert ceases.
Praising Ukraine's entrants in the song contest, Dame Melinda said: "Tvorchi (definitely) win the prize for graphics. The staging was brilliant.
"And poignant as their university home town of Ternopil was targeted by (Russian) missiles this eve."
The electronic duo, made up of producer Andrii Hutsuliak and Nigeria-raised vocalist Jeffery Kenny, are hoping to defend the title after Kalush Orchestra swept to victory last year on a wave of public support.
Their song Heart Of Steel, inspired by the bravery of the Ukrainian people, drew cheers from the audience at the M&S Bank Arena in Liverpool after it featured lyrics in both English and Ukrainian.
At the end of their performance, the pair held their fists in the air as acts from other nations were also seen waving the blue and yellow flag of Ukraine.
Bookmakers have predicted Tvorchi will perform well with the voting public but they face stiff competition from runaway favourites Sweden and Finland.
This year's competition marks the first time the UK has hosted a final in 25 years. It was decided that Liverpool would host after 2022's winning country Ukraine said it would be unable to, due to the ongoing invasion by Russia.
Saturday saw several developments on the battlefield in Ukraine. After Russia admitted it had retreated from parts of Bakhmut, Ukraine said its troops were advancing on the key city from two directions.
Meanwhile, independent Russian news outlet Kommersant reported that four Russian military aircraft were shot down in home territory.
Kommersant said on its website that the Su-34 fighter-bomber, Su-35 fighter and two Mi-8 helicopters had made up a raiding party, and had been "shot down almost simultaneously" in an ambush in the Bryansk region, adjoining northeast Ukraine.
The Russian state news agency Tass said a Russian Su-34 warplane had crashed in that region but did not specify a cause.