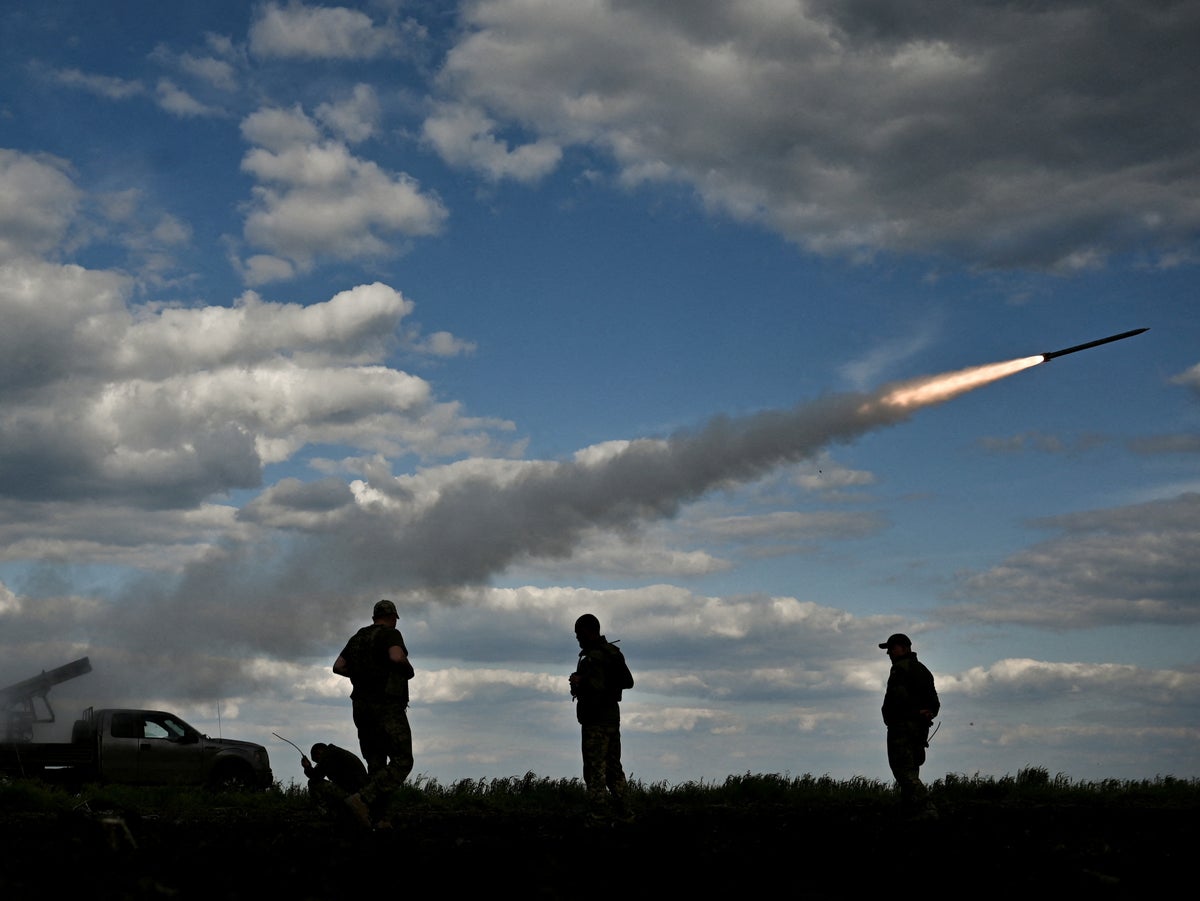 A significant Ukrainian force has launched an assault on Russian lines in the southern Zaporizhzhia region – with a surge in attacks that points towards its counteroffensive shifting into high gear.
A number of US and Ukrainian officials suggested this was the start in earnest of Kyiv's bid to reclaim territory lost to Russian occupation during Moscow's invasion. Ukraine's commanders and government have always said there would be no official announcement of the start of the counteroffensive and there has already been an increase in military activity all week.
The combat against Russian positions – including intense fighting outside of the town of Tokmak, a Russian logistical hub – is said to involve Western-supplied tanks, armoured vehicles and infantry backed by artillery.
The Kremlin has repeatedly claimed to have repelled Ukrainian attacks – that it calls the counteroffensive – across various points of the war's frontlines for a number of days, but Russian military bloggers noted an increase in clashes overnight Wednesday and into Thursday. One said: "Wave after wave of the enemy is trying to break through our defence."
Appearing to confirm an operation was underway, the Ukrainian deputy defence minister, Hanna Maliar, said Russia was "actively on the defensive" in the Orihiv area of Zaporizhzhia region.
Citing two unnamed Ukrainian officials, including a source close to Ukrainian President Volodymyr Zelensky, ABC News reported that the offensive was truly beginning. Reports from other US outlets citing both Ukrainian and US officials, all speaking anonymously, said similar things. But when asked about these reports, a spokesperson for the General Staff of the Ukrainian Armed Forces told Reuters: "We have no such information."
Video footage appearing on social media appeared to suggest that that German-made Leopard 2 tanks were involved in the battle. Russian Colonel General Alexander Romanchuk claimed, without providing evidence, that Moscow's forces had destroyed three Leopard tanks. The officer also said that the general in charge of Russia's troops in Ukraine, chief of the general staff Valery Gerasimov, briefed President Vladimir Putin on the battles in Zaporizhzhia.
Russian Defense Minister Sergei Shoigu also claimed that country's forces had driven back Ukrainian troops trying to punch through defensive lines in the Zaporizhzhia region – after a two-hour battle involving what he said was up to 1,500 Ukrainian soldiers and 150 armored vehicles. The Kremlin has a habit of inflating such numbers and the fog of war obscures a significant proportion of what happens on the frontlines.
Zaporizhzhia – one of four partly occupied regions illegally annexed by the Kremlin – has long been seen as a likely point of a main Ukrainian strike, but Kyiv has worked to mask its plans by launching attacks on multiple points across the vast frontlines.
Zaporizhzhia is part of the land corridor that Moscow has sought to create between Ukrainian's industrial heartland and the Crimean Peninsula, which the Kremlin annexed in 2014. For Ukraine, breaking or disrupting that land bridge will likely be one of the main aims of the offensive.
The Institute for the Study of War, a US-based thinktank that tracks the war in daily updates, said it had concluded on Thursday that the Ukrainian counteroffensive "has begun".
"Activity throughout Ukraine is consistent with a variety of indicators that Ukrainian counteroffensive operations are under way across the theatre," the organisation tweeted.
Reuters and Associated Press contributed to this report