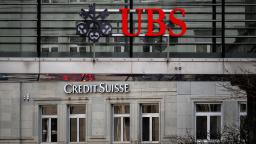 CNN
 — 

Swiss multinational investment bank UBS says it is not aware of a probe by the US Department of Justice into suspected compliance-related missteps by its subsidiary Credit Suisse that reportedly allowed Russian clients to skirt sanctions.
"The recent reporting on an alleged probe by the US Department of Justice into sanctions-related compliance failures at Credit Suisse and UBS is inaccurate. We're not aware of such a probe," UBS told CNN in a statement. "UBS and CS have significantly and proactively reduced their Russia-related exposure."
According to a person familiar with the matter, UBS has been in touch with the DOJ regarding the reported probe.
The bank's reaction comes on the heels of a Bloomberg report, which cited anonymous people familiar with the matter and asserted the Justice Department had briefed lawyers for UBS (UBS) about Credit Suisse's alleged involvement in sanctions violations.
CNN reached out to the Justice Department for comment but has not received a response.
The Swiss Bankers Association, a group of the country's financial institutions, estimated in July more than $200 billion in Russian money has been stashed in Swiss banks. Drew Sullivan, co-founder of the Organized Crime and Corruption Reporting Project, told the Commission on Security and Cooperation in Europe in July he thinks "the often-mentioned figure of $200 billion in Russian money in Swiss banks is a gross underestimation."
The commission, also known as the US Helsinki Commission, had called the July hearing over questions involving sanctions evasion and money laundering as Russia continues its attack on Ukraine.
"Part of our strategy in winning the war for Ukraine, is to isolate and put sanctions on Russia," Sen. Ben Cardin, a Democrat from Maryland and co-chair of the commission, said at the hearing. "Those sanctions are only as effective as we are able to make sure that they are enforced. And we have seen the Russian economy surviving better than we thought it would. Part of that has been the laundering of dirty money in Switzerland."
UBS shares plummeted on the news Wednesday morning. The Swiss Stock Exchange temporarily stopped trading on the stock, which had fallen as much as 8% before it was suspended. Shares of UBS have steadily recovered, but are still down 1.7% since Wednesday's report.