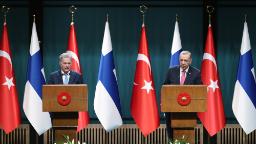 CNN
 — 

Turkey's president says his country will begin ratifying Finland's bid to become a NATO member, paving the way for the country to join the security alliance after months of delays.
"We have decided to start the parliamentary ratification process of Finland's NATO Accession Protocol," Recep Tayyip Erdogan said at a news conference in Ankara.
Erdogan said he believes NATO "will become even stronger through Finland's membership," and "will play a more efficient role in preserving global security and stability."
Finland announced its intention to join NATO in May 2022, along with Sweden, after Russia's invasion of Ukraine caused a sudden shift in attitudes toward joining the bloc.
That announcement was welcomed by almost all of NATO's leaders, but under NATO rules just one member state can veto a new applicant's membership.
Turkey's Erdogan threw in a spoke in the wheel when he said he was not looking at both countries joining NATO "positively," accusing them of housing Kurdish "terrorist organizations."
Friday's announcement clears the way for Finland's accession, but Sweden's application has been stalled by Ankara's accusations, something Sweden denies.