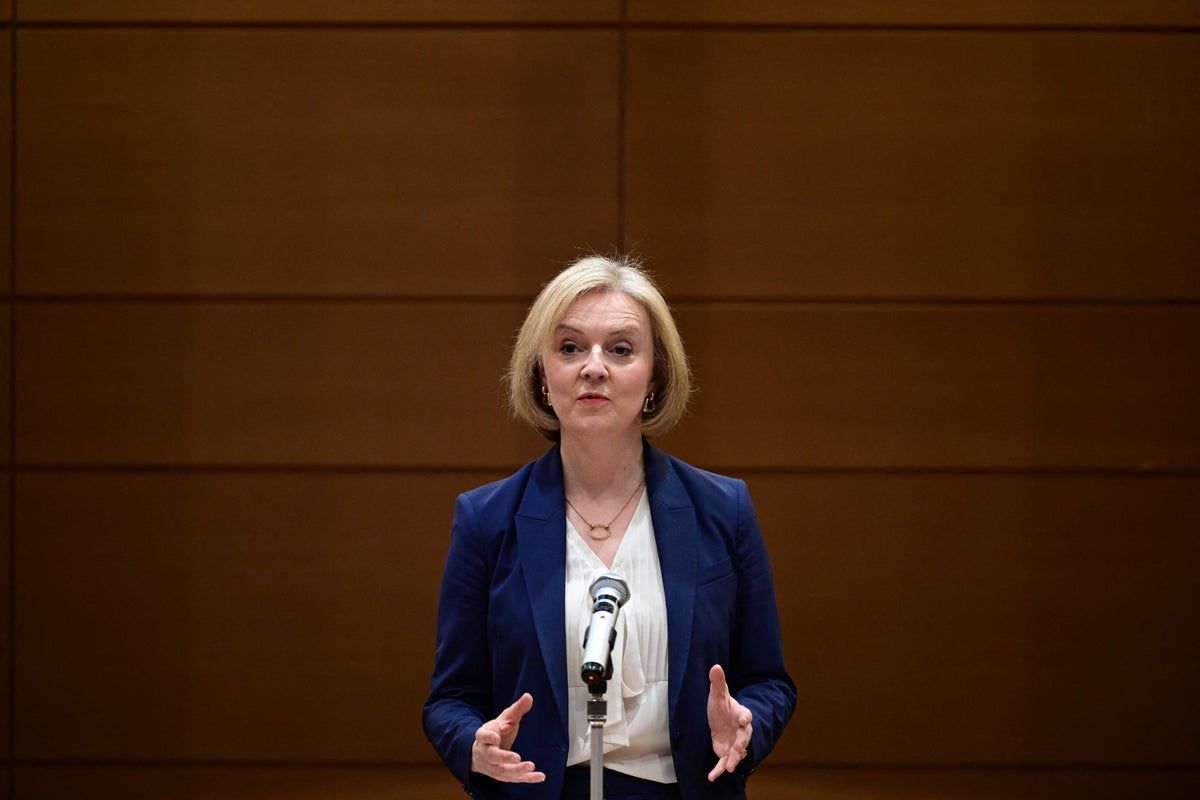 Liz Truss will pile pressure on Rishi Sunak to designate China a "threat" to national security during a speech in Taiwan that could antagonise Beijing and potentially complicate the government's cautious approach to China.
The former prime minister, who is trying to revive her career after she spent just 49 days in Downing Street, will challenge her successor to follow through on language he used in last summer's Conservative Party leadership contest, when he branded China the "biggest threat" facing Britain.
Mr Sunak also promised to close Beijing's 30 Confucius Institutes in the UK, which promote Chinese culture to students.
In her speech on Wednesday, Ms Truss is set to say: "Last summer, the now British prime minister described China as 'the biggest long-term threat to Britain' and said the Confucius Institutes should be closed.
"He was right, and we need to see those policies enacted urgently. The UK's Integrated Review needs to be amended to state clearly that China is a threat.
"Confucius Institutes should be closed down immediately. Instead, the service could be provided by organisations with the support of Hong Kong nationals and Taiwanese nationals who have come to the UK on a free basis."
As prime minister, Ms Truss was expected to shift Britain towards a more hawkish stance on dealing with Beijing, and to declare China under Communist Party rule a "threat" to national security.
But her short stint in Downing Street, marked by her disastrous mini-Budget, meant that her foreign-policy plans did not have time to materialise.
Mr Sunak chose not to go as far, updating the UK's Integrated Review of Security, Defence, Development and Foreign Policy in March to describe China as representing an "epoch-defining and systemic challenge".
Ms Truss will be the first former British prime minister to visit Taiwan since Margaret Thatcher made the journey in the 1990s.
Her visit has sparked controversy, with senior Tories warning it risks undermining Mr Sunak on the world stage and "complicating" the government's stance on China.
She was also criticised by Alicia Kearns, the Conservative chair of the foreign affairs select committee, who attacked the planned visit as "the worst kind of Instagram diplomacy".
Ms Truss hit back, branding China "the largest threat that we face to the free world" and accusing Western countries of not being tough enough.
The visit comes during a sensitive time for relations between the West and an increasingly assertive Beijing.
China views Taiwan as a breakaway province that will eventually come under its control, and has not ruled out the use of force to achieve "reunification".
But Taiwan has its own government, and considers itself independent from the People's Republic of China.
Relations deteriorated sharply following US House speaker Nancy Pelosi's visit to the island in August last year, and there are fears that Ms Truss's trip could escalate things further.
Ms Kearns also suggested that Ms Truss just wanted to visit the country to boost her profile.
Ms Truss is expected to urge the West not to work with China, warning that totalitarian regimes "don't tell the truth". She is also expected to compare the tensions between China and Taiwan with the Russian invasion of Ukraine.
The former PM is to address the Prospect Foundation think tank in Taipei on Wednesday morning.