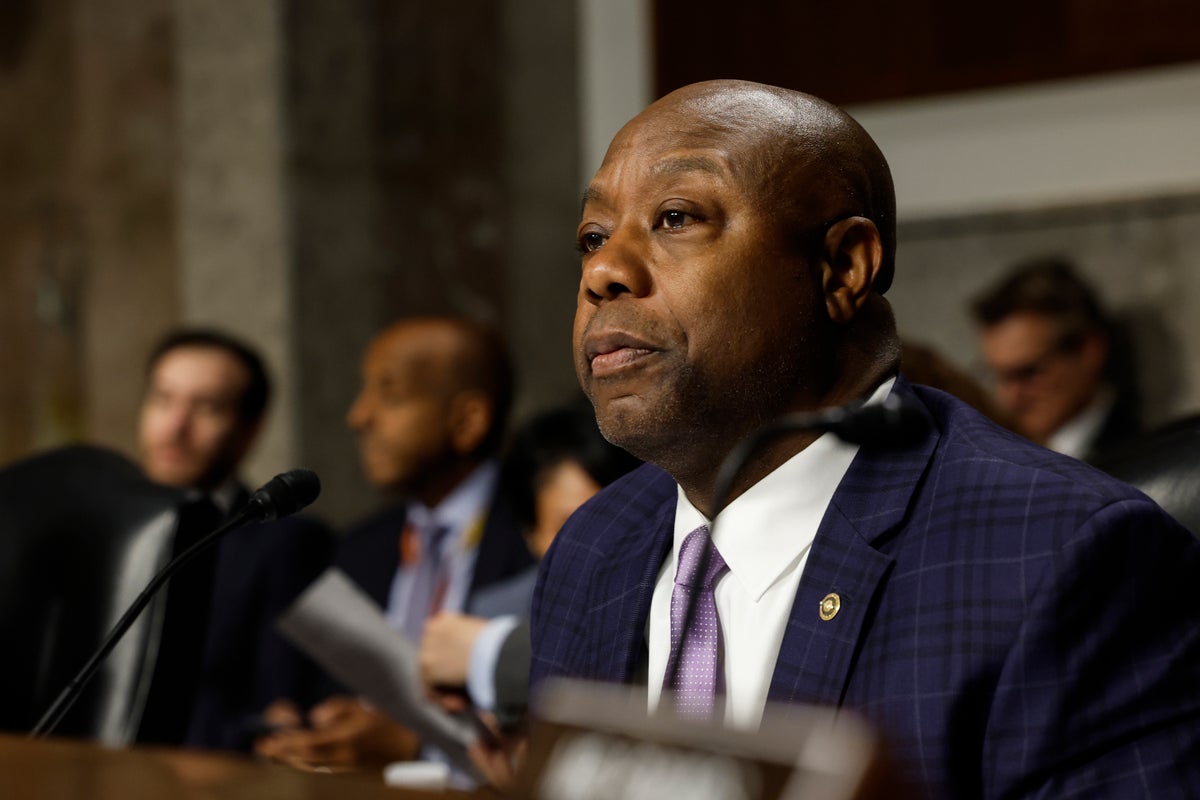 Former president Donald Trump's campaign used the entrance of Sen Tim Scott (R – South Carolina) into the 2024 Republican presidential race to hit his main rival, Florida governor Ron DeSantis.
Mr Scott, the Senate's sole Black Republican, filed paperwork to run for president. He is largely expected to announce his candidacy on Monday.
But Mr Trump's campaign spokesman Taylor Budowich used Mr Scott's planned announcement to continue the campaign's attacks on Mr DeSantis.
"Ron DeSantis' failed shadow campaign has opened the flood gates for career politicians looking to seize an opportunity to raise their profile ahead of the 2028 race," he said.
The statement noted how many other Republicans either declared or are considering declaring their candidacy, including North Dakota Gov Doug Burgum, Virginia Gov Glenn Youngkin, Chris Sununu of New Hamphsire and former New Jersey Gov Chris Christie. The Trump campaign said that the other candidates joining shows they know the number two spot in the campaign is open.
"They smell Ron DeSantis' blood in the water and no longer seem [sic] him as an obstacle," Mr Budowich said.
The two have a long history. In 2016, Mr Scott endorsed Sen Marco Rubio (R – Florida) in the Republican presidential primary, alongside then-governor Nikki Haley, now a candidate for president herself.
Later, Mr Scott voted for most of Mr Trump's policies, including the Republican legislation to repeal Obamacare and included provisions in the Tax Cuts and Jobs Act of 2017 that Mr Trump signed. He also voted for all three of Mr Trump's Supreme Court nominees. But he also voted to sink one of Mr Trump's judicial nominee's confirmation after some raised questions about his record on voting rights.
Mr Trump's campaign also listed four areas where Mr Scott differed from Mr Trump, including supporting spending for Ukraine and saying President Joe Biden provided "too little support". The Trump campaign also criticised him for opposing Mr Trump's plan to remove troops from Syria.
The Trump campaign also dinged him for not mentioning immigration when he delivered the rebuttal to Mr Biden's 2021 joint address to Congress and voting to confirm Treasury Secretary Janet Yellen.