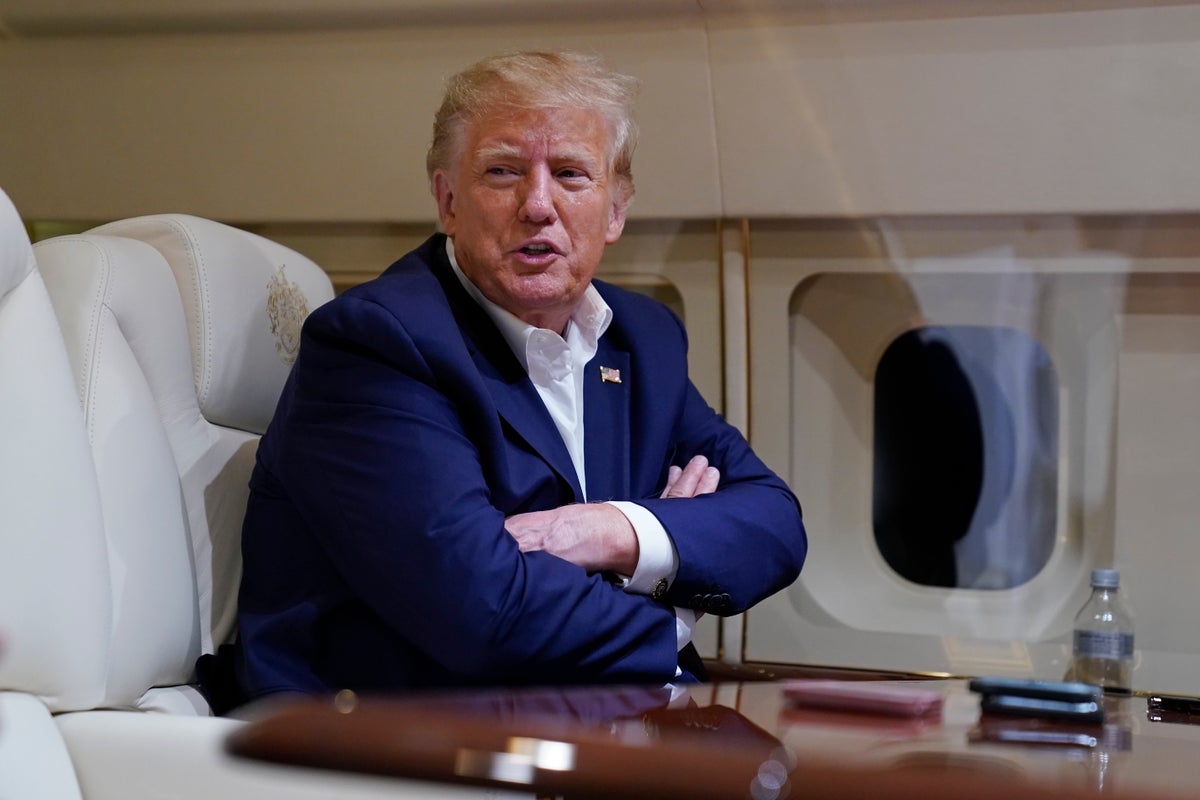 Sign up for the daily Inside Washington email for exclusive US coverage and analysis sent to your inbox
Get our free Inside Washington email
As Donald Trump rails against a possible indictment in New York, his team is leaning into a strategy that has quietly become a become a cornerstone of his 2024 presidential campaign: releasing made-for-social media videos reacting to the news and outlining his agenda for a possible second term.
The videos feature the former president speaking directly to camera on topics ranging from Ukraine and "saving" the suburbs to dismantling the "deep state, " and they are often laced with his familiar dark rhetoric and conspiracies. But his team sees them as a tool to bypass the traditional news media and speak directly to supporters, and as part of a broader effort to steer Trump toward policy instead of his own grievances and obsessions with the past.
"It certainly lays down a marker for President Trump and the campaign on very specific policy prescriptions. No campaign has done it thus far and it sort of harkens back to 2016 where President Trump was pushing out policies left and right," Trump campaign spokesman Steven Cheung said. "We want to put a focus on policy and do it differently from a run-of-the mill campaign."
That effort has continued even as Trump's campaign has struggled with the prospect that he could become the first former president in U.S. history to face criminal charges. The campaign strategy offers insight into how his team might press forward if he does end up on trial in New York or faces indictment in other ongoing state and federal investigations.
On Wednesday afternoon alone, Trump posted half a dozen videos on his Truth Social site, including several blasting Florida Gov. Ron DeSantis, who is seen as Trump's most serious potential rival for the Republican presidential nomination.
In one video, Trump thanked supporters for attending his recent Texas rally and asked them to "sign up, donate and volunteer for our campaign." In another video, he lashed out at the federal and state prosecutors who have been investigating his conduct. "Election interference through prosecutors is the new ballot stuffing for the Democrat Party," Trump charged.
The made-for-internet videos are typically released on Trump's site between a barrage of angry, all-capital letter missives and flattering articles from conservative sites, and have shown Trump laying out policy plans on topics ranging from crime and immigration to inflation. He has envisioned flying cars in futuristic cities and has pledged to impose tariffs on most foreign goods, increase penalties on minors who commit crimes and rid the Pentagon of "warmongers."
There are more to come: Trump filmed 27 in a single recent session, underscoring the campaign's embrace of the format.
The videos do not always garner mainstream media attention. But they often receive several hundred thousand views on platforms such as Rumble and Twitter.
Trump allies say the videos were introduced at a critical time for the campaign, when it was struggling after a lackluster launch and a disappointing midterm election outcome in 2022 in which Trump was blamed for Republicans' failures to make expected gains.
The first video was released the same day as a widely panned digital trading card announcement and after Trump's dinner with a known white nationalist and a rapper who had spewed antisemitism. At the time, even people close to Trump were publicly voicing doubts about whether he was serious about going through with another campaign.
The videos, they argued, helped to change the narrative by demonstrating Trump had plans for a second term and was running not just to try to stave off indictment or because of his lingering anger over the 2020 White House election, which he continues to falsely insist he won.
"These policy videos have been largely responsible for repositioning his candidacy for the better," said Andy Surabian, a Republican strategist and close adviser to Trump's son, Donald Trump Jr. "And it happened slowly and it happened under the radar. They didn't get tons of mainstream media attention, but they served as a constant reminder to GOP primary voters," Surabian said, that the former president "has a serious forward-looking policy vision for 2024."
They also developed from a tacit acknowledgement that Trump was receiving less media attention, both from Fox News, as it increasingly embraced DeSantis, and other cable outlets that had once eagerly aired Trump's rallies live and allowed him to call in for hours of interviews.
"This is one way to bypass them," Cheung said. "We all know digital video and social media is one way to do that — going directly to the people."
This isn't the first time Trump aides have turned to videos at a consequential moment.
On Jan. 6, 2021, hours after the his supporters violently stormed the Capitol in a bid to halt the peaceful transfer of presidential power to Democrat Joe Biden — and after desperate aides and allies begged Trump to call them off — Trump released a video filmed in the Rose Garden in which he told the rioters to "go home now," while adding: "We love you, you're very special."
He taped another video the next day, outtakes from which were played during congressional hearings.
During his 2016 campaign, Trump also turned to a recorded statement to apologize after the release of the "Access Hollywood" tape in which he used lewd and sexually charged comments about women.
Now, the series of campaign videos is part of a larger focus on policy by Trump that has often been overshadowed by his more incendiary comments.
During an early March speech at the Conservative Political Action Conference, for instance, Trump described the 2024 race in apocalyptical terms. "In 2016, I declared, 'I am your voice.' Today I add: I am your warrior. I am your justice. And for those who have been wronged and betrayed, I am your retribution," he said.
But Trump also spent much of that speech outlining his priorities for a second term, from new crackdowns on immigration to creating tent cities for the homeless and those addicted to drugs.
The videos are typically filmed in sessions once or twice a week in a room adjacent to the central "living room" space at Mar-a-Lago, his Florida estate. After the first video received a better-than-expected reception, the campaign realized there was an appetite for policy content and that the format gave it better traction than traditional news releases.
Some videos received widespread attention. That was the case with his plan for a "quantum leap in the American standard of living," with new futuristic cities built on federal land, investments in vertical takeoff and landing vehicles, and "baby bonuses" to launch a new "baby boom,"
"I think they've been very successful," Trump said of the videos during an appearance on the conservative "Just the News" last month. He credited them for his recent polling bump.
Democrats say the videos simply renew attention on an unpopular agenda that voters have already opposed.
"Donald Trump's 'policy' videos serve as a consistent reminder that a second Trump administration would dramatically build on the four years of his disastrous MAGA agenda with more extreme and dangerous proposals," said Democratic National Committee Chair Jaime Harrison, referring to Trump's 2016 campaign's slogan, "Make America Great Again."
"While the rest of the 2024 field competes to out-MAGA Trump, the American people will see an exceedingly extreme party they've already rejected, more than once," Harrison said.
Ukraine War 24