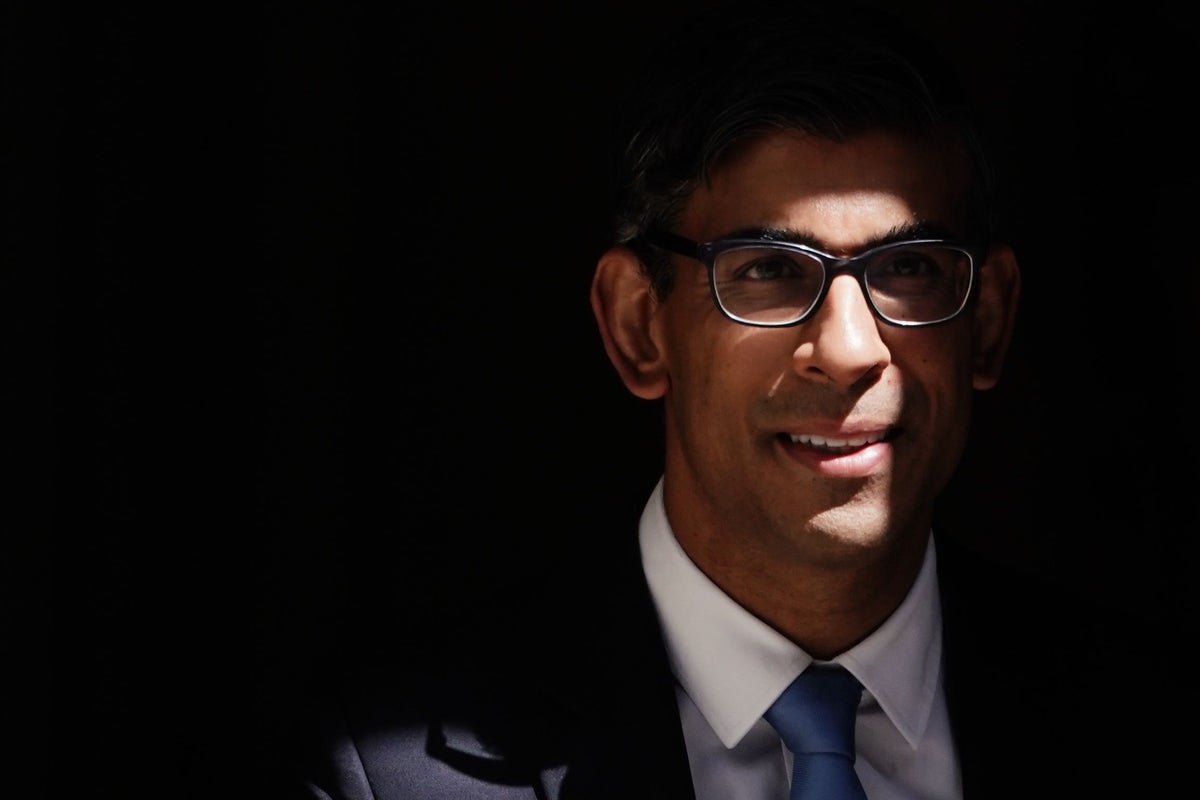 Rishi Sunak faced a Tory backlash as official estimates indicated net migration reached a record high of 606,000 people last year.
The Prime Minister said the number was "too high" but insisted he had not lost control of the immigration system.
But Conservative MPs warned of voter anger and frustration at "unsustainable" levels of net migration.
The record high for 2022 was driven by people from non-EU countries arriving for work, study and humanitarian reasons, new Office for National Statistics (ONS) estimates show.
The figure, which is the difference between the number of people moving to the UK and the number leaving, is up from 488,000 in 2021.
The estimates include people who have come to the UK from Ukraine and Hong Kong under resettlement schemes, as well as overseas students – though there are signs that those who first arrived for study reasons in 2021 are now starting to leave, according to the ONS, which compiled the figures.
Immigration Minister Robert Jenrick said: "We expect net migration to fall to pre-pandemic levels in the medium term."
The Tory 2019 manifesto promised that "overall numbers will come down" as the Government ended freedom of movement from the EU in the wake of Brexit.
Mr Sunak has vowed to bring down the number from the level he inherited when he took office last year.
A total of 1.2 million people are likely to have migrated to the UK in 2022, while 557,000 are estimated to have migrated from the UK in the same period.
On ITV's This Morning, Mr Sunak said: "Numbers are too high, it's as simple as that. And I want to bring them down."
Asked whether immigration is out of control, Mr Sunak said: "Well, no, I think the numbers are just too high."
He said measures put in place this week to prevent overseas students bringing dependants with them "are significant" and will bring levels down over time.
But Tory anger at the inability to control net migration – a frustration dating back to David Cameron's failure to bring it down to the "tens of thousands" he promised – was evident in the Commons.
Conservative MP Aaron Bell said the figures were too high and his voters "will expect to see them fall", while his Tory colleague Louie French said the "unsustainable levels of migration" were having a "significant impact" on housing in south-east England.
The Government has to balance its commitment to reducing net migration with the need to fill vacancies in areas where there is a labour shortage.
But veteran Tory Sir Edward Leigh said: "Some people in the Treasury seem to think a good way to grow the economy is to fill the country up with more and more people, but this is bad for productivity and bad for British workers who are being undercut by mass migration from all over the world."
Tory MP Martin Vickers said voters' "anger and frustration will grow when they consider these legal migration figures".
Separate figures published on Thursday by the Home Office showed the backlog of asylum cases in the UK has hit a new record high, with a total of 172,758 people waiting for an initial decision on an asylum application in the UK at the end of March 2023.
The combined total of 1,472,162 visas issued in 2022/23 is up 53% from 960,133 in 2021/22 and is the seventh successive record high for a 12-month period since current figures began in 2005.
Shadow home secretary Yvette Cooper said: "The Conservatives' chaotic approach means that work visas are up 119%, net migration is more than twice the level ministers were aiming for, and the asylum backlog is at a record high despite Rishi Sunak promising to clear it this year."
Jay Lindop, director of the centre for international migration at the ONS, said a series of "unprecedented world events throughout 2022", together with the lifting of restrictions following the Covid-19 pandemic, led to record levels of international immigration to the UK.
"The main drivers of the increase were people coming to the UK from non-EU countries for work, study and for humanitarian purposes, including those arriving from Ukraine and Hong Kong," she said.
The ending of Covid-19 lockdown restrictions saw a "sharp increase in students arriving", but recent data suggests that those arriving in 2021 are now leaving the country, with the overall share of non-EU immigration for students falling in 2022.
But those arriving on humanitarian routes increased over the 12 months.
"Evidence also suggests immigration has slowed in recent months, potentially demonstrating the temporary nature of these events," Ms Lindop added.
Immigration is estimated to have slowed in recent months while emigration has increased, meaning the net migration total of 606,000 for the year to December 2022 is similar to the level in the 12 months to June 2022, the ONS said.
Previous migration data has been revised to include asylum applicants for the first time, meaning the original estimate for the year to June – 504,000 – has been increased by just over 100,000.
Madeleine Sumption, director of Oxford University's Migration Observatory, said there was "no reason to assume that net migration would remain this high indefinitely" although it was difficult to predict future patterns.
She said: "These unusually high net migration levels do not have a single cause but result from several things happening at once: the war in Ukraine, a boom in international student recruitment and high demand for health and care workers."