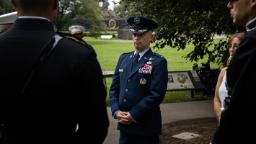 CNN
 — 

President Joe Biden has nominated an Air Force general to head the nation's powerful electronic spying agency and the US military command that conducts offensive cyber operations – a crucial position as the US continues to battle Russia, China and other foes in cyberspace.
Lt. Gen. Timothy Haugh, who has served for years in senior US military cyber positions, is Biden's choice to replace outgoing Army Gen. Paul Nakasone as head of the National Security Agency and US Cyber Command, an Air Force official confirmed to CNN.
Politico first reported on Haugh's nomination.
The White House did not respond to a request for comment.
Haugh's nomination could face a roadblock in the Senate after Republican Sen. Tommy Tuberville of Alabama put a hold on senior military nominations because he objects to the department's abortion travel policy.
Haugh is currently deputy of US Cyber Command, a command of thousands of US military personnel who conduct offensive and defensive cyber operations to protect US critical infrastructure. Officials from the command traveled to Ukraine in late 2021 to prepare Kyiv for an onslaught of Russian cyberattacks that accompanied the full-scale Russian invasion.
The command and NSA also have taken an increasingly active role in helping defend American elections from foreign interference under Nakasone's leadership over the last five years.
During the 2020 election, Iranian hackers accessed a US municipal website for reporting unofficial election results and Cyber Command kicked the hackers off the network out of concern that they might post fake results on the website, a senior US military official revealed last month.
Haugh's nomination signals a continued emphasis on election security work at Fort Meade, the sprawling military base in Maryland where the NSA and Cyber Command are housed. As a senior US military cyber official, Haugh has been involved in election security discussions in recent midterm and general elections.