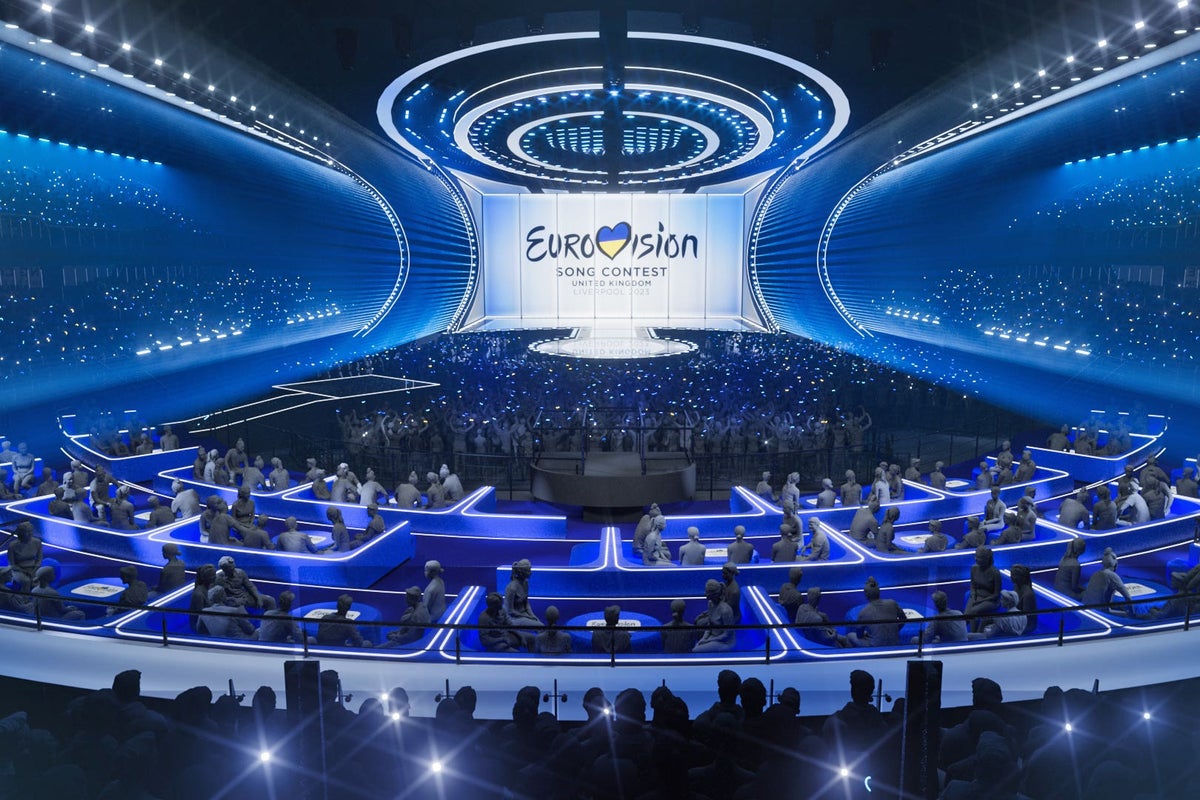 Tickets to the grand final of the Eurovision Song Contest have sold out in just over half an hour.
Fans faced technical issues as the Ticketmaster website struggled with the number of people trying to secure tickets to the nine different live shows on Tuesday.
The dedicated website page appeared to crash shortly before tickets were due to become available, with issues continuing throughout the sale.
Some were met with a "500 – Internal Server Error" message when they attempted to click through to find tickets.
Others reported being ejected from the virtual queue after receiving a message saying their session had expired "due to inactivity".
At 12.36pm the official Eurovision account tweeted that all tickets to the grand final had sold out.
Tickets to the remaining shows had sold out by 1.32pm.
Ticketmaster has been contacted for comment.
A spokeswoman for the BBC said: "As expected, demand for Eurovision Song Contest tickets was extremely high and tickets for all nine shows sold out in 90 minutes.
"Congratulations to those who secured their seats to Liverpool Arena in May.
"We are now looking forward to putting on a brilliant show for our global TV audience and those watching on BBC One and BBC iPlayer in the UK."
The international singing competition will take place at the 11,000-capacity Liverpool Arena later this year, culminating in the grand final on May 13.
The event is being held in the city after the UK was chosen to host the competition on behalf of war-torn 2022 winner Ukraine.
Tickets for the semi-final shows are priced from £30 to £290, with the cost increasing to between £80 and £380 for the grand final shows.
Those who managed to secure tickets celebrated on social media while others commiserated online.
Alexandra Kilcran, 27, a content designer from north London, was among those who managed to secure a ticket to the jury grand final.
She told the PA news agency she would be attending by herself and her experience getting a ticket had been "fairly straightforward and easy".
She said: "I got tickets for the jury grand final and took about 20 minutes. I'm shocked I got anything at all! Delighted, I've always wanted to go.
"My best friend James passed away last year and we were both obsessed with it so it'll be strange going without him. I'll have a drink for him when I get there."
She said she got standing "for the atmosphere and so I can mingle".
Megan Spencer, 27, from Leicester, spent £82 on her standing ticket to the second semi-final.
The social media assistant, who will stay in nearby Southport and catch the train to save money, said she screamed when she secured the ticket.
She told PA: "I've been a massive Eurovision fan since I was young, it's like my second Christmas each year. I never thought I would see it in the UK with how bad our luck has been in the competition, I can tick it off my bucket list."
Lauren Winter, 30, from Carlisle, said: "We were booked to go to Rotterdam during Eurovision a couple of years ago but Covid changed our plans and (to) actually get tickets to see a show in the UK, especially up north, is most likely once in a lifetime. I still can't believe we got lucky."
The cafe worker, who is attending the jury grand final show, booked a hotel from the Thursday to the Sunday before Liverpool was announced as the host city and prices spiked.
Before the sale, Ticketmaster urged fans to register an account in order to ensure the process went smoothly.
Fans were able to buy up to four tickets in a single order for the live shows and six in a single order for the preview performances.
Eurovision is set to air on the BBC and will be hosted by singer and Britain's Got Talent judge Alesha Dixon, Ted Lasso actress Hannah Waddingham and Ukrainian singer Julia Sanina, as well as returning favourite, comedian and talk show host Graham Norton.
After the sale Rylan Clark, who also features on the presenting line-up, tweeted: "Congrats if you got tickets! If not don't worry, the Euro Village is gonna be amazing. #Eurovision is gonna take over the whole city.
"See you soon Liverpool…. All aboard.. (2018 ref for you die hards)."
Ukrainian refugees living in the UK through the Homes for Ukraine scheme, the Ukraine Family Scheme and the Ukraine Extension Scheme will be able to apply for cheaper tickets.
It was previously announced the UK Government will make around 3,000 tickets available for those who were forced to flee their home country when Russian troops invaded last year.
The subsidised tickets will cost £20.
The semi-final evening preview kicks off at 8pm on May 8, with the grand final live show bringing the contest to an end starting at 8pm on May 13.