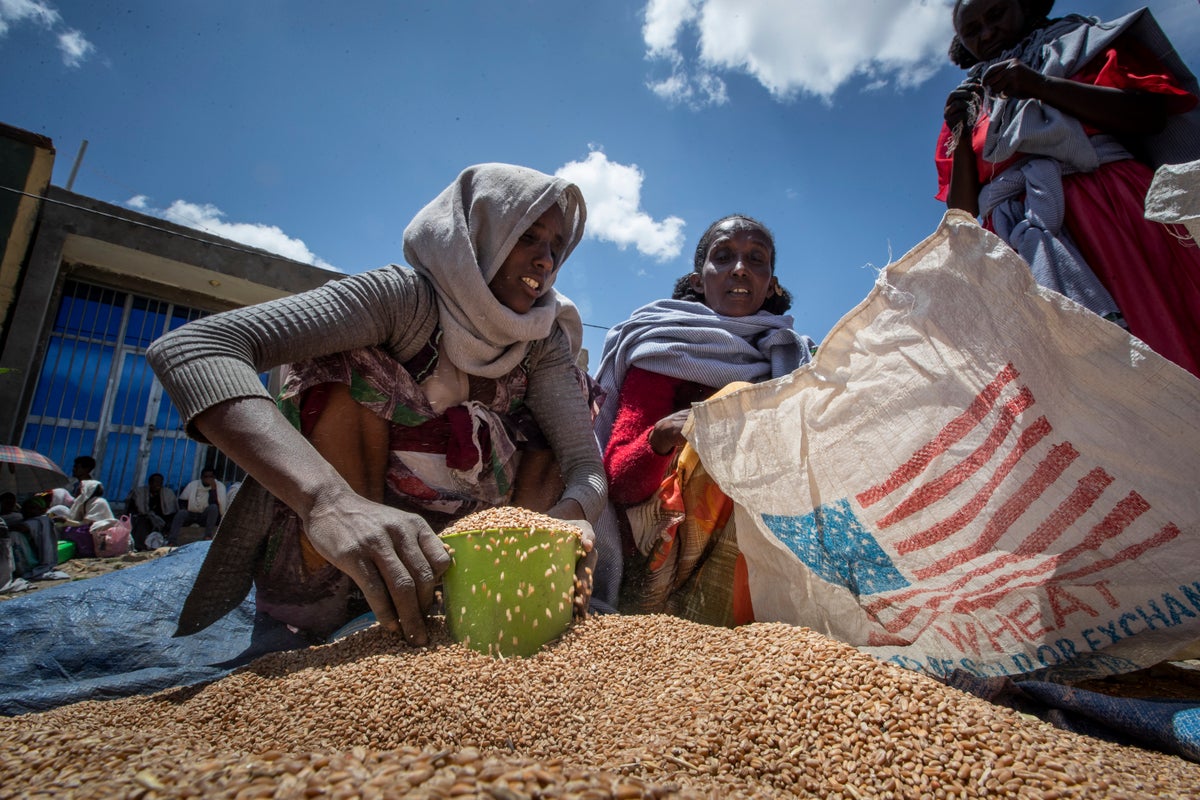 The United Nations World Food Program is slowly resuming food aid to Ethiopia nearly five months after taking the extraordinary measure of suspending aid to millions of people after the discovery of a massive scheme to steal donated grain. WFP said it's testing small-scale distribution in some areas but acknowledges that the government still plays a role in the process.
Critics of the aid suspension, including aid groups and health workers, have called it immoral and alleged that hundreds of people have died of hunger. The United States, however, says its own suspension of food aid to the East African country will continue while it negotiates with Ethiopia's government for reforms of a system long controlled by local authorities.
The pause has affected 20 million Ethiopians — 1/6 of the population — plus 800,000 refugees.
In a written response Monday evening to questions, the WFP told The Associated Press that the agency has started distributing wheat to around 100,000 people in four districts of Ethiopia's northern Tigray region on July 31 as it tests "enhanced controls and measures for delivering food assistance." Tigray is recovering from a two-year conflict with Ethiopian forces that ended in November.
The WFP's new measures include digitally registering beneficiaries, adding markings to grain sacks, feedback hotlines and more training for aid partners. The agency hopes to roll out its new distribution system to other parts of Ethiopia as soon as possible, WFP said, adding that it's confident the measures will help to ensure food reaches the people who need it most.
The WFP first halted food deliveries to Tigray in March after discovering the theft of grain. In a single Tigray town, enough stolen food aid to feed 134,000 people for a month was found instead for sale in markets, still marked with the U.S. flag.
The suspension was extended to all of Ethiopia in June. The U.S., the largest humanitarian donor to both Ethiopia and WFP, also paused food aid.
U.S. officials have said they believe the theft could be the largest-ever diversion of donated food. Aid workers have told the AP that Ethiopian officials were deeply involved. Ethiopia's government dismissed as harmful propaganda the suggestion that it bears primary responsibility and agreed to a joint investigation.
Donors have recommended completely removing Ethiopia's government from the aid system. But "WFP works in Ethiopia at the request of the government and works closely with the government of Ethiopia at all levels," the U.N. agency said.
The U.S. Agency for International Development told the AP in a written response to questions that the resumption of WFP aid is not funded by the U.S., which continues its suspension. It noted the WFP program is funded by the World Bank.
"We are committed to resuming food assistance as quickly as possible once we can be confident our assistance is reaching the most vulnerable that it is intended for," USAID said, adding that Secretary of State Antony Blinken has spoken with Prime Minister Abiy Ahmed to "drive progress on these issues."
Some humanitarian groups and Ethiopian religious leaders have joined the calls to resume food aid distribution as soon as possible.
"People are starving to death. In recent weeks, hunger has killed hundreds of people in Ethiopia's northern Tigray region as result of food shortage. This is neither humane nor moral," Caritas Internationalis Secretary General Alistair Dutton said in a statement in July.
The U.S. has told the AP it was horrified by reports of hunger.
Addressing criticism, USAID administrator Samantha Power said last month that "suspending food assistance at a time of such vulnerability is an absolutely wrenching thing that none of us would ever wish to be a part of, or had anything to do with." But she added that "one could have no confidence that the food we're bringing to Ethiopia, that U.S. taxpayers are paying for, was actually reaching this vulnerable people."
Ethiopian authorities were investigating, she said, and "there's criminal liability and accountability, you know, for any officials who are involved."
The implications for the U.S. are global. Proving it can detect and stop the theft of aid paid for by U.S. taxpayers is vital at a time when the Biden administration is fighting to maintain public support for aid to corruption-plagued Ukraine.
Power said she knew people were looking for an exact date that food aid would resume. "But we have come a very long way in a short period of time, and our ambition, our heartfelt ambition, is to restart food assistance as soon as possible," she said.
___
AP writer Ellen Knickmeyer in Washington contributed.