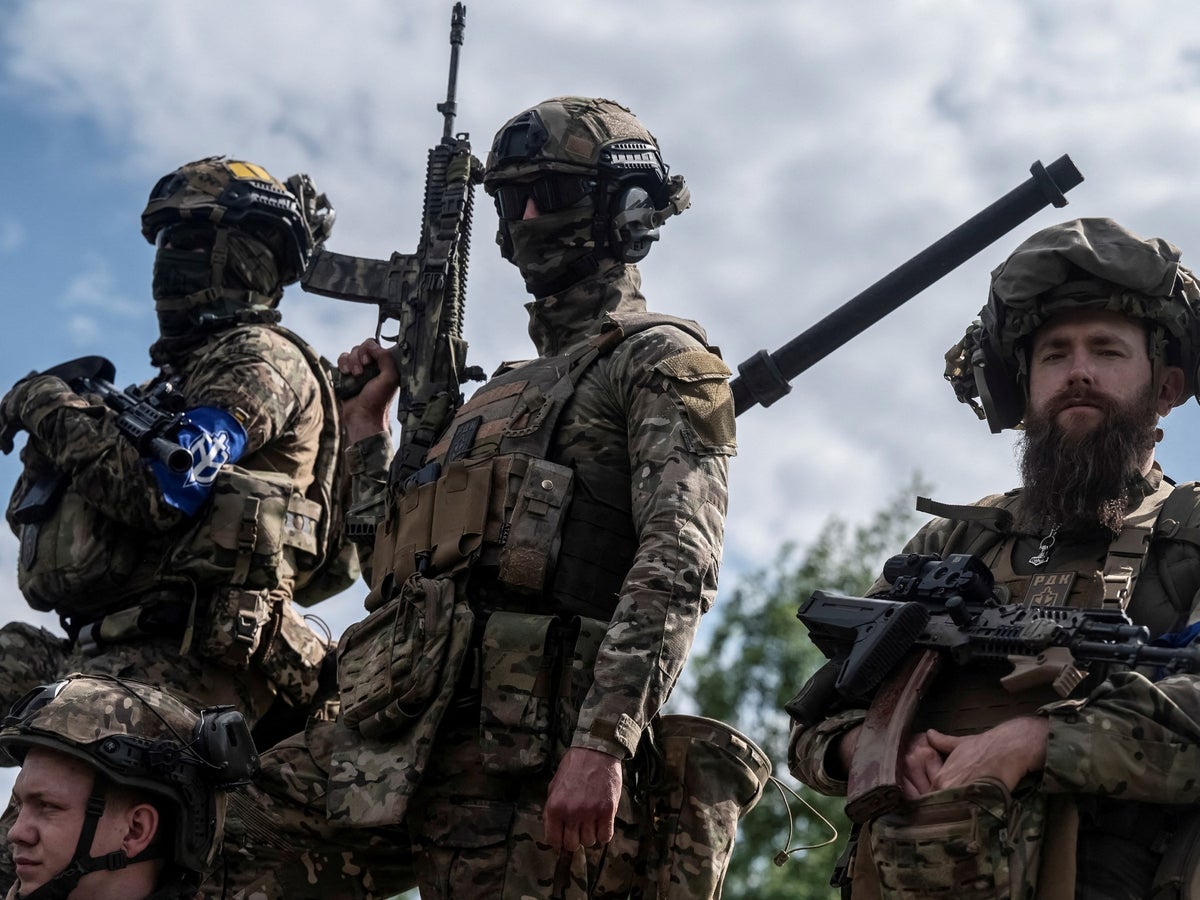 The fighters were exuberant after their cross-border mission, showing off a captured BRT armoured car and machine-guns among battle trophies, while vowing further attacks in a long campaign and predicting Vladimir Putin's downfall.
They had not invaded Russia on Ukraine's behalf, but started a war of liberation, declared Denis Kapustin, the head of the Russian Volunteer Corps (RVC) at a camp in northeast Ukraine. "We went back to our homeland. There were no Ukrainian soldiers with us, they will not appear in the territory of the Russian Federation. This is our internal problem," he insists.
The group, and another anti-Putin militia, the Freedom for Russia Legion, claim they were answering a cry for help from the people of Belgorod, the region where they had taken over a few villages amid much publicity. The deputy commander of the Freedom for Russia Legion, call sign Caesar, said: "Not long ago, as you know, Russian Su-35s [warplanes] dropped two bombs over Belgorod. After this, we began to receive letters from local residents with a request to demilitarise the region. Our aim is to create a demilitarised zone in all regions neighbouring Ukraine. Russia's armed forces pose a threat not just to Ukraine's population, but also Russians.
"Our next plan is to expand deeper into Russian territory, please wait for a little bit, just a few days, and you'll hear from us again. After completing this task, we'll begin to liberate Russia."
Whatever happens to the long-term liberation plan, the reality is that the current incursions by fighters is a part of "shaping operations" being carried out by Ukraine ahead of a spring counteroffensive which is supposed to begin in the near future
The aim is to force Russian troops out their positions and keep them moving with varying assaults. Similar probes are taking place in Zaporizhzhia, in the Donbas and with airstrikes in Crimea.
The Kremlin had to send new units to the Belgorod region in response to the attacks, putting Colonel General Alexander Lapin, who was appointed chief of staff of Russia's ground forces, four months ago, in charge at the border. Those troops will now have to stay in the area – with the Russian exile militias threatening further raids – while the Ukrainian offensive unfolds elsewhere.
While maintaining that the exiles have autonomy of action, Kapustin acknowledged there was Ukrainian "assistance and encouragement from comrades". He said the Ukrainians are asked: "What do you think of our plans, is this possible? What information can you give us? And we need to ask if such an operation would help or make things difficult for Ukraine".
Caesar added: "We all have Russian passports or are ethnic Russians who came to defend Ukraine. Of course, we coordinate our activities with certain structures in Ukraine, it would be strange if it were otherwise."
The Ukrainian government's line is that they are not involved in actions carries out by opposition groups inside Russia. Volodymyr Zelensky said after the recent drone attack on the Kremlin and a spate of bombings inside Russia: "Ukraine is defending our country within the territories of Ukraine, we are not in a foreign country."
Members of the Russian Volunteer Corps have expressed far-right, neo-fascist views, something the Kremlin has sought to exploit. Ukrainian officials have tried to explain links with such groups with some difficulty. A senior officer in SBU, the Ukrainian intelligence service, said: "Look, of course we don't support extremist views ourselves. But 'our enemy's enemy is our friend', isn't that the English phrase? As for our activities, there are things we can't talk about of course, like your MI6 and SAS. But there are a lot of Russians, we are finding, who are against Putin and this war, and willing to help, whether at the border, or St Petersburg, or Moscow."
The Freedom Legion have a more moderate political view than their paramilitary partners. Caesar said that differences between the armed groups have to be buried and wanted to contrast their unity with the "divided" Russian political opposition.
"The fact that we take a more centre ground position and the Volunteer Force is more right-wing does not change anything. Our goal is to protect Ukraine and liberate Russia. We are determined to fight and die for our cause. This is different from the political opposition who are constantly slinging mud at each other. This only helps the Putin regime," he stressed.
"If someone thinks that there is another way to put an end to Putin's regime he is either scumbag or a fool. It's clear that mass peace demonstrations in Russian will not change anything. People in the squares will be rolled into asphalt by tanks. With combat like in Belgorod, we have shown the only way to change power in the country is by force of arms."
After more than a day of skirmishes, the Kremlin announced that "70 Ukrainian nationalists" had been "eliminated". The militias say two of their fighters were killed and ten wounded. The Russians also produced images of American Humvees and MRAP vehicles supposedly abandoned by the militias and captured.
The US administration has sought to distance itself from the attacks. At the Pentagon, US Air Force Brigadier General Patrick Ryder said "The US has not approved of any third-party transfers of equipment to paramilitary organisations, nor has the Ukrainian government requested any such transfers. We'll keep a close eye on the issue." State Department spokesperson Matthew Miller said: "We do not encourage or enable strikes inside of Russia. But, as we've also said, it is up to Ukraine to decide how to conduct this war."
Asked about the American weaponry, Kapustin said: "I know exactly where I got my weapons from, unfortunately not from the Western partners." Caesar added: "Yes we used Humvees, we buy them in international shops, war shops, everyone who has money can do this."
The militias remain small in numbers, and it is far from clear that they have a capability to carry out deep penetration missions inside Russia. But the border raids have provided more ammunition to powerful figures in Russia who have been attacking the military high command over the war.
Yevgeny Prigozhin, whose mercenary fighters have been heavily involved on the frontline, especially in the battle for Bakhmut, has been one of the most vocal critics. "Sabotage and reconnaissance forces calmly enter Russia and march, uploading videos, driving their tanks, armoured infantry vehicles. Where's the guarantee that they will not enter Moscow?" The Wagner boss has railed. "So far as I understand, nobody gives a s*** about residents of Belgorod region. I say to the elite of the Russian Federation – you sons of b****es, gather your children. Send them to war. When you come to a funeral and start burying them and people will say 'It is all fair now.'"