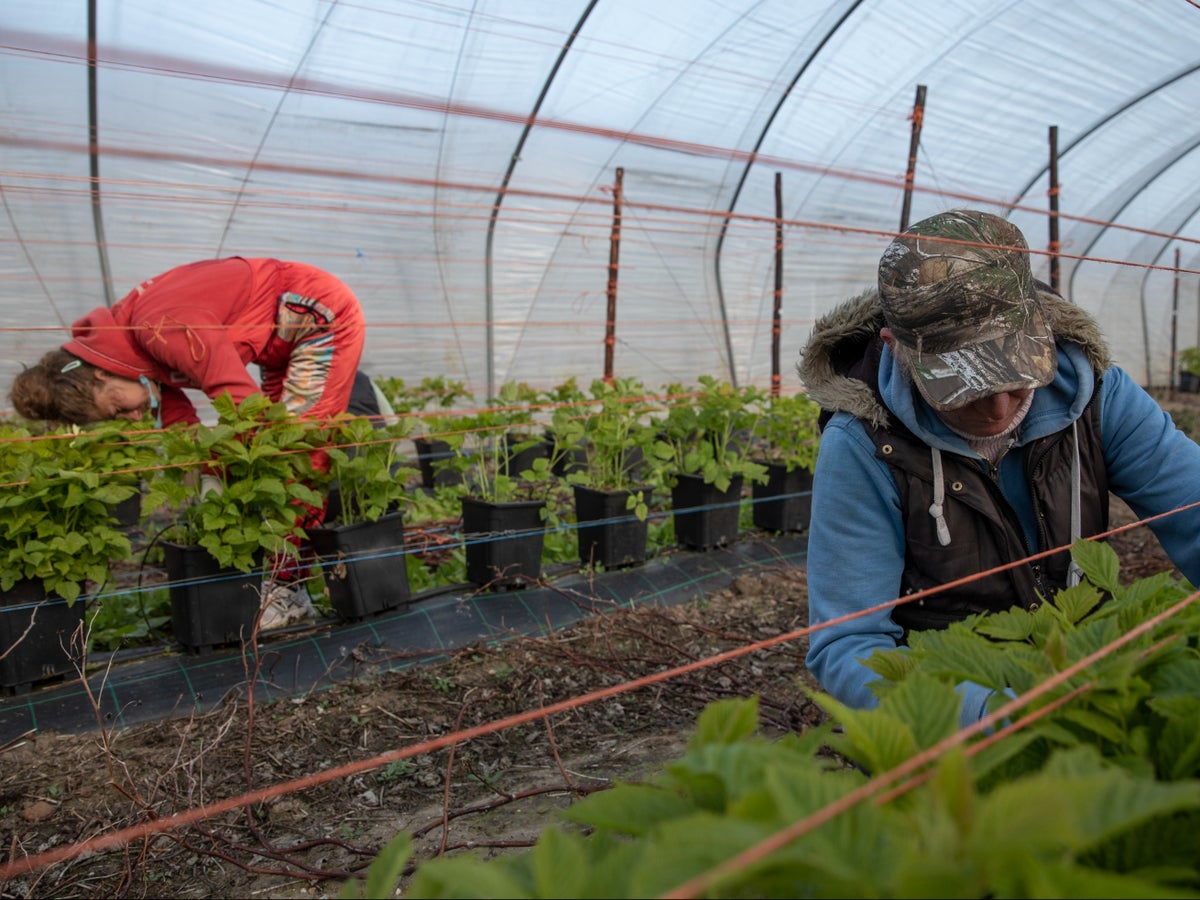 Immigration is a good thing.
With Rishi Sunak said to be under pressure after immigration hit a record high of 606,000, partly because of the (popular) decision to help people fleeing the conflict in Ukraine, that needs to be said. Unequivocally and without qualification.
The fact is we'd be in deep trouble without it.
It's a common trope to suggest that immigrants are taking jobs from Britons, but that is tommyrot. The most recent official labour force survey found that Britain had job 1,083,000 vacancies, a year on year decrease of 55,000 but still 282,000 more than before the pandemic.
There were only 1.2 candidates for every vacancy, a staggering shortfall, and that is before we get to the question of suitability. Many jobs require specialist skills and Britain has shortages there too. Chronic ones.
What's more, many jobs are also challenging and difficult and thus aren't attractive to the domestic workforce.
Take working in the agricultural sector. Homegrown food? A fine idea. Of course it is. But an under-reported scandal is the fact that it is being allowed to rot in the fields. A survey by the National Farmers Union found £22m worth of fruit and vegetables was wasted because of workforce shortages in the first half of 2022 alone. But the study only covered around a third of Britain's horticulture sector. The NFU puts the overall value at more than £60m.
Pinch me someone, please. The fact that this is happening at a time of record food price inflation is something I struggle with. It feels like we're living in some bizarre and troubling hallucination
MPs like to respond to figures like this by demanding young people go out into the fields. But not their own kids.
This is a level of stupidity that makes my head ache. In stark contrast to most MPs, and to most of the people who opine on this subject, I have actually done agricultural labour. I've picked fruit, pruned trees, picked lettuce, and hauled boxes full of them onto tractor trailers. It is hard, back-breaking labour. I've also worked in a supermarket. Care to guess which was the easier and better paid occupation?
If there are people willing to do this work – and there are – we should welcome them. The benefit would be a wider availability of cheaper food. We should therefore make it easier for them.
They're doing us and our economy a favour, not the other way around.
The care sector suffers from similar problems. Unison, the public services union, tells me there are currently 165,00 vacancies in the sector. Those calling for the drawbridge to be pulled up might change their tune were they asked to look after their grandparents 24/7 because there's no one else to do it.
In the NHS, the number of full-time staff vacancies stands at 133,000, roughly 10 per cent of the workforce.
"Whether someone comes to this country ready to work as a highly skilled nurse, or they arrive as a refugee fleeing war and persecution, or they simply want a new and prosperous life in the UK, they are beyond welcome," said Pat Cullen, the head of the Royal College of Nursing at its annual congress in Brighton. And she was right.
The fact is, the NHS would be in deep, deep trouble without immigration.
All this before we get to the national demographic time bomb: the fact that we are getting older as a nation, which will only increase these problems.
As a group, immigrants tend to be younger and healthier. They thus contribute more in tax than they take from the public services.
Certainly, we must do more to train up more homegrown workers. But it isn't going to happen overnight. The fact that we have been talking about skills gaps for years now is very telling. Government policy here is failing badly.
The Institute of Directors, a lobby group for business leaders, recently suggested the creation of a shortage occupations agency with a statutory remit to systematically advise on current and future skills shortage areas for the UK economy. An excellent suggestion, because those shortages are holding UK plc back, keeping it in the growth slow line. And one that seems to be falling on deaf ears. Any lights on in Whitehall? Phones working okay? No? Thought not. Perhaps we should bring someone in from overseas to sort that out too? Now there's an idea.
The fact is that Keir Starmer and Sunak, both of whom were busy ramping up the political rhetoric at this week's predictably dismal PMQs on the subject, are well aware of all this. An enlightened view on that subject of migration might also be just about the only thing Liz Truss – who was set to relax immigration rules to ease the workforce crisis before she resigned – got right.
This is before we get to the other benefits of immigration. The fact that it makes the country a more interesting, dynamic and better place to live.
But, but, but, housing? Ah yes. The elephant in the room.
Housing shortfalls are a potential downside here. But that isn't the fault of people coming in. It is down to the failure of government to address a need it has long been aware of: there aren't enough homes.
The controversy over immigration is regularly whipped up by it as a convenient, and cynical, excuse for Britain's housing shortages.
We really do need to stop letting our politicians get away with these cheap and destructive tactics. How about we put them on Suella Braverman's first plane to Rwanda until they grow up a little.