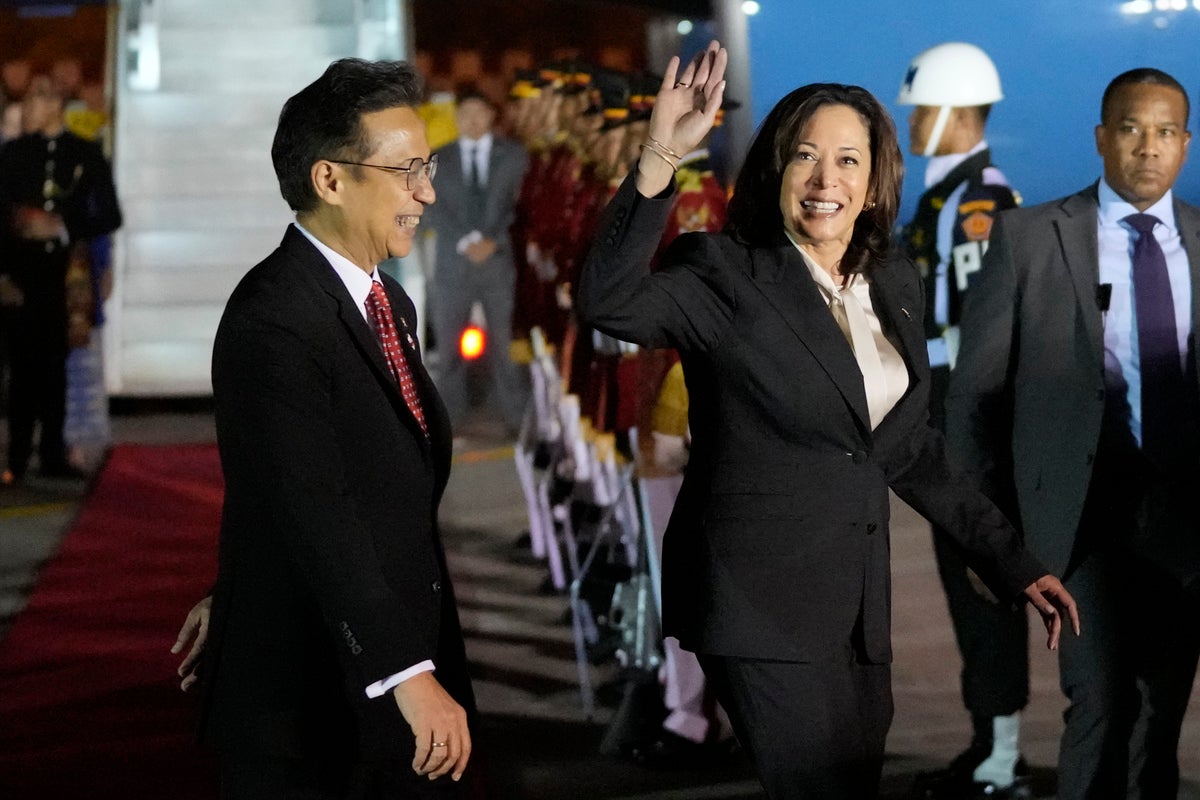 Vice President Kamala Harris said Wednesday that those responsible for the effort to overturn the results of the 2020 presidential election and the ensuing violence at the U.S Capitol must be held accountable — even if that means Donald Trump.
"Let the evidence, the facts, take it where it may," Harris said in an interview with The Associated Press in Jakarta, Indonesia, where she was attending a regional summit.
Federal prosecutors have indicted Trump, the frontrunner for the 2024 Republican presidential nomination, for his efforts to cling to power in 2020, The former president also has been charged in Georgia in a scheme to subvert the will of voters who elected Democrat Joe Biden instead of giving Trump a second term.
"I spent the majority of my career as a prosecutor," Harris, who served as California's attorney general before moving to Washington as a U.S. senator. "I believe that people should be held accountable under the law. And when they break the law, there should be accountability."
The White House has been circumspect in addressing the issue of Trump's criminal charges in order to avoid any whiff of political meddling in the work of prosecutors. But Biden and Harris have been outspoken about what they view as the very real danger to American democracy the aftermath of the 2020 election exposed.
"Democracies are very fragile," the vice president said in the AP interview. "They will only be as strong as our willingness to fight for it."
Harris is representing the United States at a summit of the Association of Southeast Asian Nations in place of Biden.
She sounded a strong warning about reports that Russia was talking with North Korea about obtaining weapons for its invasion of Ukraine, calling the possible alliance "ill-advised."
"Russia has been levied a strategic failure," she said. "Their aggressive, unprovoked actions in Ukraine have resulted in a situation where the aura and myth of the Russian military has now been dispelled."
Harris dismissed concerns about Biden's age even though he's widely seen as too old for office. A recent AP/NORC poll showed that 77% of Americans and 69% of Democrats think he's too old for a second term.
Harris is next in line to the presidency, a position that increased scrutiny of her as she serves with a president who would be 86 at the end of a potential second term. GOP hopefuls raise the idea that a vote for Biden would really end up being a vote for Harris — and not in a good way.
"I see him every day. A substantial amount of time we spend together is in the Oval Office, where I see how his ability to understand issues and weave through complex issues in a way that no one else can to make smart and important decisions on behalf of the American people have played out," she said. "And so I will say to you that I think the American people ultimately want to know that their president delivers. And Joe Biden delivers."
Harris described the idea of possibly stepping into the role of president as "hypothetical" but said she was ready.
"Joe Biden is going to be fine, so that is not going to come to fruition," she stated. "But let us also understand that every vice president — every vice president — understands that when they take the oath they must be very clear about the responsibility they may have to take over the job of being president."
"I'm no different."
___
Associated Press Writer Colleen Long contributed to this report from Washington.