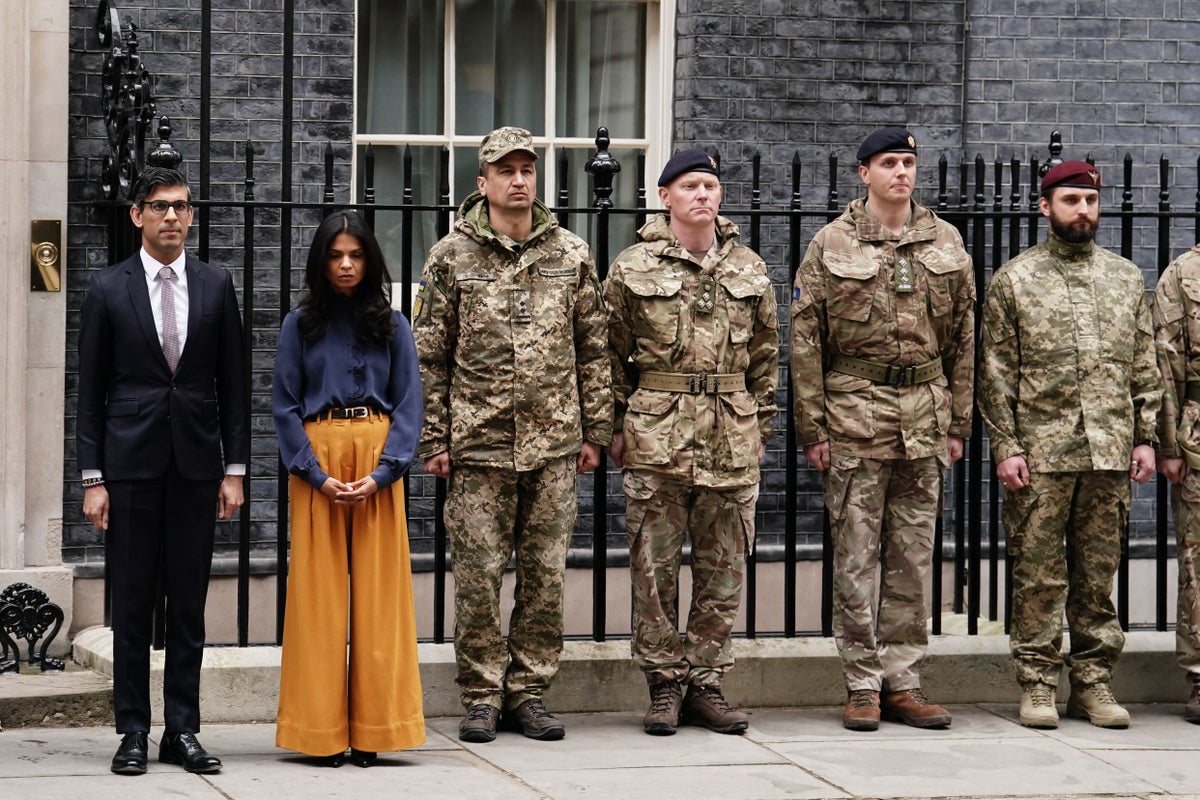 A year of Ukraine's extraordinary resistance to Vladimir Putin's all-out assault that has left hundreds of thousands dead and millions more displaced has been marked with a minute's silence.
Rishi Sunak was joined outside No 10 by wife Akshata Murthy, Kyiv's ambassador to Britain Vadym Prystaiko and dozens of Ukrainian troops being trained by the UK for the national pause on Friday morning.
The King issued a message praising the "remarkable courage and resilience" of the Ukrainian people.
To give Kyiv a "decisive advantage", Britain was trying to revive plans to provide eastern European allies with fighter jets so they can release their Soviet-era planes to Ukraine.
The Prime Minister will use a call with G7 leaders, including US President Joe Biden, to "move faster" in arming Volodymyr Zelensky's resistance against the invasion.
Britain also announced a new package of sanctions, imposing an export ban on every piece of equipment Russia has been found using on the battlefield in Ukraine.
When Mr Putin launched his renewed invasion of Ukraine on February 24 last year, many believed his military might would capture Kyiv within weeks or even days.
But the Ukrainian resistance led by Mr Zelensky and assisted by the weapons and support provided by allies, including Britain, repelled the invasion to the east.
At least 100,000 of each side's soldiers are estimated to have been killed or injured, thousands more civilians have died and more than 13 million people have been made refugees or displaced inside Ukraine.
On Friday, Mr Zelensky vowed Ukraine will do everything in its power to defeat the invasion before another anniversary can be marked.
"It was a year of resilience. A year of care. A year of bravery. A year of pain. A year of hope. A year of endurance. A year of unity," he said in a national address.
"The year of invincibility. The furious year of invincibility. Its main result is that we endured. We were not defeated. And we will do everything to gain victory this year."
Britain will be training Ukrainian pilots on Nato-standard jets but allies have been reluctant to release the modern warplanes requested by the Ukrainian President.
Defence Secretary Ben Wallace said backfilling allies with the UK's jets to free up their own would be a quicker way to bolster Kyiv's defences than providing them with British Typhoons.
Mr Wallace told Times Radio "the other quick way that Ukraine can benefit from fighter jets is for those countries in Europe that have Russian Soviet fighter jets – MiG 29s or Su-24s – if they wish to donate we can use our fighter jets to backfill and provide security for them as a result".
"They are already configured to fight in a Nato way, where of course Ukraine isn't," he said.
Mr Wallace said the Russian army was suffering "huge losses" on the battlefield for territorial gain measured "in metres not miles" and will sacrifice a growing number of troops to satisfy Mr Putin's demands.
"It will move effectively to a meat-grinder approach where it just keeps sacrificing its own soldiers for the vanity of the Kremlin," he told Times Radio.
Meanwhile, Foreign Secretary James Cleverly announced the internationally co-ordinated new package of sanctions and warned the failing Russian President will "probably threaten nuclear use".
Export bans have been extended to include hundreds of goods, including aircraft parts, radio equipment and electronic components that can be used by the Russian military industrial complex.
The UK also sanctioned senior executives at the Russian state-owned nuclear power company Rosatom, as well as bosses at Russia's two largest defence companies and four banks.
Addressing the UN Security Council in New York, Mr Cleverly said that Mr Putin would attempt to intimidate Ukraine's allies in his bid for "imperial expansion", as the conflict drags on.
"His land grabs in eastern and southern Ukraine show us that his heart is set on imperial expansion. But 800 Russian soldiers a day are dying for his hopeless ambitions.
"They are paying for his ego with their lives. As he sees that his aggression against Ukraine is failing, we should expect him to try and strongarm us into backing down with every dirty, coercive instrument at his disposal."
"One year on, one year into this terrible, terrible war, let us in this chamber send a clear message. Our support for Ukraine is not and will never be time-limited. Our defence of the UN Charter is not and will never be time-limited."
Charles, who hosted Mr Zelensky at Buckingham Palace earlier this month, said that Ukraine has "shown truly remarkable courage and resilience" while suffering "unimaginably from an unprovoked full-scale attack on their nation".
"It is heartening that the United Kingdom, along with its allies, is doing everything possible to help at this most difficult time," the King said in his message.
"Therefore, I can only hope the outpouring of solidarity from across the globe may bring not only practical aid, but also strength from the knowledge that, together, we stand united."
Mr Sunak will use the virtual G7 meeting to urge his fellow world leaders to "move faster" in arming Ukraine's troops as the conflict is stuck in a bloody stalemate.
"For Ukraine to win this war – and to accelerate that day – they must gain a decisive advantage on the battlefield. That is what it will take to shift Putin's mindset. This must be our priority now. Instead of an incremental approach, we need to move faster on artillery, armour and air defence," Mr Sunak was expected to say.
"The coming weeks will be difficult for Ukraine, but they will also be difficult for Russia. They are over-reaching once again. So now is the time to support Ukraine's plan to rearm, regroup, and push forward."
The UK remains a prominent supporter of Kyiv, with the Government announcing earlier this year that Britain would be the first country to supply tanks to its armed forces.
But fears remain that the war could continue for at least another year, even as Ukraine insists that further support and weaponry can help bring the conflict to a conclusion.
Mr Sunak is expected to urge allies to supply longer-range weapons to Kyiv, while also repeating his offer of British support to countries able to provide planes.
Labour leader Sir Keir Starmer said that the country's support "is as firm and unstinting today as it was on that dark day one year ago".
"As we mark this solemn anniversary and look ahead to the coming months, we must do the same. Regardless of what other political disagreements we may have, we stand in lockstep with the Government on this issue," he said.
"No-one should ever have to face the hardship and loss that the Ukrainian people have over the last year. Their fight for democracy, freedom and liberty in the face of tyranny is also our fight. Standing with our Nato allies, we will ensure Putin's defeat and Ukraine's victory."