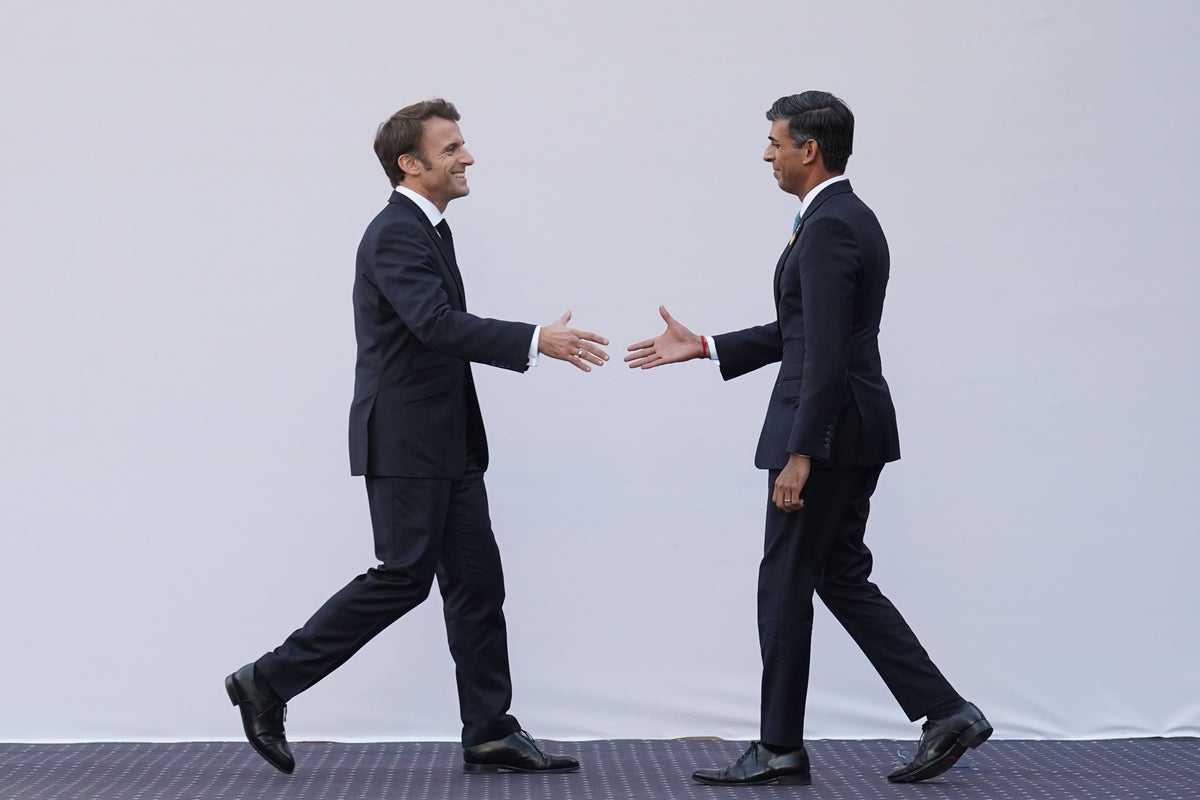 Rishi Sunak hopes to "strengthen and deepen" co-operation with France on tackling migrant Channel crossings in talks with Emmanuel Macron on Friday.
The Prime Minister is aiming for closer Franco-British ties as he prepares to travel to Paris for the first UK/France summit in five years.
But the French president is expected to reject pleas for a bilateral returns agreement.
The UK Government is known to want such a deal with Paris, which would allow London to immediately return those arriving on British shores unlawfully from France.
Ahead of his trip, Mr Sunak expressed hope that the UK and France could build on the £63 million agreement announced in November to help prevent small boats crossings and target human trafficking gangs.
The Prime Minister told a select group of reporters during a visit to Dover on Wednesday: "I was really pleased at the end of last year that we managed to announce the largest ever small boats deal with France, which led to a 40% increase of patrols on French beaches and increased co-ordination between our teams.
"And, in general, a re-establishment of the Calais Group of northern European countries, of which we are a part, to tackle this. Because it is a shared challenge that many countries are facing, we're not alone in facing this challenge.
"So on Friday, hopefully, we can continue to strengthen and deepen that co-operation in those areas."
In comments reported by the Daily Express, Mr Sunak continued: "More broadly, I think there's a range of things that we want to work closely with our partners and allies on – whether it's standing up to Russian aggression and supporting Ukraine, whether it's improving our energy security, or indeed whether it's illegal migration.
"I think there's a range of things where we can productively collaborate with France to the benefit of our country."
The talks come days after Mr Sunak and Home Secretary Suella Braverman unveiled the Illegal Migration Bill, which would see migrants who arrive in the UK through unauthorised means deported and given a lifetime ban on returning.
As well as new measures to tackle the small boats crisis, Mr Sunak and Mr Macron are also set to discuss defence co-operation, energy security, the conflict in Ukraine and other security challenges around the globe.
There are high hopes that the meeting will turn the page on years of post-Brexit tensions, with the Elysee seeing it as a "very important step" in the "recovery process" of relations.
An expected call between the two leaders, which was due on Monday, did not take place.