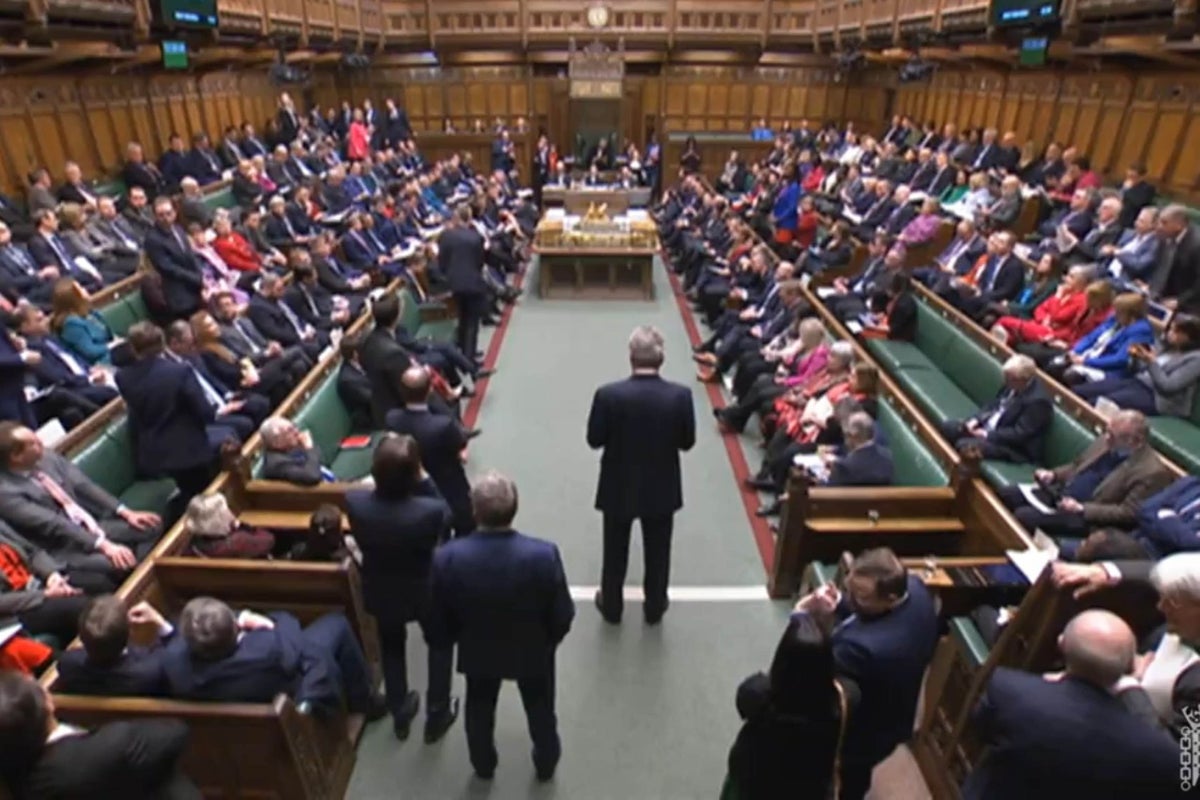 Rishi Sunak said he is hopeful of seeing the first International Criminal Court (ICC) indictments linked to Russia's renewed invasion of Ukraine "very shortly".
The Prime Minister told MPs he discussed the support for the work of the ICC with Volodymyr Zelensky during the Ukrainian President's visit to the UK.
Mr Sunak also insisted the UK will support Ukraine to ensure a "decisive military victory on the battlefield this year" against the forces of Russian President Vladimir Putin.
Both Mr Sunak and Labour leader Sir Keir Starmer joined together in support of Ukraine during their exchanges at Prime Minister's Questions.
Sir Keir told the House of Commons: "Before I entered this House I had responsibility for fighting for justice in The Hague for victims of Serbian aggression.
"Does the Prime Minister agree with me that when the war in Ukraine is over, Putin and all his cronies must stand at The Hague and face justice?"
Mr Sunak replied: "He's absolutely right that we must hold those to account for the horrific crimes that they have committed.
"I'm proud the United Kingdom has played, again, a leadership role in this regard, being one of the first countries to provide financial and technical support, putting investigators on the ground – we're shortly to be hosting a conference together with the Dutch.
"And also one of the things I discussed with President Zelensky this morning is our support for the work of the ICC where, thanks to the efforts of UK members, I'm hopeful we will see the first indictments very shortly."
Sir Keir said MPs "don't just hope for Ukraine's victory, we believe in it", adding this must include Ukraine's reconstruction.
He added: "Does the Prime Minister agree with me that Russia should pay for the destruction it has caused through the wealth lying dormant in blocked Russian government assets?"
On Tuesday, Labour former minister Sir Chris Bryant tabled a proposed law to enable Russian state assets frozen in the UK to be seized and used to help rebuild Ukraine.
Mr Sunak said the UK is the third-largest humanitarian and economic donor to Ukraine and pointed to sanctions it has imposed on Russia.
He added: "We've ensured the provision of funds here will be put in a foundation for reconstruction in Ukraine and we're currently working with international partners through the legal process to use those assets to fund Ukrainian reconstruction."
Sir Keir went on to stress Labour's commitment to Nato, asking: "Does the Prime Minister agree with me that whatever differences we may have, no matter what difficulties we face as a country, we in this House have a duty to stand on the shoulders of giants who came before us and support Ukraine's fight for freedom, liberty and victory?"
Mr Sunak replied: "We remain the leading European ally in Nato, as we always have done.
"We continue to increase funding in our armed forces by £24 billion at the last spending review to ensure we maintain not just our Nato obligation to spend 2% of our GDP on defence, but we also participate in every Nato operation and remain the leading nation when it comes to contributions to Nato's rapid response force and the Nato readiness initiative.
"But I join with (Sir Keir) in saying that this House and this country will stand united with Ukraine until we ensure the defeat of Vladimir Putin's unprovoked, unsanctioned aggression and that we will make sure that Ukraine is not only victorious, but that we bring peace to its people."
Elsewhere at PMQs, Liberal Democrat leader Sir Ed Davey urged Mr Sunak to ban the Wagner mercenary group as a "symbolic" gesture on the day of Mr Zelensky's visit.
Sir Ed said: "When President Zelensky addressed this House last year, he asked that we treat Russia as a terrorist state. Since then, Liberal Democrats have been urging the Government to fulfil that request by proscribing the Wagner mercenary group.
"They are doing Putin's bidding, carrying out atrocities against Ukrainians on a daily basis. So on this symbolic day will the Prime Minister finally commit to proscribing the Wagner Group, a crucial part of treating Russia as the rogue state that it is?"
Mr Sunak replied: "We have taken a lead from the beginning of this conflict in sanctioning and taking action against those entities connected with the war effort in Russia and beyond.
"With regard to Wagner Group he will know that we have already sanctioned the Wagner Group in its entirety as well as taking specific action against particular leaders, as he will know.
"With regard to proscriptions, it is not something that we would routinely comment on in public, but rest assured we continue to keep all of the proscriptions that we have under review."