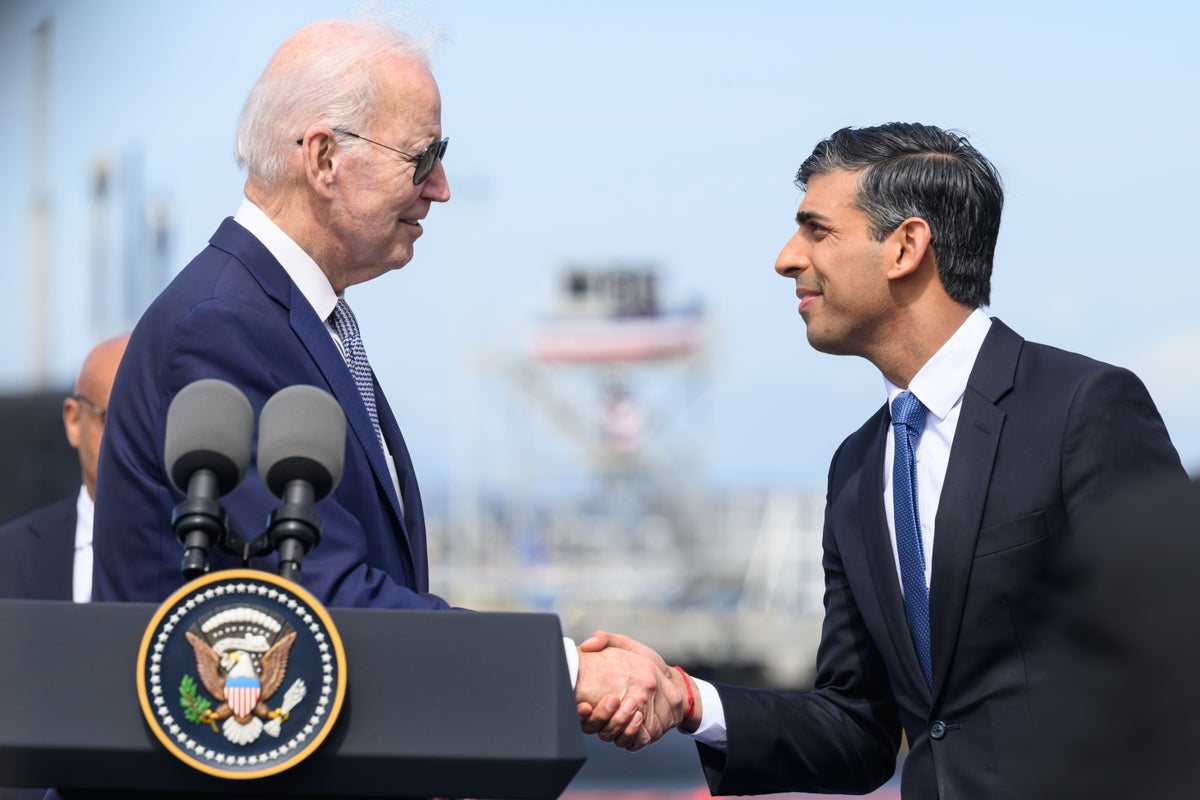 Rishi Sunak and Joe Biden discussed the "increased assertiveness of the Chinese Communist Party" during talks which also saw the pair agree to transatlantic visits.
The President said he intends to visit Northern Ireland and Ireland to mark the 25th anniversary of the Good Friday Agreement in April, while Mr Sunak was invited to go to Washington in June.
The pair met at the Point Loma naval base in San Diego, California following the announcement of details of the Aukus submarine programme involving Australia, the UK and US.
The meeting also followed the publication of the update to the UK's integrated review of foreign and security policy.
A Downing Street spokesman said: "The leaders agreed on the convergence between the UK and US' ambitions and interests in the world, and on the importance of working together to bring about global stability."
On China, the leaders "noted the challenges posed by the increased assertiveness of the Chinese Communist Party".
"The Prime Minister outlined the steps the UK is taking to protect our national and economic security interests," the spokesman said.
"The leaders agreed on the need to engage China and maintain dialogue."
The two also discussed Ukraine, agreeing on the need to ensure that Volodymyr Zelensky's country "both wins the war and secures a lasting peace where it cannot be threatened by Russia in the same way again".
The two agreed their countries should play a role co-ordinating international efforts to support Ukraine.
The pair, who met without aides present, also discussed the US inflation reduction act, which has been branded "protectionist" by the UK.
The spokesman said: "The leaders discussed the US' inflation reduction act. The Prime Minister expressed his hope that our governments can continue to work together to increase jobs and growth in both of our countries as we transition towards net zero."
Mr Sunak's visit in June will allow the two leaders to continue discussions on "deepening the strong, enduring economic relationship" between the two countries, No 10 said.
A White House summary of the meeting said the leaders "reaffirmed their shared and steadfast commitment to the Belfast/Good Friday Agreement and welcomed the Windsor Framework as an important step in preserving the peace and progress in Northern Ireland brought by the agreement".