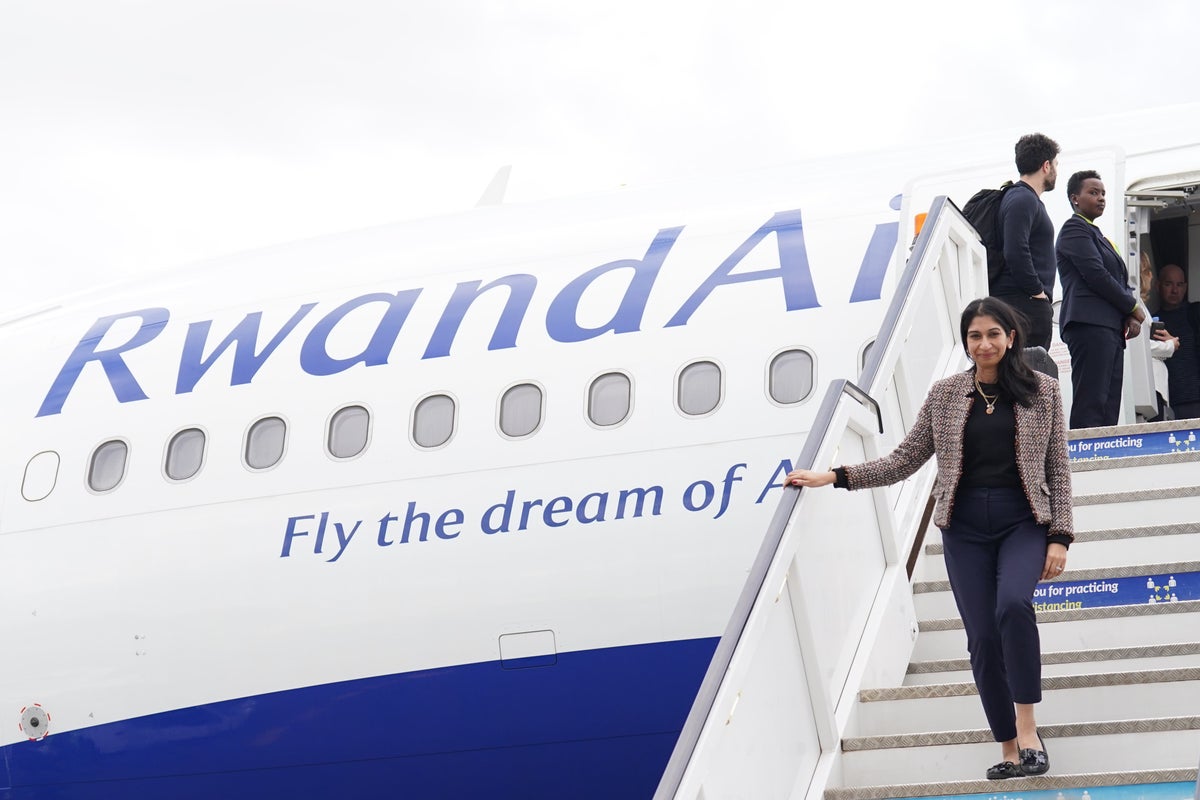 Tory infighting over Rishi Sunak's beleaguered Rwanda plan descended into civil war overnight as a former deputy prime minister compared Suella Braverman to Vladimir Putin.
Damian Green, deputy PM under Theresa May, said the sacked home secretary wanted to do "what Putin and Xi Jinping do" in her latest bid to ensure deportation flights to Rwanda can take off.
Ms Braverman, sacked by Mr Sunak on Monday, said the prime minister's plan to salvage the Rwanda scheme is unlikely to see asylum seekers deported to the country before the next election.
Mr Sunak, hours after the Supreme Court ruled the deportation scheme unlawful, said he would bring in emergency laws to deem Rwanda a safe country for asylum seekers and sign a new treaty with the country to address the court's concerns.
But Ms Braverman said his two-part plan would likely get bogged down in both domestic and European courts as she proposed introducing legislation that "excludes all avenues of legal challenge".
In an article for The Daily Telegraph, Ms Braverman said a "solution" to the challenge of stopping migrants crossing the English Channel "demands of the Government an end to self-deception and spin".
"There must be no more magical thinking," she added. "Tinkering with a failed plan will not stop the boats."
Ms Braverman argued that "amending our agreement with Rwanda and converting it into a treaty, even with explicit obligations on non-refoulement, will not solve the fundamental issue".
Instead, she said ministers should address concerns raised by the five senior judges about Rwanda's asylum and legal system by "embedding UK observers and independent reviewers of asylum decisions".
New legislation should be laid in Westminster to "exclude all avenues of legal challenge" so that international obligations, such as the Human Rights Act and the European Convention on Human Rights (ECHR), are "disapplied by way of clear 'notwithstanding clauses'", she said.
Ms Braverman called Parliament sit over Christmas to rush the new law through and warned a new treaty with Rwanda would "still require going back through the courts", which could take at least a year.
Even a victory in domestic courts would only mean the "saga would simply relocate to Strasbourg where the European court would take its time deciding if it liked our laws", she said.
"That is why the plan outlined by the PM will not yield flights to Rwanda before an election if Plan B is simply a tweaked version of the failed Plan A," Ms Braverman added.
Her proposals were slammed by legal experts and Tory colleagues as the split in the Conservative Party over the Rwanda plan grows.
Mr Green, chairman of the One Nation group of moderate Tory MPs, said Ms Braverman's suggestion Britain disregards international law is "the most unconservative statement I have ever heard from a Conservative politician".
He said: "Giving the state the explicit power to override every legal constraint is what Putin and Xi do. We absolutely cannot go there."
And the former head of the government legal department slammed Ms Braverman's proposals.
Jonathan Jones KC said: "For the sake of putting (at most) a few hundred people on a plane to a place recently found to be unsafe by our highest court [not a foreign court]: She wants the UK to breach every relevant international treaty on torture, mis-treatment, detention or fair process."
Mr Sunak's response to the Supreme Court judgment on Wednesday saw him announce that his administration plans to lay down emergency legislation to have Parliament deem Rwanda a "safe" country.
He also intends to broker a new legally binding treaty on top of the £140 million deal already struck with Kigali to take migrants arriving in Britain via small boats.
The yet-to-be-published treaty with Rwanda is expected to attempt to address the Supreme Court's concerns around refoulement – the potential for refugees whose applications for asylum are rejected by Kigali to be sent back to the country they are fleeing from.