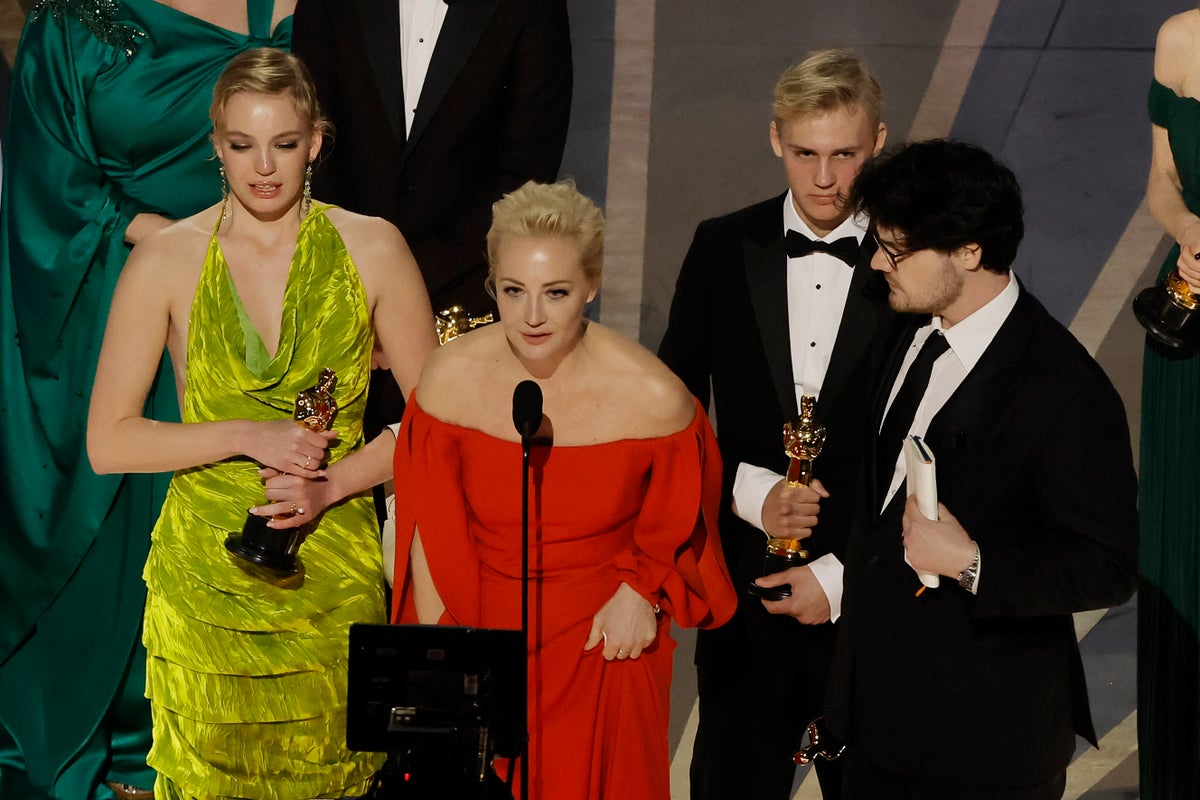 Sign up to our Evening Headlines email for your daily guide to the latest news
Sign up to our free US Evening Headlines email
The wife of imprisoned Russian opposition leader Alexei Navalny delivered a heartfelt message to her husband at the 95th Academy Awards on Sunday night.
Navalny won the Oscar for Best Documentary Feature Film and as part of the acceptance speech for the film's creators, Yulia Navalnaya, to whom he has been married since 2000, was invited to speak.
Flanked by her children, Ms Navalnaya thanked everyone and said: "My husband is in prison just for telling the truth. My husband is in prison just for defending democracy."
Addressing him, she said: "Alexei, I am dreaming of the day when you will be free and our country will be free."
"Stay strong my love," she added.
Navalny is a co-production of HBO Max and CNN. Director Daniel Roher's portrait of Kremlin critic Alexei Navalny has shadowy operatives, truth-seeking journalists, conspiracy theories and Soviet-era poisons. It is a film with obvious political poignance following the Russian invasion of Ukraine.
Mr Roher accepted his statuette by saying he dedicated it to Navalny and "to all political prisoners around the world".
Earlier on the champagne carpet, Dasha Navalnaya, his daughter spoke with CNN about her father's condition.
"We can't really contact him that much, we are only allowed to write letters and the attorney are only allowed to see him sometime through a veil in his prisons," she said. "He's doing alright, his health is slowly deteriorating which is quite concerning.
"But he wants us to have a good time and he is happy we are here representing the story and representing the Russian people who are fighting for democracy and we are here to get him out of prison," she added.
Navalny is a media savvy, anti-corruption campaigner in his mid-40s who has for many years been a headache for Russian President Vladimir Putin. He's released numerous reports about corruption in Russia and the Putin administration and become a popular and rallying figure among like-minded Russians.
Mr Roher was able to sit down with Navalny during his brief stay in Berlin in 2020 and early 2021 as he was recovering from being poisoned and seeking the truth behind the unsuccessful murder attempt.
The media has called Navalny the Kremlin's fiercest critic. And he is seemingly undaunted by the intimidation and the arrests he's endured.
The film was a hit at the Sundance Film Festival, where it won both the documentary audience award and the festival favorite award
Navalny beat the other documentary nominees All That Breathes; All the Beauty and the Bloodshed; Fire of Love; and A House Made of Splinters.
With additional reporting by The Associated Press
Ukraine War 24