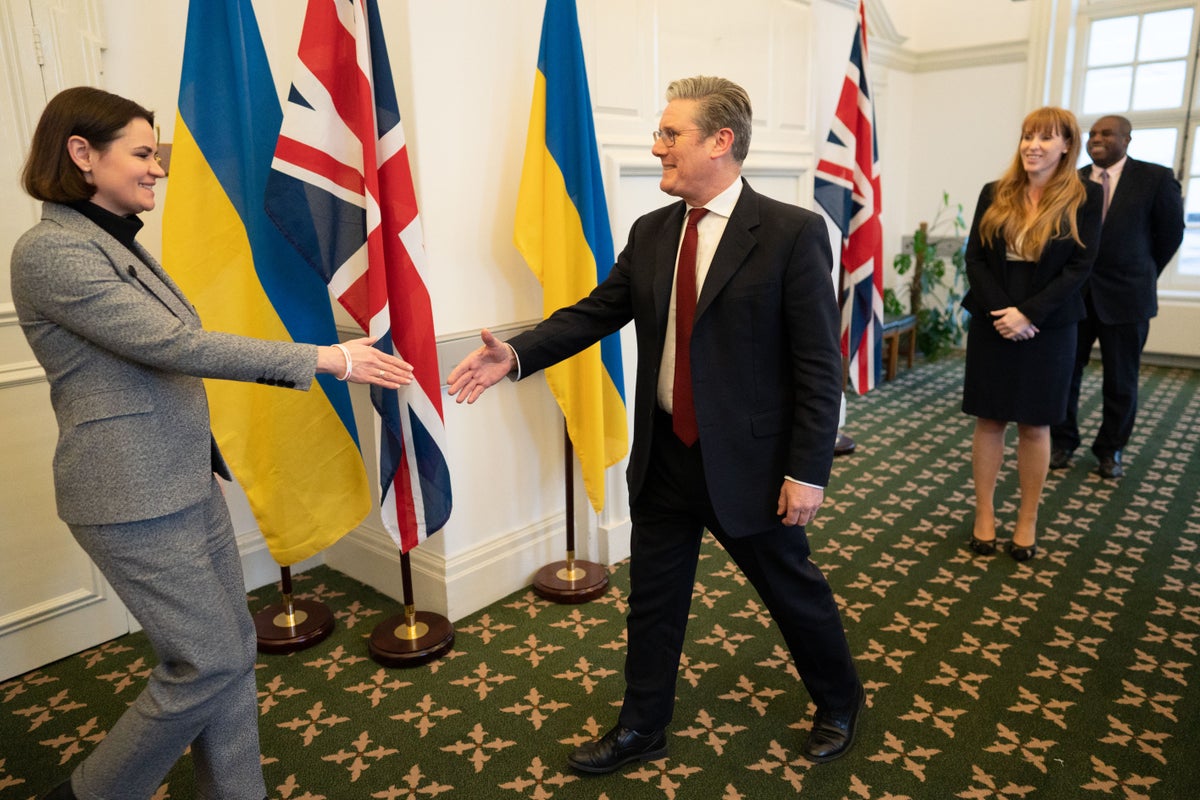 Sir Keir Starmer and Belarus's exiled opposition leader Sviatlana Tsikhanouskaya have discussed the need for western allies to confront the Kremlin-backed Belarusian regime.
The Labour leader "expressed his admiration for her bravery in the face of violence and oppression" and stressed his party's "strong commitment to a free and democratic Belarus", according to a readout of the meeting in London.
Ms Tsikhanouskaya ran against authoritarian leader Alexander Lukashenko – an ally of Russian President Vladimir Putin – in Belarus's 2020 disputed election before being pressured to leave the country.
A court in Belarus on Monday sentenced her to 15 years in prison after a trial in absentia on charges including conspiring to overthrow the government.
Visiting Westminster, Ms Tsikhanouskaya said overthrowing Mr Lukashenko would accelerate victory for Ukraine against Russian forces.
Belarus was used as a launch point for the invasion of its southern neighbour by Mr Putin's forces.
Labour's readout of the meeting said: "The two leaders discussed the need for our allies to remain united in confronting the Putin-backed Belarusian regime and the need to increase support for the pro-democracy movements in Belarus and elsewhere.
"They agreed there can be no lasting peace in Europe without a free Belarus, and that defeating Putin must also mean bringing democracy to the Belarusian people."
They will also work "to keep up the global pressure on Belarus and Russia through a co-ordinated, robust and effective sanctions regime".
In an article in the Guardian, Ms Tsikhanouskaya said sanctions must "go further" to target "Putin's war machine".
She wrote that most Belarusians "want Russian troops to be withdrawn from Ukraine and from Belarus immediately".
The Belarus politician also met Foreign Secretary James Cleverly and Europe minister Leo Docherty, as well as Boris Johnson.
The former prime minister tweeted that it was a "real honour" to "reaffirm my support for a free and independent Belarus, and also to recognise the heroic contribution of Belarusian volunteers to the fight for freedom in Ukraine".