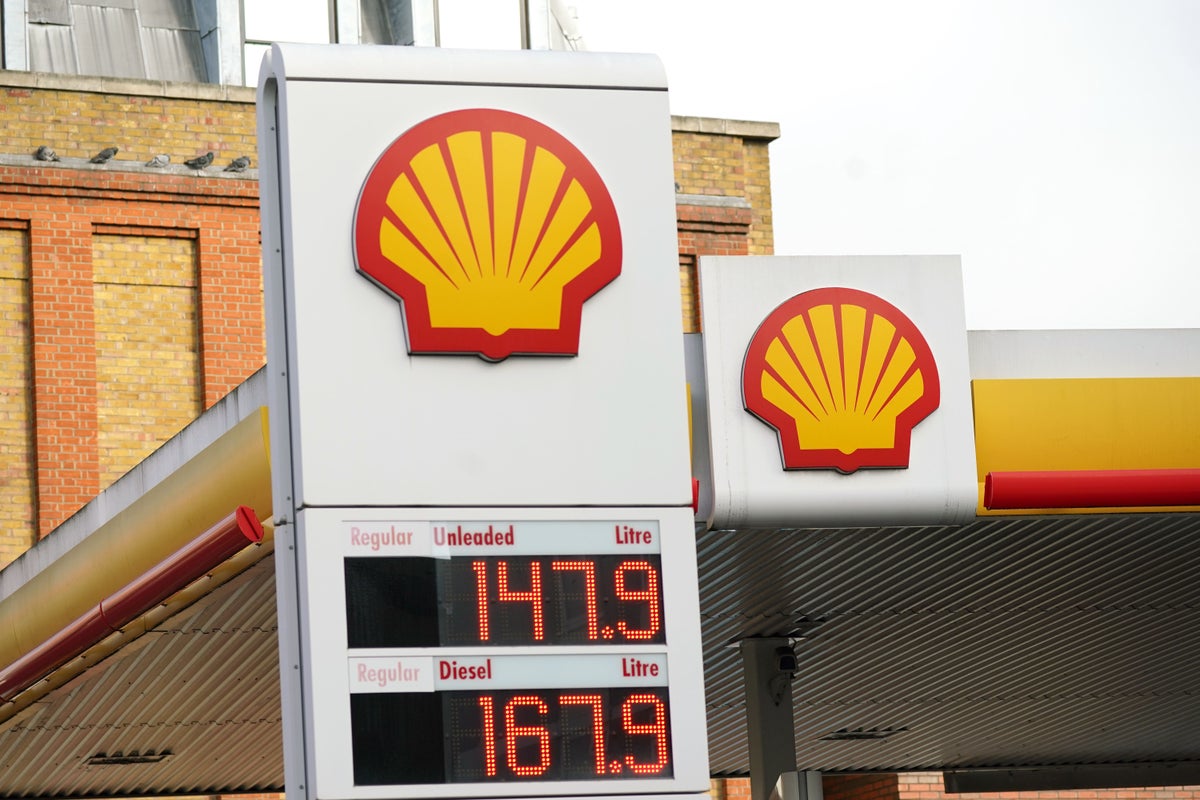 Shell has recorded its highest-ever profits, as Russia's war in Ukraine saw the fossil fuel giant's top line soar by 53 per cent to £68.1bn last year.
The profits are the highest in the oil and gas firm's 115-year history and come in the midst of a cost of living crisis, prompting increased calls in the UK for a tighter windfall tax – as Rishi Sunak's government was accused of letting fossil fuel giants "off the hook" by failing to target the "proceeds of war".
Earnings adjusted for taxes also doubled to £32.2bn, while analysis by the group Common Wealth, shared with The Independent, suggested that, over the first three quarters of 2022, Shell paid its shareholders 1.2 times as much they invested overall.
Following the latest figures, The Independent has taken a look at who Shell's directors are and what they are paid.
Wael Sawan – chief executive officer
Wael Sawan was appointed as the new head of Shell at the start of the year, replacing Ben van Beurden, who had held the top role for nine years and was paid a total of £6.34m in 2021, including a base salary of £1.5m.
Now in his late 40s, Mr Sawan was born in Lebanon, and grew up in the United Arab Emirates and Canada. He holds a master's degree in engineering from McGill University in Montreal and an MBA from Harvard Business School.
He has worked in each of Shell's "core business units" since joining the fossil fuel giant in 1997, holding top roles as chair of the Qatar Shell companies and executive vice president of Shell's Deep Water business.
He has been a member of Shell's executive committee since 2019, when he was appointed upstream director.
As Shell is yet to publish its salary figures for 2022, it remains unclear how much he has been paid for the role. The figures are expected in March.
Sinead Gorman – chief financial officer
Prior to assuming the role of CFO last April, Sinead Gorman was previously executive vice president of finance in Shell's global upstream business – the part of the firm involved in taking oil and gas out of the ground.
A British citizen born in 1977, Ms Gorman first worked as a civil engineer before joining Shell in 1999, where she has held financial roles in Europe, North America and elsewhere before being appointed to the executive board.
Her predecessor, Jessica Uhl, who was paid a total of £4.62m in 2021, including £1.03m in base salary, is said to have overseen the simplification of Shell's share structure and moving its corporate headquarters from Holland to the UK.
Sir Andrew Mackenzie – board of directors chair
Scottish-born scientist and businessman Sir Andrew Mackenzie was appointed chair of Shell's board of directors in May 2021 – a year in which Shell paid him a total of €582,000 (£518,000 at the current exchange rate), and he received €17,000 in taxable benefits.
The 66-year-old had previously spent six years until 2019 as chief executive of BHP Billiton, the world's largest mining company. Prior to that, he worked with their competitor Rio Tinto, leading their work excavating industrial minerals and diamonds, having previously spent 22 years with oil and gas giant BP.
He is a fellow of the Royal Society, which described him in 2014 as "one of the world's most influential applied earth scientists", who "made seminal contributions to geochemistry in his early career, especially in relation to the formation of oil".
Knighted in 2020, Sir Andrew was also appointed chair of the government's UK Research and Innovation group, and spent eight years as a non-executive director of Centrica until 2013. Within Shell, he also chairs the company's nomination and succession committee.
Euleen Goh – deputy chair and senior independent director
Euleen Goh has served as deputy chair on Shell's board of directors since May 2020, having been a member since 2014.
A Singaporean citizen, Ms Goh has a long background in finance. She previously held various senior management positions within Standard Chartered Bank, and is an associate of the Institute of Chartered Accountants in England and Wales, and a fellow of the Singapore Institute of Chartered Accountants.
Ms Goh, aged 67, was paid a total of €224,000 in 2021 by Shell, up from €201,000 the year prior. According to the firm, her leading roles on the board of various international organisations "provide significant experience in the area of strategy development and international businesses".
Shell also touts Ms Goh's risk management expertise as having "elevated the board's deep deliberations around risk governance" and "credits Ms Goh with "broad geopolitcal insight" and as "a champion of diversity", who "consistently but constructively challenges the board and management to continue to progress in this area".
Dick Boer – independent non-executive director
Appointed as a director in May 2020, Shell describes Dick Boer as "a highly regarded recently retired chief executive, who has a deep understanding of brands and consumers".
He spent 17 years of his career with Dutch multinational SHV Holdings, one of the world's largest private trading groups, before moving to retail giant Royal Ahold, where he began as their chief executive in the Czech Republic before eventually becoming president of the firm – remaining in the top role for two years after the merger which spawned Ahold Delhaize.
Shell paid him a total of €167,000 in 2021, up from €98,000 in 2020. He is touted by the firm as "a balanced leader with sound business judgement and proven track record in strategic delivery", with "a passion for sustainability".
Neil Carson OBE – independent non-executive director
British businessman Neil Carson has been a director at Shell since June 2019.
Aged 65, he served as chief executive of the multinational chemicals and precious metals firm Johnson Matthey for 10 years until 2014 – a FTSE100 company he joined after an engineering degree at Coventry University.
Shell describes him as having "a broad industrial outlook and a highly commercial approach with a practical perspective on businesses" and "a first-class international perspective on driving value in complex environments".
He was awarded an OBE for services to the chemical industry in 2016.
The fossil fuel giant paid him a total of €192,000 in 2021, up from €184,000 the previous year.
Ann Godbehere – independent non-executive director
Ann Godbehere is a Canadian-British businesswoman who has sat on Shell's board since May 2018.
Having started her career with financial services firm Sun Life of Canada in 1976, she joined City of London based investment firm M&G Group five years later, serving as a senior vice president for their life and health, property and casualty businesses in North America.
She later worked for insurance firm Swiss Re and served as an executive director of Northern Rock bank in 2008 after it was taken into state ownership during the financial crisis.
According to Shell, Ms Godbehere "makes significant contributions and adds exceptional value by bringing both her extensive experience and a global perspective to board discussions".
Shell paid her a total of €213,000 in 2021, up from €206,000 the previous year.
Catherine J Hughes – independent non-executive director
Appointed a director in June 2017, Catherine Hughes also chairs Shell's safety, environmental and sustainability committee.
An engineer by training, she has a background in oil, having worked as an executive vice president at Calgary-based firm Nexen Inc, now CNOOC Petroleum North America, for 15 months until April 2013, where she was responsible for all oil and gas activities including exploration, production and development outside Canada.
Ms Hughes previously served as a vice president in Husky Oil, overseeing its work in Canada's tar sands deposits, a type of fuel viewed as particuarly harmful to the climate. She began her career with oilfield services firm Schlumberger in 1986 and held key positions in France, Italy, Nigeria, Britain, the US and Canda.
According to Shell, Ms Hughes "contributes through her knowledge of industry and the ease with which she engages with other directors and managers", and "brings a geopolitical outlook and deep understanding of the industry".
Ms Hughes was paid €186,000 in 2021, and €180,000 in 2020.
Jane Holl Lute – independent non-executive director
Jane Holl Lute is a senior diplomat, who until recently served as the UN special envoy on the Cyprus dispute and a special adviser to secretary-general Antonio Guterres.
The 67-year-old also notably held the role of US deputy secretary of homeland security between 2009 and 2013, under president Barack Obama.
She was appointed a director of Shell in May 2021, and is a member of the firm's safety, environment and sustainability committee.
Ms Lute was paid €99,000 by Shell in 2021.
Martina Hund-Mejean – independent non-executive director
Appointed a director May 2020, Martina Hund-Mejean is a German businesswoman who has spent 30 years working in the United States.
She notably served as chief financial officer at Mastercard from 2007 to 2019, having earlier worked at security systems firm Tyco International, telecoms technology firm Lucent Technologies and with American automotive giant General Motors.
According to Shell, Ms Hund-Mejean's "deep financial knowledge and unique perspective also enables her to make robust, demanding and constructive challenges to our investment considerations", and her past experience is prized "as Shell explores new technology-enabled business models".
The company paid her €166,000 in 2021, and €98,000 the previous year.
Abraham Schot – independent non-executive director
Abraham Schot joined Shell's board in October 2020, having spent 30 years working in the automotive industry.
He has held senior roles and sat on the boards of a vast range of automobile giants, including Audi AG, Lamborghini and Ducati, Porsche Holding Salzbury, Volkswagen CV, and Daimler/Mercedes-Benz Italia & Holding
He is a member of Shell's safety, environment and sustainability committee, and was paid €152,000 in 2021, compared with €38,000 the previous year.
Shell credits his expertise as helping the firm navigate "its own transformation and pathway through the energy transition".
Caroline Omloo – company secretary
Caroline Omloo was appointed company secretary in August 2022, having joined Shell in 1999. It is not yet clear what she has been paid for the role.
She has held various positions in the firm, including secretary to the audit committee, associate general counsel corporate finance in the Netherlands, and has sat on the board of one of Shell's Dutch pension funds.
She previously worked as head of legal and compliance of Shell Asset Management Company in 2017 and was a board member of this company from 2018 to 2022.