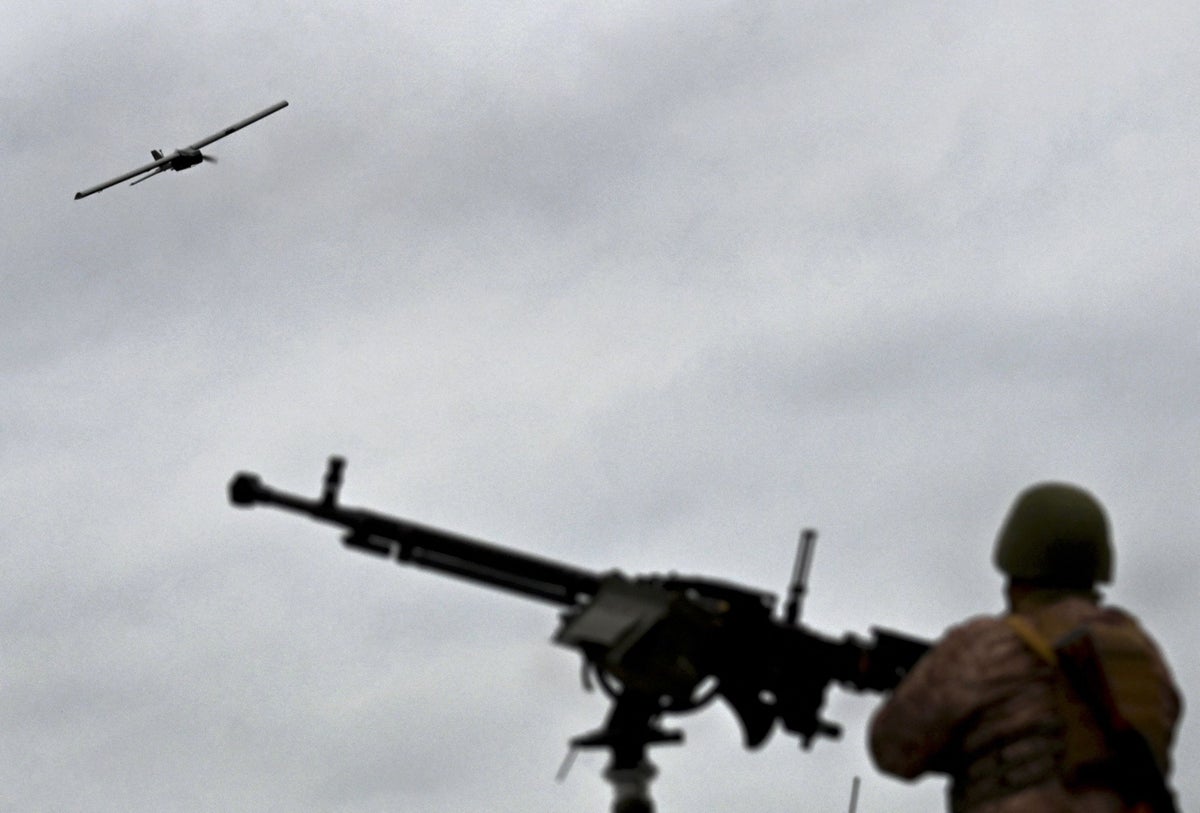 Russia and Ukraine sent drones targeting each other's capital cities over the weekend in signs of renewed intensity for their aerial warfare.
Drones were shot down on both Saturday and Sunday in areas around Kyiv and Moscow. Air defence systems for both sides intercepted attacks and no casualties were reported.
Multiple drones that were heading for Moscow and Russia's border areas on Sunday were downed by Russian air defence systems over the weekend, officials said.
Kyiv has promised to wage a major drone campaign against Russia this winter, as bad weather conditions make it difficult to conduct operations on the ground.
Russian air defence units in Moscow intercepted a drone targeting the Russian capital, mayor Sergei Sobhyanin said on Telegram.
He said defence units in the Elektrostal district in the capital's east intercepted the drone. Falling debris resulting from the operation had caused no damage or casualties, the mayor said, citing preliminary information.
Russia's defence ministry confirmed the drone strike on Sunday night, as is typical describing the Ukrainian military operation as a "terrorist attack".
"On 19 November at 23.20 Moscow time, an attempt by the Kyiv regime to carry out a terrorist attack using an aircraft-type UAV [unmanned aerial vehicle] on targets in Moscow and the Moscow region was stopped," it said on its official Telegram channel.
"Duty air defence systems intercepted an unmanned aerial vehicle over the territory of the Moscow region."
A second drone targeting Moscow was also intercepted by Russia's air defence systems at around 1am.
The UAV was destroyed over the territory of the Bogorodsky district in Moscow, it said.
This comes after Russian authorities on Saturday said they shot down a Ukrainian drone heading for the border region of Bryansk.
The defence ministry said on-duty air defence systems destroyed the drone over Bryansk. It did not mention any casualties or damage from the attack.
Russia has also begun targeting Kyiv again after a 52-day break in air raid sirens for the Ukrainian capital.
On Saturday, Ukrainian officials said all drones heading towards Kyiv were destroyed but some hit infrastructure facilities elsewhere in Ukraine.
A day later, a wave of Iranian-made Shahed drones from Russia targeted Kyiv overnight.
The drones targeted the Ukrainian capital and the Cherkasy and Poltava regions, according to a military statement. Ukrainian anti-aircraft systems shot down 15 of 20 drones targeting the areas.
Serhii Popko, the city's military administration spokesperson, said the drones attacked Kyiv from different directions in waves that were "constantly changing vectors".
Ukrainian officials had warned Russia would step up aerial assaults during the winter months.
Meanwhile, the British defence ministry said there were "few immediate prospects" for major change along the Ukrainian frontline as the war enters its second winter.
In a statement, it said intense fighting was concentrated near Kupiansk in the Kharkiv region, Avdiivka in Dontesk and on the left bank of the Dnipro river, where Ukrainian forces have established a bridgehead.