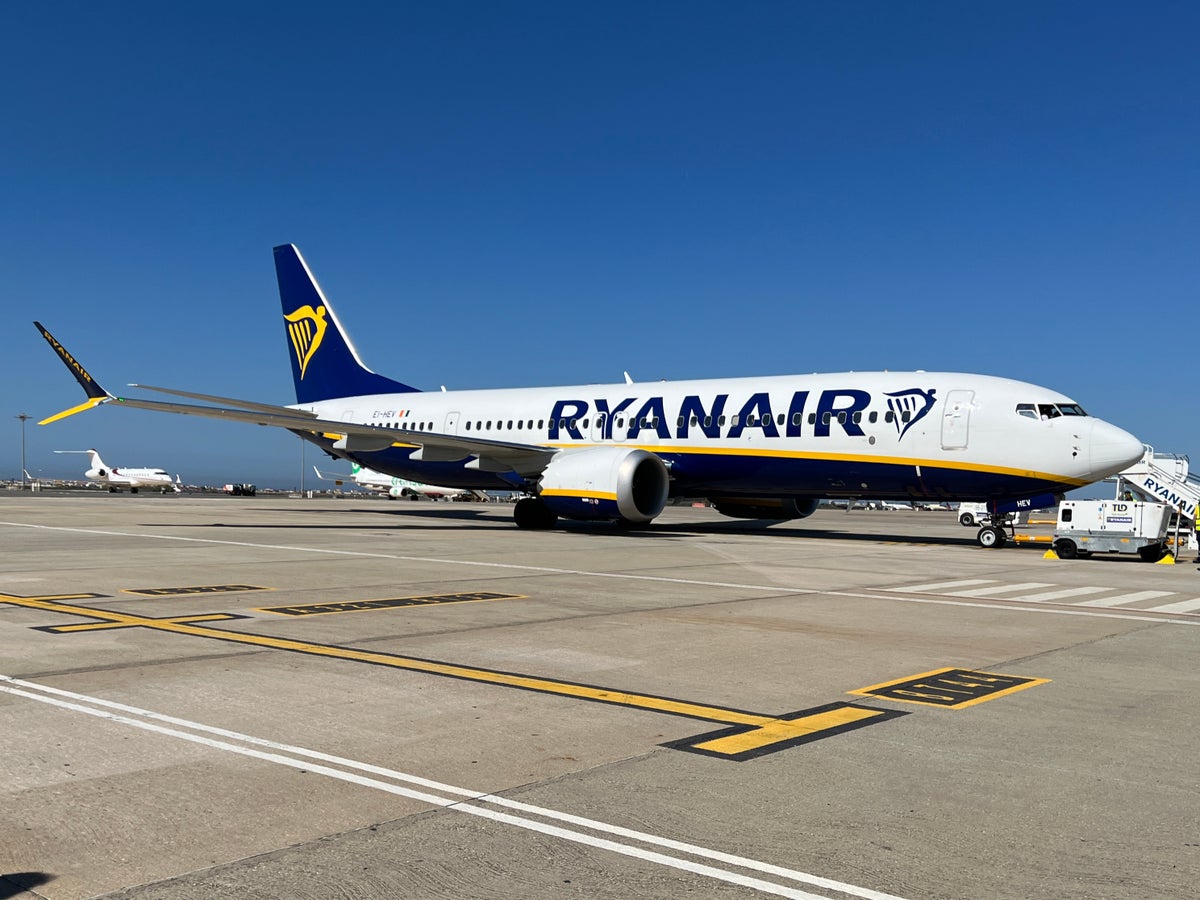 Europe's biggest budget airline made €1.43bn (£1.24bn) in profit between April 2022 and March 2023 – equivalent to an average of almost £40 per second.
Ryanair said "strong traffic recovery and favourable oil hedges" turned around a previous year loss of €355m (£309m).
Average fares are 10 per cent higher than pre-Covid levels, with "ancillary sales" – extras to basic fares – earning €23 (£20) from the typical passenger.
The carrier flew 168.6m passengers in the full financial year, up 74 per cent on the previous year – which was severely impacted by the Covid pandemic. The 2022-23 figure equates to an average 462,000 passengers per day, with 93 per cent of seats filled on the typical flight – up from 82 per cent the previous year.
More than 80 per cent of Ryanair's fuel was "hedged" – bought ahead at well below market prices – which over the year saved the Group about the same as its overall profit figure.
Its statement said: "Ryanair was fully staffed to operate its summer 22 schedule, while many competitors cancelled capacity (often at short notice) in the face of severe staff shortages.
"Forward bookings and air fares currently into summer 23 are strong and we continue to urge all customers to book early to avoid rising 'close-in' prices."
But airline bosses are anticipation further air-traffic control (ATC) strikes during the summer.
The result statement said: "In anticipation of further ATC disruptions, we have invested heavily in our operations (increased crew ratios, doubled the size of our ops centres, enhanced day-of-travel app and we continue to improve customer comms) to ensure that our passengers and crews continue to enjoy Ryanair's industry leading OTP [on-time performance] and reliability."
It says it has made "Strong market share gains in Italy, Poland, Ireland, Spain and across Europe" as other airlines have reduced capacity..
Ryanair says the pay cuts imposed during the pandemic have been "restored 28 months early by agreement for almost all crews".
The Ryanair Group chief executive, Michael O'Leary, played up the airline's environmental record, saying: "Passengers who switch to Ryanair (from EU legacy airlines) can reduce their emissions by up to 50 per cent per flight. Over the past year, we made significant progress to become net carbon neutral by 2050.
"We are campaigning to accelerate reform of European ATC to eliminate avoidable flight cancellations/delays, which will substantially lower fuel consumption and CO2 emissions."
Looking ahead, the Ryanair statement said: "We are cautiously optimistic that full-year revenue will grow sufficiently to cover our €1bn [£870m] higher fuel bill and still deliver a modest year-on-year profit increase.
"This guidance remains heavily dependent upon avoiding adverse events such as the war in Ukraine or further, repeated, Boeing delivery delays."