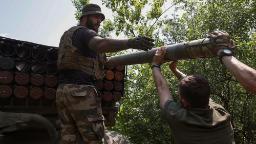 Ukrainian President Volodymyr Zelensky compared the damage in Bakhmut to the destruction wrought on Hiroshima after it was hit by an atomic bomb, as he denied Russia had captured the frontline city.
Zelensky — who traveled to Japan for a meeting of the Group of Seven (G7) — said pictures of Hiroshima "really remind" him of Bakhmut and other Ukrainian towns.
"Just the same, nothing alive left, all of the buildings have been ruined," Zelensky told a news conference.
Conflicting claims over Bakhmut: On Saturday the chief of the Russian private military group Wagner, Yevgeny Prigozhin, claimed to have captured Bakhmut after months of brutal fighting, saying he would hand it over to Russia later in May.
Zelensky used the conference to again deny that that Bakhmut is Russian as of Sunday and Ukrainian soldiers remain in the city.
"We are keeping on, we are fighting." Zelensky said.
"I clearly understand what is happening in Bakhmut. I can't share the tactics of the military, but a country even bigger than ours cannot defeat us. A little time will pass and we will be winning. Today our soldiers are in Bakhmut."
Ukraine's Armed Forces (AFU) said they were continuing to counter Russia in the city, and that they were advancing in the suburbs, making it "very difficult for the enemy to remain in Bakhmut."
Russian President Vladimir Putin offered his congratulations for "the completion of the operation to liberate Artemovsk," Russian state news agency TASS reported the Kremlin as saying, using the Soviet-era Russian name for Bakhmut.
CNN is unable to verify either side's battlefield claims.
Read more here.