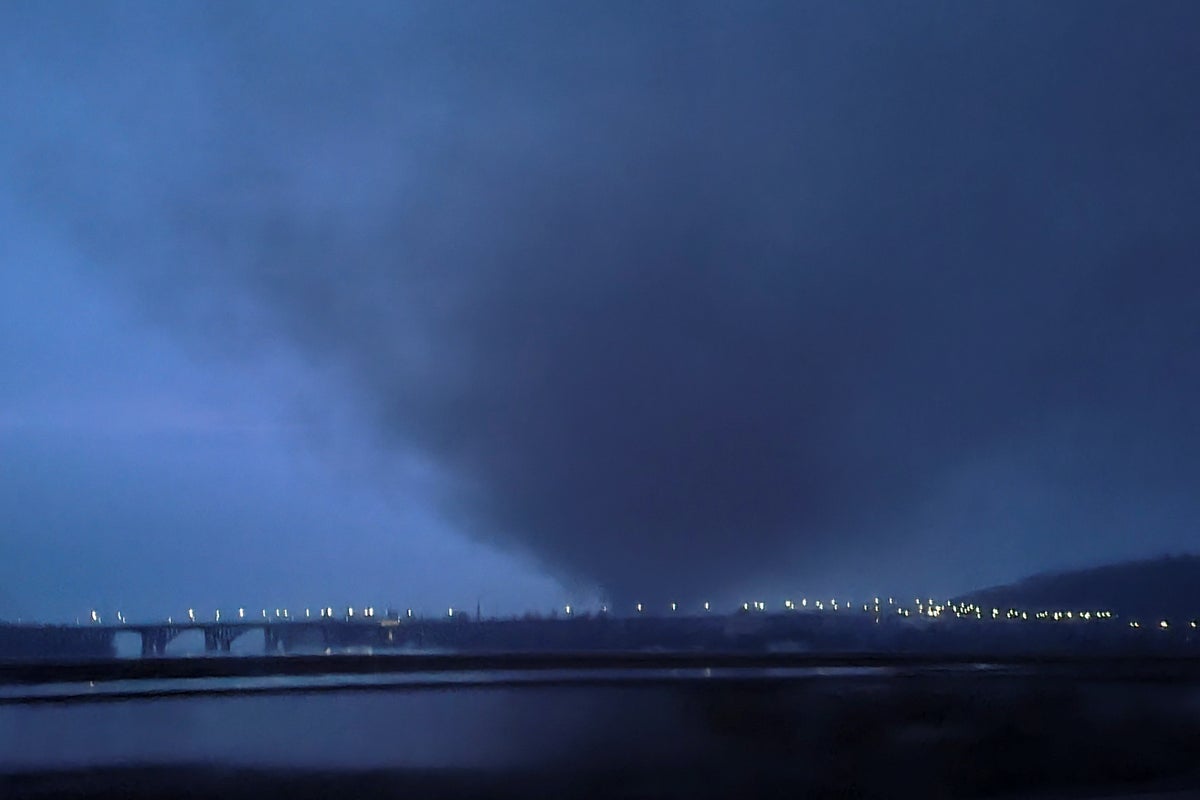 Russia has launched a huge wave of missile strikes across Ukraine, killing a number of civilians and forcing Europe's largest nuclear power plant off the electrical grid for hours.
It is the first search mass attack in weeks, with the strikes including the use of hypersonic cruise missiles – one of Moscow's most valuable weapons which travel at such speed they can evade air defences.
"The occupiers can only terrorise civilians. That's all they can do. But it won't help them," said Ukraine's President Volodymyr Zelensky. They won't avoid responsibility for everything they have done."
In all Russia was said to have fired 81 missiles, with Ukraine's military saying that 34 cruise missiles were successfully shot down, as well as the four of the eight Iranian-made Shahed drones that were sent. Eight guided missiles did not reach their target. Ukraine said six hypersonic missiles had been fired, with Russia's Defence Ministry confirming their use.
In southern Ukraine, the Zaporizhzhia nuclear power station, which is occupied by Russian forces, lost power as a result of the missile attacks, according to Ukraine's nuclear state operator Energoatom.
It is the sixth time Europe's largest nuclear plant has been in a state of blackout since it was taken over by Russia months ago, forcing it to rely on diesel generators. Nuclear power stations need constant power to run cooling systems. Hours later, Ukraine's power grid operator Ukrenergo said the plant was reconnected to the grid.
"The risks of disaster at the Zaporizhzhia nuclear power plant (ZNPP) are significantly increasing, and our ability to react to them, to avoid them are significantly decreasing," Oleh Korikov, acting chairman of the Ukrainian state nuclear safety watchdog, told a news briefing on Thursday.
The loss of external power to the nuclear plant led to an extraordinary plea from the UN nuclear watchdog chief, Rafael Grossi for a protection zone around the plant – saying he was "astonished by the complacency" around the issue.
"Each time we are rolling a dice. And if we allow this to continue time after time then one day our luck will run out," Mr Grossi told the 35-nation board of governors for the International Atomic Energy Agency (IAEA). "This is the sixth time – let me say it again, sixth time – that ZNPP has lost all off-site power and has had to operate in this emergency mode".
"Let me remind you, this is the largest nuclear power station in Europe. What are we doing? How can we sit here in this room this morning and allow this to happen? This cannot go on. I am astonished by the complacency," Mr Grossi added.
Russia has been targeting Ukraine's energy infrastructure in this way for a number of months, although this was the longest gap between such assaults. It is has led some analysts to speculate about Russia's missile stocks or whether Moscow will persist with a strategy that has failed to have the expected effect in sapping Ukranian morale.
The latest missile attack left almost half of consumers in Kyiv without heating, with temperatures at around nine degrees centigrade. At least five civilians were killed in the village of Zolochiv in Ukraine's western Lviv region. Another civilian was reported killed by the missiles in the central Dnipro region. Three civilians were separately reported killed by artillery in Kherson.
In the capital Kyiv, the seven-hour alert through the night was the longest of Russia's five-month air campaign.
Russia claimed the "massive" missile barrage was a "retaliatory strike" for a cross-border raid last week on a village in Russia's Bryansk region. Russia said two civilians were killed in the incident, which Ukraine accused Moscow of staging as a false "provocation".
On the battlefield in eastern Ukraine, Ukraine is fighting on around the city of Bakhmut in Donetsk. Russia is trying to encircle Bakhmut to secure what would be its first major gain in its invasion for more six months, at the culmination of some of the bloodiest fighting of the war during the winter months. Moscow sees the capture of the city in Donetsk as a stepping stone towards control of the wider Donbas – Ukraine's industrial heartland which encompasses the regions of Donetsk and Luhansk. Both Kyiv and the US have sought to downplay the strategic significance of Bakhmut. Ukrainian forces have focused mainly on defence, trying to inflict high casualties while preparing for a counter offensive when new weapons from Western allies arrive.
"Each day of the defense of the town allows us to gain time to prepare reserves and prepare for future offensive operations," said Oleksandr Sirskiy, commander of Ukraine's ground forces. "The enemy loses the most prepared and combat-capable part of his army."
Reuters contributed to this report