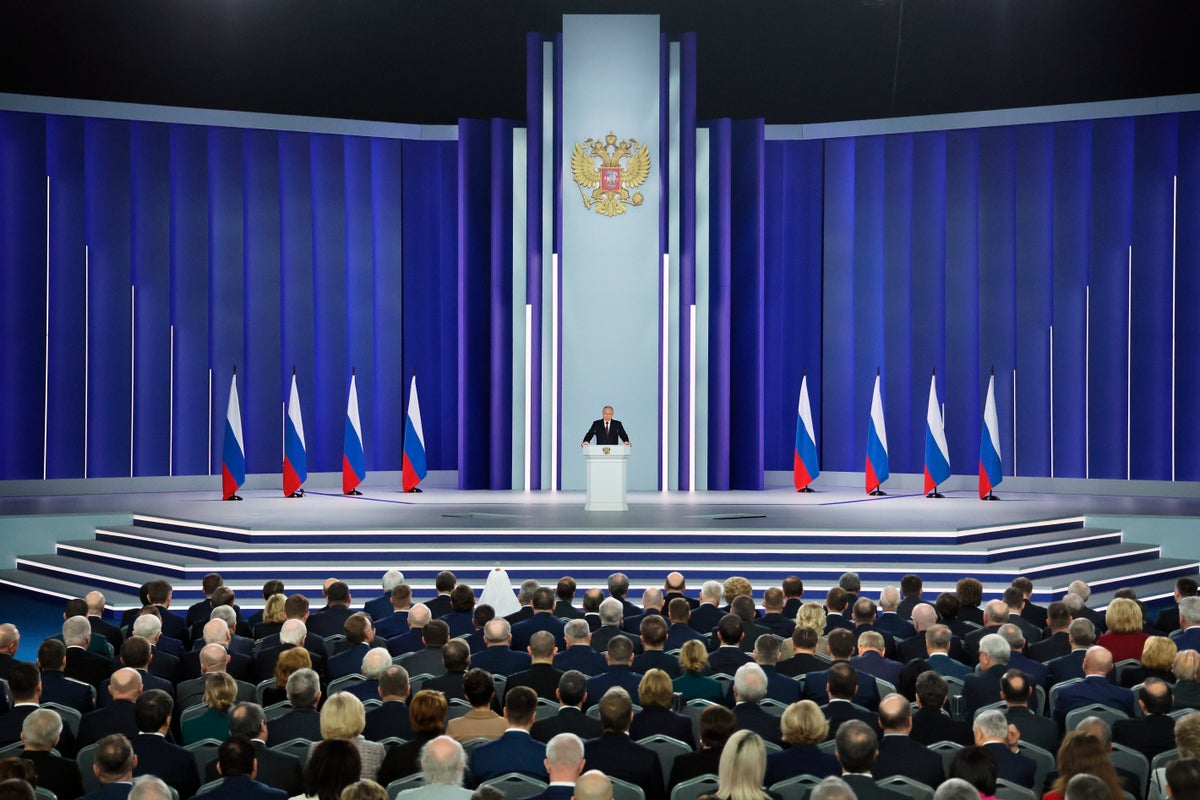 A Russian MP who hung noodles from his ears during President Putin's State of the Nation speech is to face punishment, the party has confirmed.
Russia's Communist Party has pledged to punish Mikhail Abdalkin, deputy of the Samara Duma, for seemingly mocking Mr Putin during his address on Tuesday.
The idiom "to hang noodles on someone's ears" dictates that someone is lying, with the phrase "don't hang noodles on my ears!" meaning "don't fool me" or "don't lie to me."
In a video posted on social media, Mr Abdalkin appeared to watch via a screen as Mr Putin delivered the State of the Nation address, in which he assessed the invasion of Ukraine one year ago.
In the caption, the MP wrote: "I fully support. I agree with everything. Great speech. Haven't heard anything like that in 23 years. Pleasantly surprised."
On Thursday, Alexander Yushchenko, spokesman for the Russian Communist Party, confirmed that it would be investigating the incident after the video was widely shared on social media. It "won't leave it without attention", Mr Yushchenko confirmed.
An MP, Alexander Khinshtein, had complained that the video was atypical of a Russian MP.
"This is an odd, to put it mildly, escapade which would be more suitable for a Ukrainian, not a Russian lawmaker", Mr Khinshtein said. "I do hope the Communist Party's leadership will get him in line – that is, if their pledges to support the president and rally behind him are not just words."
The State of the Nation address laid out Mr Putin's aims for the second year of his war in Ukraine, conducted just one day after Joe Biden made a surprise trip to Kyiv by train.
Seeking to reassure political and military elites about the conflict, he spoke to members of both houses of the Russian parliament in Moscow.
Friday marks the first anniversary of the invasion, with hundreds of white paper angels – each representing a child killed in the conflict – hung above political and faith leaders during a prayer ceremony in London.
The event, held at the Ukrainian Catholic Cathedral, saw attendance from the Mayor of London, Sadiq Khan. Mr Khan noted that Russia must be held accountable for its crimes, with Ukraine's "valour" inspiring "the world."
"One year ago, Ukraine was threatened by tyranny. The future of your nation was uncertain. Your borders were breached and many of your cities encircled", Mr Khan said in his address.
"It looked like all hope was lost, but then something remarkable happened – Ukrainians didn't roll over, you resisted. Orthodox Christians, Jews, Catholics, Muslims and men and women of other faiths all stood together, united under one flag and by one unshakeable belief…
"A belief that all Ukrainians have the right to choose their own destiny."