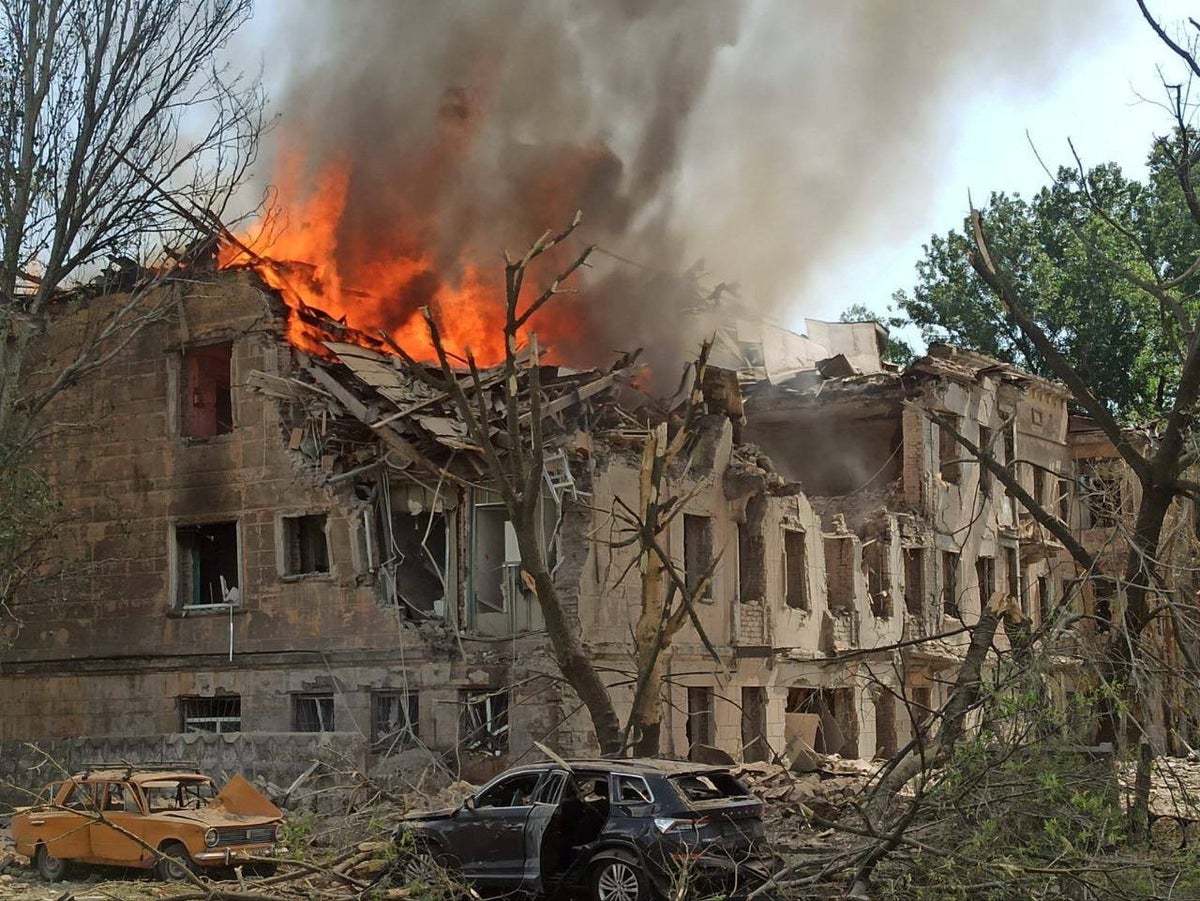 A Russian missile has hit a clinic in the eastern Ukrainian city of Dnipro, killing two people and wounding 30 in an attack that President Volodymyr Zelensky called a crime against humanity.
Video footage showed a devastated building with smoke pouring out of it and rescue workers looking on. Much of the upper floor of what appeared to be a three-storey building had been badly damaged. A covered corpse lay in the road nearby.
"Another [Russian] missile attack, another crime against humanity," Zelensky wrote on Twitter. He said a psychological clinic and a veterinary clinic had been hit, and added: "Only an evil state can fight against clinics. There can be no military purpose in this. It is pure Russian terror."
Regional governor Serhiy Lysak said a 69-year-old man had been killed as he passed the clinic and another man's body had been pulled from the rubble.
He said 30 people had been wounded, including two children, and contact had not yet been made with three people thought to have been in the building when it was hit.
Ukraine's Defence Ministry called the attack a serious war crime under the Geneva Conventions, which set out how soldiers and civilians should be treated in war.
Russia's Defence Ministry said it had carried out an overnight strike on Ukrainian ammunition depots.
"The target of the strike has been achieved. All designated facilities were hit," the RIA news agency quoted it as saying.
Moscow has dismissed allegations that its soldiers have committed war crimes and denies deliberately targeting civilians although it has bombarded cities across Ukraine since invading 15 months ago.
Moscow said earlier on Friday Ukraine had struck two regions in southern Russia with a rocket and a drone, but the missile was shot down.
Ukraine said it had shot down 10 missiles and more than 20 drones launched by Russia in overnight attacks on Dnipro, Kyiv and eastern regions.
Mr Zelensky's office said a fire had broken out on the outskirts of the northeastern city of Kharkiv after an oil depot was hit twice, and that equipment for pumping oil products had been damaged.
After months of attacks on energy infrastructure, Russia has shifted the focus of its missile strikes to try to disrupt preparations for a Ukrainian counterattack, a senior military intelligence official said last week. Attacks were increasingly targeting military facilities and supplies, he said.
Meanwhile, the Russian president, Vladimir Putin, has told his Brazilian counterpart Luiz Inacio Lula da Silva in call on that Russia is open to dialogue over Ukraine, the Kremlin said, shortly after Foreign Minister Sergei Lavrov welcomed a Chinese peace envoy to Moscow.
Russia has repeatedly said it was open to resuming peace talks with Kyiv, which stalled a few months after Russia invaded Ukraine early last year, and has welcomed mediation efforts from both Brazil and China.
But it has insisted that any negotiations must be based on "new realities", meaning its declared annexation of four Ukrainian provinces that it largely or partly controls – a condition unacceptable to Kyiv.
China for its part signed a "no limits" partnership with Russia less than three weeks before the invasion, and has not only refrained from criticising Moscow but also dramatically expanded its Russian energy imports since the start of the war.
It has put forward a 12-point plan for peace in Ukraine that involves declaring a ceasefire but does not stipulate that Russia should withdraw from any of the territory it has seized.
In his meeting with Li Hui, Mr Lavrov expressed gratitude for China's "balanced position" and willingness to play a positive role, his ministry said.
The Chinese proposal has drawn scepticism from the West, with Nato saying Beijing – whose president, Xi Jinping, made a high-profile state visit to Moscow in March – lacked credibility as a mediator.
Mr Lula has also pitched himself as a peace broker and proposed, in line with Brazil's tradition of non-intervention and neutrality, that a group of nations not involved in the war should engage both Russia and Ukraine in talks.
"I reiterated Brazil's willingness, along with India, Indonesia and China, to talk to both sides of the conflict in pursuit of peace," he tweeted.
Mr Lula has condemned the invasion but he irritated Washington – and pleased Moscow – last month when he suggested the West had been "encouraging" war by arming Ukraine.
Reuters