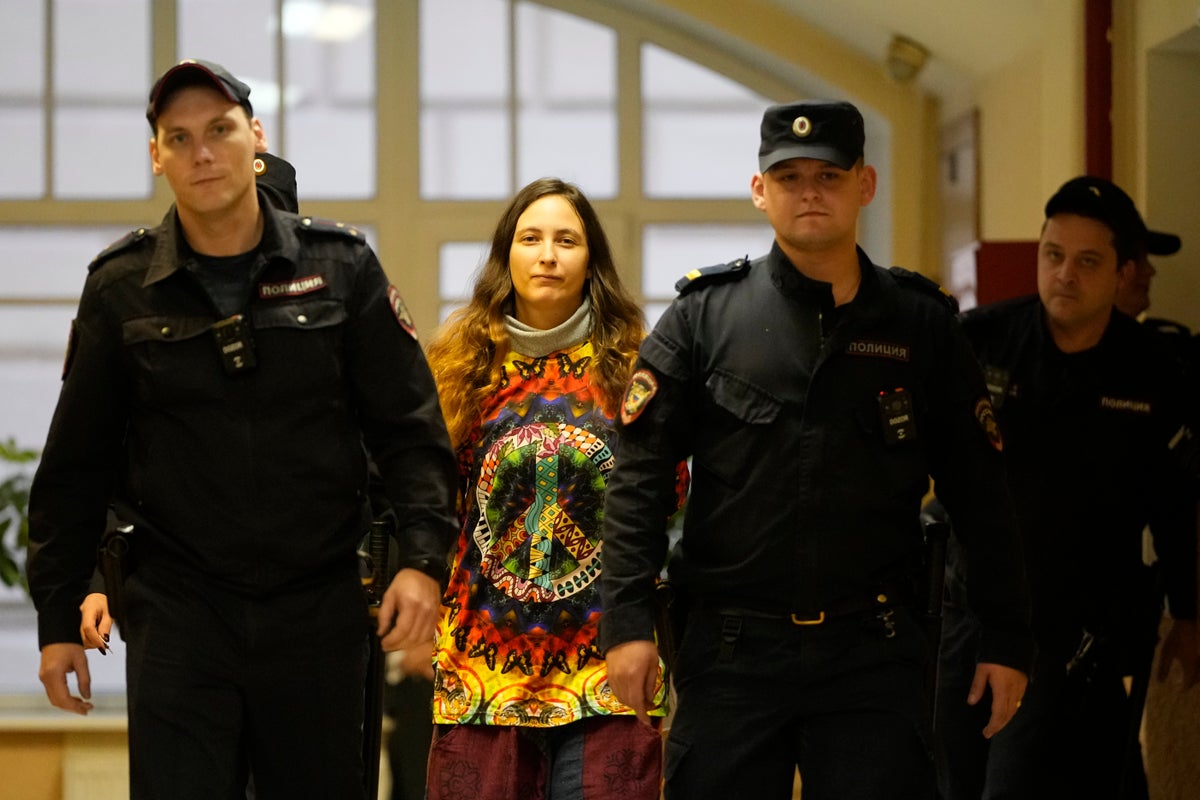 A Russian artist and musician has been jailed for seven years for replacing supermarket price tags with anti-war slogans in what fellow critics of Vladimir Putin's invasion of Ukraine have decried as a "deeply tragic and frustrating illustration of the state of Russia today".
Sasha Skochilenko, 33, a self-described pacifist, appeared in a St Petersburg court on 17 November after 19 months of pre-trial detention. She was charged last April with discrediting Russia's armed forces and spreading misinformation about the "special military operation".
Standing behind bars, the artist blew kisses and made a love symbol with her hands during her final hearing as crowds applauded from outside.  She was dressed in a tie-dye t-shirt with a peace sign on the front.
Her seven-year sentence was handed down in the same week that former Russian detective Sergei Khadzhikurbanov, who murdered Kremlin-critic Anna Politkovskaya in 2006, was pardoned by Putin for spending a year fighting in Ukraine. He had served less than half of his sentence, having been imprisoned in 2014.
It was also revealed this week that Vladvislav Kanyus, who killed his 23-year-old girlfriend Vera Pekhteleva in 2020, was no longer paying damages to the family of his victim due to being pardoned for his own participation in the "special military operation".
Ms Skochilenko, meanwhile, was sentenced to seven years in prison for writing slogans such as "Russian conscripts are being sent to Ukraine. Lives of our children are the price of this war".
Another of her slogans read: "The Russian army bombed an arts school in Mariupol. Some 400 people were hiding in it from the shelling."
Evgenia Kara-Murza, the wife of a Russian opposition figure currently serving 25 years in a Siberian colony for speaking out against the war in Ukraine, said the sentencing of Ms Skochilenko against the backdrop of Khadzhikurbanov's presidential pardon was "a very good illustration of the situation in Russia".
She told The Independent: "People who stand up and speak out against the criminal oppressive war against Ukraine, against the oppressive regime of Russia, are being portrayed as criminals, traitors, spies or insane people.
"But actual murderers, actual rapists, are now walking the streets of Russia as free people committing the same types of crimes, and are being portrayed as heroes of the noble war against Nazis in Ukraine.
"And this is all because they went to Ukraine and killed innocent people there.
"That is deeply tragic and frightening. It is also a very good illustration of the situation in Russia in general."
Ms Skochilenko was arrested a month after Russia adopted a law effectively criminalising any public expression about the war in Ukraine that deviates from the Kremlin's official line.
The legislation has been used in a widespread crackdown on opposition politicians, human rights activists and ordinary Russians critical of the Kremlin, with many receiving lengthy prison terms.
Nearly 750 people have faced criminal charges for their anti-war stances, and over 8,100 faced petty charges of discrediting the army, punishable by a fine or a short stint in jail.
It is not known how many presidential pardons have been issued for participation in the war in Ukraine, but the numbers of ex-convicts recruited directly from prisons to fight in the "special military operation" is known to be in the tens of thousands.
Ms Skochilenko has not denied replacing the price tags with her anti-war slogans but rejects the accusation of spreading knowingly false information.
Addressing the judge on Thursday, she said: "Everyone sees and knows that it's not a terrorist you're trying. You're not trying an extremist. You're not trying a political activist, either. You're trying a pacifist."