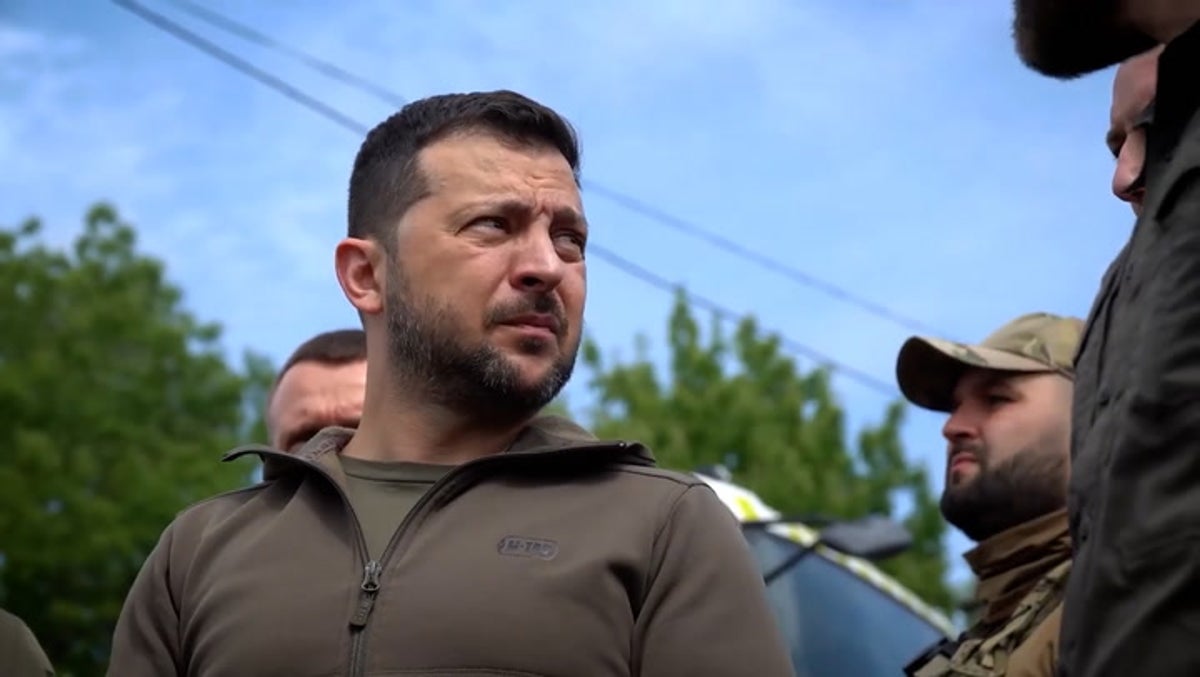 Russian forces shelled a flooded Ukrainian city on Thursday, forcing the suspension of some rescue efforts hours after President Volodymyr Zelensky visited the region to assess the damage caused by the collapse of the Kakhovka dam.
The fresh fighting came two days after the facility was destroyed, leaving 230 square miles of the war zone along the Dnieper river underwater.
Hundreds more residents were rescued from rooftops on Thursday as the floodwaters submerged villages, fields and roads in the southern region of Kherson.
Russia and Ukraine have traded blame for the bursting of the Soviet-era hydroelectric dam, which sent waters cascading across the war zone in the early hours of Tuesday.
The true scale of the disaster is yet to emerge in an affected area that was once home to more than 60,000 people.
Thousands are already homeless and tens of thousands are without drinking water.
In Kherson, the largest municipality affected, Russian shelling echoed not far from a square where emergency crews and volunteers were dispensing aid. Nine people were wounded, including two emergency workers, a policeman, a doctor and a volunteer from Germany, Ukraine said.
The Kremlin similarly accused Ukraine of shelling Russian rescue workers in the area, without providing evidence.
As shells landed in floodwaters, rescuers suspended efforts to reach stranded residents and pets in an area that Mr Zelensky had visited only hours earlier.
"The strikes began during evacuation of the residents, whose houses were flooded," the interior ministry said. "Russia has abandoned people in calamity."
Mr Zelensky had visited an aid distribution point and a medical facility
Fighting has intensified along the 620-mile front line from Kherson on the Black Sea to Ukraine's border with Russia in what some experts and officials say could be part of a long-expected Ukrainian counteroffensive.
A senior Russian commander briefed President Vladimir Putin on how his forces had repelled a large-scale Ukrainian attack in the southern Zaporizhzhia region, the TASS news agency reported.
Defence minister Sergei Shoigu said Russian forces had withstood fierce overnight attempts by Ukrainian troops to break through the frontline in the area.
The UN Office for the Coordination of Humanitarian Affairs said aid agencies had delivered bottles of drinking water, water purification tablets, hygiene kits and jerrycans.
"Drinking water remains the most pressing need," it said.
Kherson's Ukrainian governor, Oleksandr Prokudin, said 68% of the flooded territory was on the Russian-occupied left bank of the Dnipro River.
Reuters and Associated Press contributed to this report