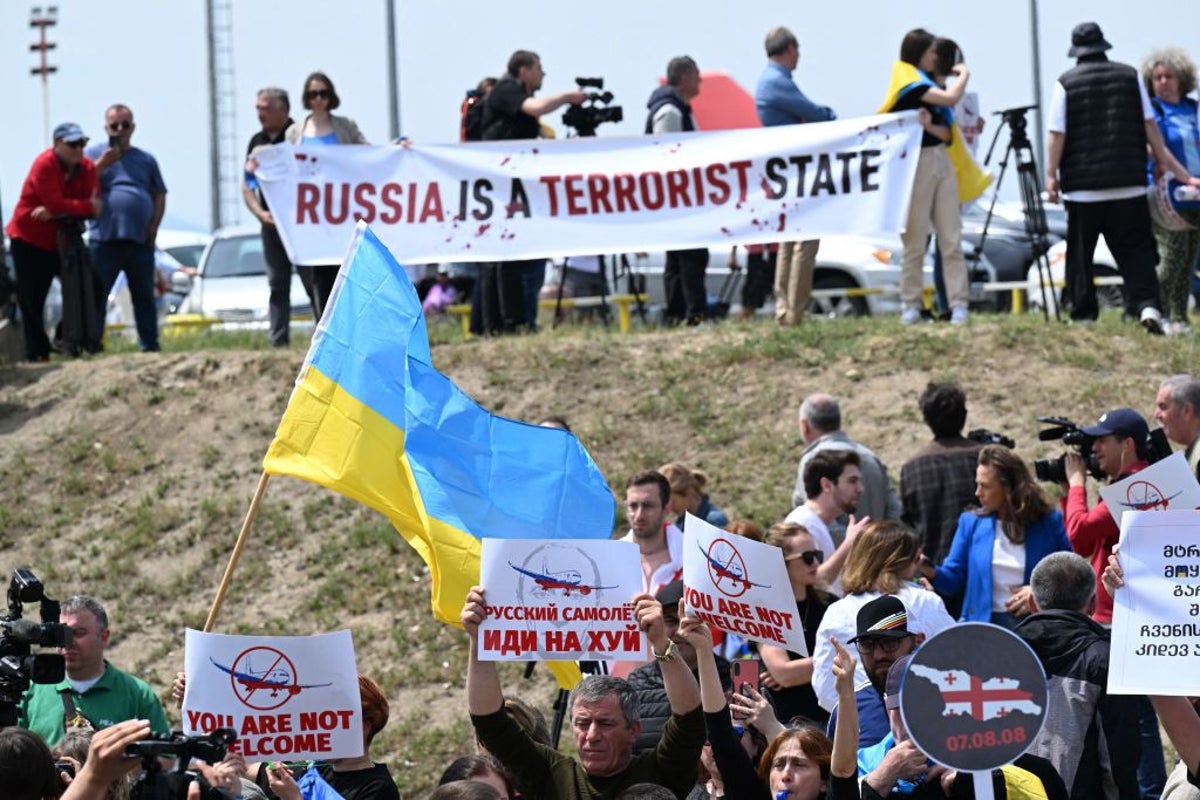 Anti-war protestors branded Russia a "terrorist state" as they clashed with police in Georgia after flights resumed today.
The protestors descended enmasse to Tbilisi Airport at around 13:20pm local time (09:20 BST) to meet Azimuth Airlines flight A4851 after it arrived from Moscow.
The flight is the first tourist plane to touch down in Georgia from Russia in four years.
Many protestors held placards emblazoned with statements such as "Russian airship – go f*** yourself", "you are not welcome" and "Russia is a terrorist state".
They are angry at Russian president Vladimir Putin's invasion of Ukraine last February and the ensuing war which has claimed thousands of lives.
Helen Khoshtaria, a politician, democracy and human rights activist, shared footage of her and other protestors heading to the airport – located in Georgia's capital.
The opposition politian tweeted: "The first direct Russian flight has landed in #Georgia. #NoToRussianFlights. No to the government that serves #Russia!"
She later tweeted that there were "clashes and arrests" at the airport.
It was later reported that she herself was among those arrested.
In the airport's arrivals concourse, one female passenger was asked: "Do you know that Russia is an occupier?"
"I won't comment on it," she replied before the protestor kept on pressing her.
Eventually she said: "I came to have a holiday."
Georgia's government has welcomed the return of direct flights after they were unilaterally suspended by Putin following anti-Kremlin protests in Georgia in 2019.
It claims that ethnic Georgians living in Russia will benefit.
Irakli Kobakhidze, the chairman of the governing Georgian Dream Party, said the flights will greatly reduce costs for those wanting to travel for work, holidays or to see their families living abroad.
Mr Kobakhidze also insisted that he is employing a "cautious and pragmatic" approach to Russia.
This stance has been widely criticised for refusing to condemn Russia's actions in Ukraine – which include allegedly bombing civillians and committing war crimes.
Many Georgians claim that the ruling party is committing "direct sabotage" of their country's aspiration to join the EU.
Opposition politicians also fear the renewed flights could offer Russian officials and businesspeople a way to skirt Western sanctions, and defiantly declared the people of Georgia "choose Europe, not Russia".