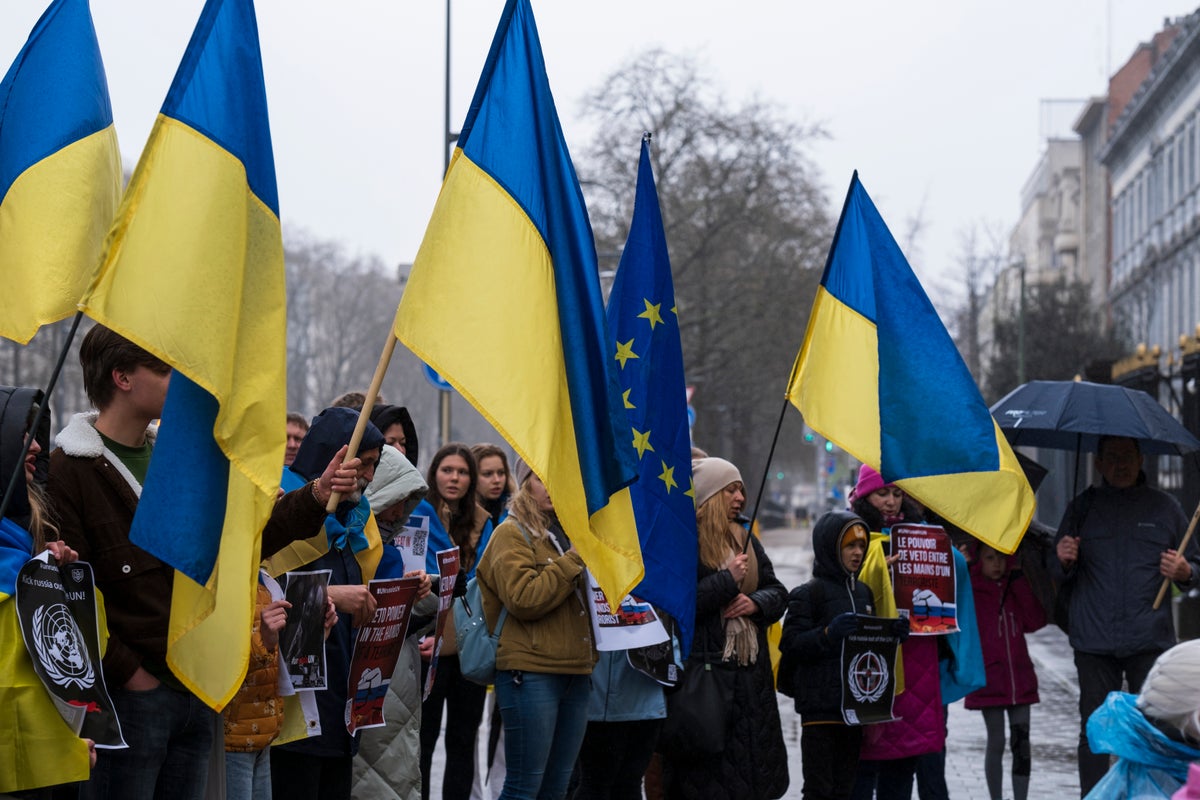 Russia has taken over as president of the UN Security Council despite its invasion of Ukraine.
Ukraine's foreign minister described the decision as indicative that "something is wrong" with international security structures.
Russia replaced Mozambique on Saturday, 1 April despite protests from Ukraine that urged members to block the move. Around 50 Ukrainians protested in front of the UN's office in Brussels on Saturday afternoon, waving a mixture of Ukrainian and EU flags.
Comprised of 15 members – five permanent members and 10 non-permanent – the UN Security Council rotates on a monthly basis. Notably, Russia last held the presidency in February 2022, the month it began its "special military operation" in Ukraine.
"Russian presidency in the UNSC is a stark reminder that something is wrong with the way international security architecture is functioning", Dmytro Kuleba – Ukraine's minister of Foreign Affairs – tweeted on Saturday.
"A state that systemically ruins international peace and security will be presiding over the body tasked with maintaining them."
Mykhaylo Podolyak, Ukraine's presidential adviser, added that "an entity that wages an aggressive war, violates the norms of humanitarian and criminal law, destroys the UN Charter, neglects nuclear safety, can't head the world's key security body".
The UK, US, France and China are the remaining permanent members of the Security Council. Its main responsibility involves maintaining "international peace and security", describing its function as taking "the lead in determining the existence of a threat to the peace or act of aggression."
In 2022, Ukrainian president Volodymyr Zelensky accused the UN Security Council of failing to take sufficient action to prevent Russia's invasion, demanding it "dissolve altogether." Likewise, Mr Zelensky has also called for Russia's member status to be revoked.
As a permanent member, Russia has the power to veto resolutions. In February 2022, it vetoed a move intending to end the Russian invasion of Ukraine, further rejecting a resolution calling for the reversal of its illegal annexation of four Ukrainian regions in September.
For a resolution to be passed by the Security Council, there must be nine votes in favour and zero votes against from any of the five permanent members. The council works alongside the remaining 10 non-permanent member countries, which, as of 2023, are Albania, Brazil, Ecuador, Gabon, Ghana, Japan, Malta, Mozambique, Switzerland, and the United Arab Emirates.
However, the UN Charter does not currently allow for the removal of a permanent member. This week, the White House stated that it expects Moscow to "continue to use its seat on the council to spread disinformation", acknowledging that this bureaucratic element is, sadly, a "reality."
"Unfortunately, Russia is a permanent member of the Security Council and no feasible international legal pathway exists to change that reality," White House press secretary Karine Jean-Pierre told reporters.