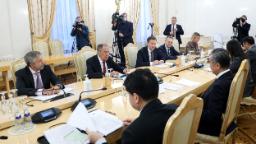 CNN
 — 

Russia and China will continue "well-coordinated work" at the UN General Assembly this week, as well as the Asia-Pacific Economic Cooperation summit this fall, Russian Foreign Minister Sergey Lavrov predicted on Monday, during a visit from China's top diplomat Wang Yi in Moscow.
"There are many multilateral forums ahead, first of all the UN General Assembly, which opened its work, then there will be the Asia-Pacific Economic Cooperation summit and many other summit and high-level meetings," said Lavrov, during opening remarks ahead of the talks with Wang.
"I am confident that our well-coordinated work will continue during these forums," he added.
"We work in difficult conditions when the world is experiencing tectonic level shifts. And it is very important that in March of this year, our leaders identified clear directions for further deepening our strategic interaction," said Lavrov.
Chinese leader Xi Jinping and Russian President Vladimir Putin met in Moscow in March, and made a sweeping affirmation of their alignment across a host of issues – and shared mistrust of the United States, CNN has previously reported.
The meeting, which took place under the shadow of Russia's onslaught in Ukraine, left no question about Beijing's commitment to developing its rapport with Moscow. It culminated in more than a dozen agreements bolstering cooperation in areas from trade and technology to state propaganda, according to a Kremlin list.
However, cooperation between Beijing and Moscow is not directed against other countries, Chinese Foreign Minister Wang Yi emphasized during his Moscow trip.
"China and Russia pursue independent foreign policies. Our cooperation is not directed against anyone, and it is not influenced by other countries," said Wang, according to Reuters, adding that their "cooperation brings evident benefits to the peoples of the two countries."
Wang also said that China is ready to work with Russia on the formation of a multi-polar world, the two countries bear a "special responsibility" in terms of maintaining global strategic stability and peace.
"The fiercer the unilateral actions of the hegemony aimed at confrontation, the more important it is for us fulfill our international obligations according to the sense of duty inherent in great powers," Wang added.
Russia has become increasingly dependent on China since the Kremlin's full-scale invasion of Ukraine in February 2022, which set off a flurry of sanctions against Moscow led by the United States and other members of the G7 group of advanced economies.
China, however, has declared "no limits" to its friendship with its northern neighbor and its economic lifeline has tempered the impact of Russia's banishment from the global financial system.
Trade between the two soared 40% in the first five months of this year, according to Chinese customs data, even as it slowed between the world's second-biggest economy and other key partners. Russian Prime Minister Mikhail Mishustin said in May that he expected trade with China would top $200 billion this year.